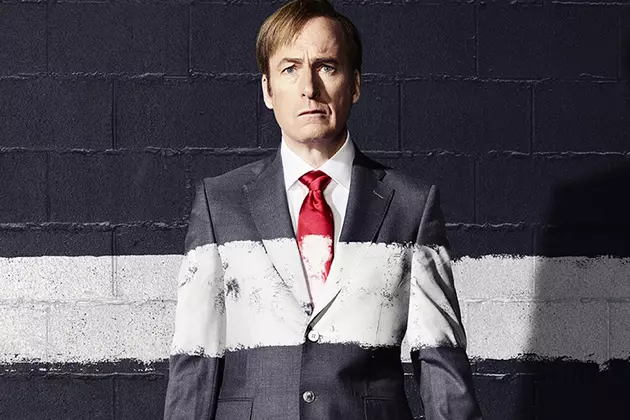 'Better Call Saul' Earns Its Stripes in New Season 3 Key Art
AMC
There doesn't seem to be any two ways around Better Call Saul taking a trip to the wrong side of a courtroom in Season 3. Previous footage teased Walter White's future lawyer getting a mugshot, and now Season 3's official key art release promises both stripes, and some "meaningful" nods to Breaking developments.
Ahead of its April 10 premiere, Better Call Saul put our first official Season 3 key art on file, featuring good ol' Jimmy McGill either getting ready for a striped jumper, or seriously misguided about proper painting procedure.
Either way, Season 3's synopsis continues to tease some Breaking baddies ahead:
Season 3 follows the twists and turns of Jimmy McGill's devolution toward Breaking Bad's Saul Goodman – Albuquerque's most notorious criminal lawyer. Six years before he meets Walter White, Jimmy is a more-or-less law-abiding, small-time attorney hustling to champion his underdog clients, build his practice, and somehow make a name for himself.

The acclaimed second season ended with a pair of cliffhangers. Determined to prevent his brother from practicing law, Chuck staged an elaborate con, secretly recording Jimmy's confession to a felony. When Mike set his sights on sociopathic cartel boss Hector Salamanca, an ominous intervention stopped him from pulling the trigger, raising questions as to what other dangerous players may be in the game.

As the new season begins, the repercussions of Chuck's scheme test Jimmy and Kim's fledgling law practices – and their romance – as never before. This imminent existential threat presses Jimmy's faltering moral compass to the limit. Meanwhile, Mike searches for a mysterious adversary who seems to know almost everything about his business.

As the season progresses, new characters are introduced and backstories are further illuminated with meaningful nods to the Breaking Bad universe.
Well, what should we expect from Better Call Saul Season 3? Will Jimmy head to jail, and emerge as Saul?
Check Out 100 More TV Facts You May Not Know!