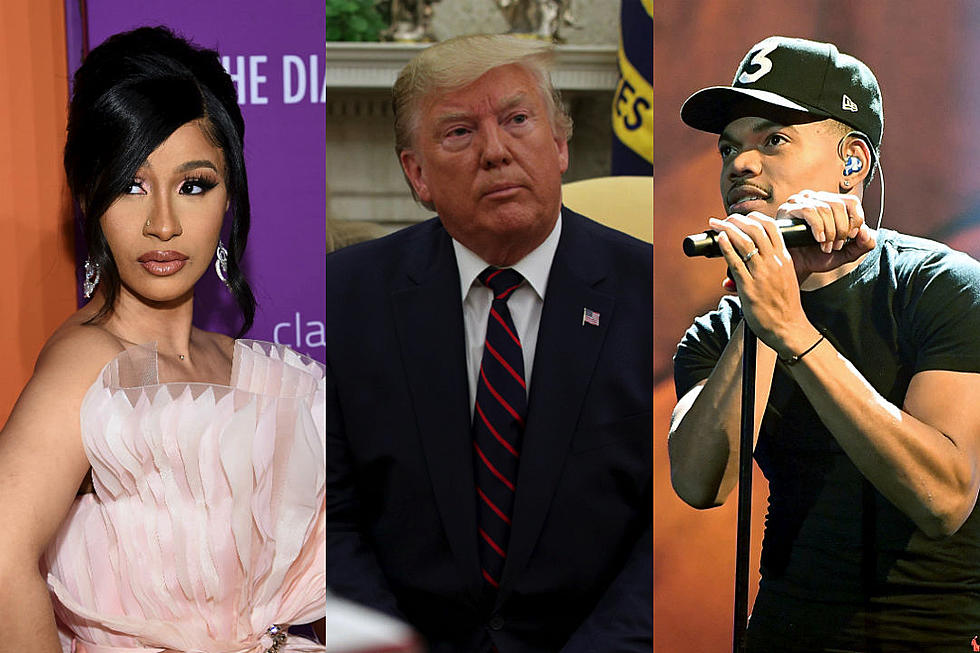 Cardi B and Chance The Rapper Think President Trump Will Be Re-Elected
Dimitrios Kambouris / Alex Wong / Marcus Ingram, Getty Images (3)
Though it's not what they want, both Cardi B and Chance The Rapper believe that Donald Trump will be re-elected in 2020.
On Tuesday (Oct. 15), the pair appeared on T.I.'s new expediTIously podcast to discuss their new Netflix show, Rhythm + Flow. After jumping into Cardi's love for history, the topic turned to politics and both Chance and Cardi agreed that it's likely Trump will be leading the country for another four years.
"The reason that we keep getting Presidents that we don't want is because we keep getting tricked into thinking we have a choice," Chance said on the show. "I totally believe—and y'all can quote me on this a couple years down the line—I think Trump is going to win again at the next election because he's got the biggest base."
"He does. I believe it!" Cardi replied. "I really hate to say it, but sometimes I do believe that Trump will be winning. Just because due to the fact that every single time I don't see nobody saying that they love a Democratic candidate. There's no candidate that people are saying like we love, we want them to win."
Chance went on to say that he believes the President once Trump is out of office will not be in the Democratic or Republican parties.
"The next President after Donald Trump will be our first-ever independent President," Chance predicted. "And if they not independent, they'll be from a fringe party."
As for Cardi, she still very much stands with Bernie.
"He's just really like, a person that care. And I really want that," she told Tip. "I want somebody that care for not just America but everybody in America! Every person white, every person of color, Black, Hispanic, Muslim—everybody! He cares for a whole."
You can listen to the full podcast episode over at PodcastOne. The politics conversation begins around the 25-minute mark.
See the 25 Longest-Charting Hip-Hop Albums in Billboard 200 History