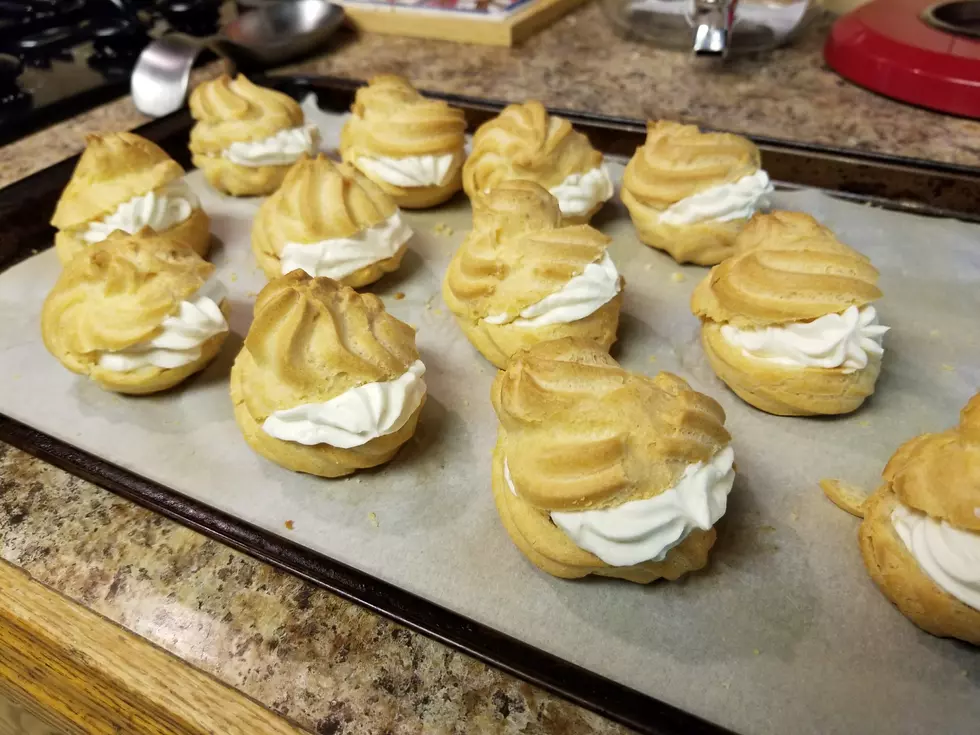 Chef Weaver's First Attempt at Cream Puffs – Came Out Pretty Good [VIDEO]
My first try at cream puffs. - JimWeaver/TSM
Well, I think my cream puffs were pretty good, and judging from the reactions around the radio station, they must be, because people inhaled them rather quickly.
Here is the recipe, this is my wife Donna's recipe by the way so you know it's going to be good.
---
Cream Puffs (Profiteroles)
1 cup Water
1/2 cup Unsalted Butter
1/4 teaspoon Salt
1 cup All-Purpose Flour
4 large Eggs
1/2 cup Softened Cream Cheese or Mascarpone
1/2 cup Powdered Sugar
2 teaspoons Kahlua (or 1 teaspoon Vanilla Extract if preferred)
1 cup Heavy Cream, Chilled
Preheat oven to 425F. Line a large baking sheet or two with parchment paper or silicone mats. Prepare a large piping bag tipped with a round or star tip.
In a small saucepan, combine the water, butter, and salt. Cook the mixture over medium heat until the butter melts and comes up to a simmer. Add the flour all at once, stirring with a spatula. The dough should come together within one minute, pulling away from the sides of the saucepan and forming a ball. Transfer the dough to a mixing bowl and cool in the refrigerator about 10 minutes; dough should be warm to touch but not hot.
Begin adding the eggs, one a time, mixing thoroughly after each addition. Once all the eggs are added, continue mixing the dough for 1 minute. Transfer the dough into the prepared pastry bag and pipe 1 to 1 1/2 inch dollops onto the prepared paper or mat; leave a little space between each one.
Bake the profiteroles at 425F for 10 minutes, then reduce oven temperature to 350F and bake for an additional 25 to 30 minutes, until golden brown. Do not open oven door during the baking process; the cool air will cause the profiteroles to collapse. Once they are baked, allow them to cool completely on the tray. Once cooled, use a serrated knife to cut them open in half.
Prepare the filling. In a mixing bowl, combine the cream cheese, powdered sugar, and Kahlua (or vanilla extract). Whisk together on medium speed until smooth and creamy. Pour in the chilled heavy cream, then whisk on high speed until a thick and fluffy whipped cream forms.
Transfer the cream into a pastry bag and pipe each profiterole full of the cream, closing them together. Place the cream puffs into the refrigerator and allow them to set for a few hours, or overnight.
---
That's it, pretty easy obviously because I pulled it off.
Enjoy the video and go make you some.