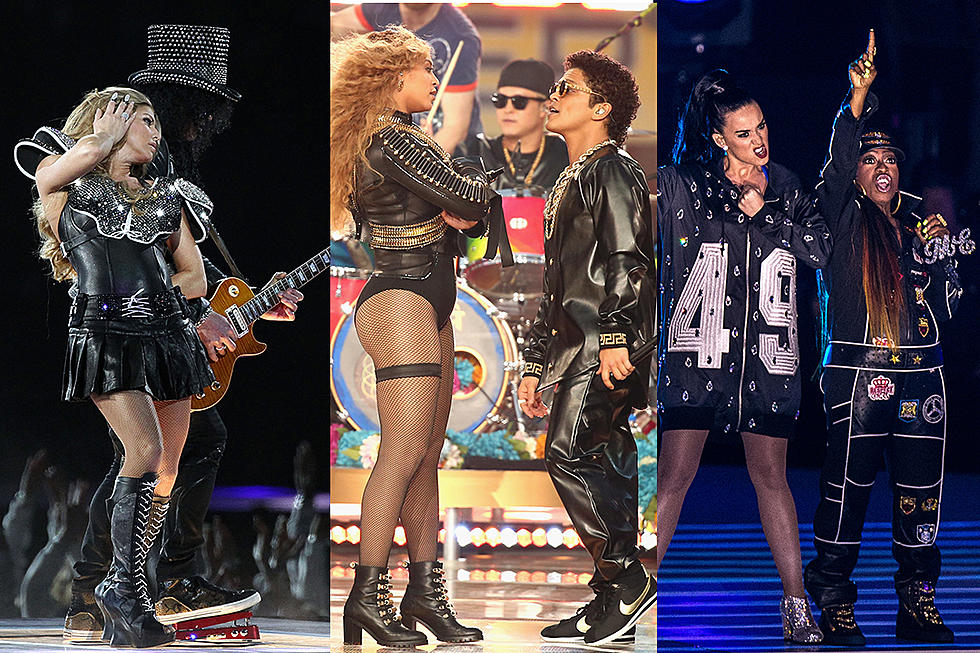 10 Most Thrilling Super Bowl Halftime Show Collaborations
Streeter Lecka / Christopher Polk (2), Getty Images
Each year, the NFL Super Bowl brings America together for a few hours on a Sunday evening. Even if you're not a football or sports fan, viewers at the very least have the chance to catch some hilarious commercials and, more importantly, watch some of music's superstars headline a tour-quality concert for about 13 minutes during halftime.
But featuring megastars like Beyonce, Prince and Madonna wasn't always how the Super Bowl Halftime Show operated. Before New Kids on the Block headlined in 1991, the show was typically comprised of college marching bands and drill team performances. While those early shows had their own charm and kept the crowds entertained, over the year it's been the Halftime Show's pop spectacles that we seem to remember most, especially sets showcasing a convergence of multiple talents.
Ahead of Timberlake's headlining performance at the 2018 Super Bowl Halftime Show, take a look back at ten of the greatest onstage collaborations the NFL has ever produced.
1

Gloria Estefan, Stevie Wonder and Big Bad Voodoo Daddy at Super Bowl XXXIII

Halftime Show collaborations really started to take shape in 1999. Instead of bringing artists from the same genre together, this particular Halftime Show celebrated a fusion of sounds by combining the talents of Stevie Wonder, swing revival band Big Bad Voodoo Daddy and hometown legend Gloria Estefan in Miami's Pro Player Stadium. Putting a spotlight on soul, swing and salsa music, the three acts brought the fire with high energy performances and crazy choreography.

2

Shania Twain, No Doubt and Sting at Super Bowl XXXVII

In 2003, Super Bowl XXXVII brought some unlikely collaborators to the Qualcomm Stadium in San Diego: Shania Twain, No Doubt and Sting. Shania kicked off the performance with "Man! I Feel Like a Woman" and her new single (at the time), "Up." No Doubt raised the energy with "Just a Girl" before Sting rounded out the show, performing The Police's "Message in a Bottle."

3

Black Eyed Peas, Usher and Slash at Super Bowl XLV

After a few years of classic rock acts dominating the stage, 2011 returned the Halftime Show to its high-energy pop roots with surprise guests Black Eyed Peas. Hot off the success of their 2009 album, The E.N.D., their set featured smash hits like "Boom Boom Pow" and "I Gotta Feeling." They added more fuel to the performance by bringing Usher out to perform his song, "OMG," alongside will.i.am, with Slash on guitar. Later, Fergie belted Guns N' Roses' classic hit, "Sweet Child O' Mine."

4

Bruno Mars and Red Hot Chili Peppers at Super Bowl XLVIII

When Bruno Mars was set to play the Super Bowl XLVIII halftime show in 2014, there were some who thought he couldn't pull off a 13-minute performance on his own. However 115.3 million viewers tuned in that night, making it the most watched performance at that time. Although it's safe to say that Bruno's run-through of his biggest hits was great, he showed everyone a different side of himself by inviting the Red Hot Chili Peppers to collaborate on "Give It Away," a surprise performance that blew everyone away.

5

Aerosmith, NSYNC, Britney Spears and Mary J. Blige at Super Bowl XXXV

In 2001, the NFL delivered one of the most memorable moments in Super Bowl Halftime Show history by bringing together rock legends and pop superstars alike at the Raymond James Stadium in Tampa. The multi-genre team-up on Aerosmith's iconic "Walk This Way" was electrifying. (And let's not forget Ben Stiller and Adam Sandler's hilarious coaching skits!)

6

Katy Perry, Lenny Kravitz and Missy Elliott at Super Bowl XLIX

Though many of us will remember Katy Perry's Super Bowl XLIX performance for delivering 2015's meme-of-the-year, Left Shark, the elaborate performance also featured the talents of Lenny Kravitz on "I Kissed a Girl," as well as Missy Elliott, who dazzled with her hits, "Get Ur Freak On," "Work It" and "Lose Control"—one of the show's big highlights.

7

Madonna, Nicki Minaj, LMFAO, CeeLo Green and M.I.A. at Super Bowl XLVI

Considering all of Madonna's iconic career-spanning hits, you'd think she would have done a Super Bowl Halftime Show much sooner. In 2012, fans of the pop superstar finally got their wish. While she included standards like "Vogue" and "Express Yourself," it was her performance "Give Me All Your Luvin'" that turned heads, namely because M.I.A. flipped the bird during her verse. Despite stirring up some controversy, Madge's gorgeous performance of "Like a Prayer" with CeeLo Green was the set's real standout.

8

Coldplay, Beyonce and Bruno Mars at Super Bowl 50

Since the Super Bowl was celebrating its 50th year in 2016, the Halftime Show had to be epic. Coldplay was called on to ring in the occasion but, even though the U.K. band's colorful performance got the party started, it was the dance battle between Beyonce and Bruno Mars, two previous Halftime Show headliners, that helped rake in 115.5 million views.

9

Beyonce, Kelly Rowland and Michelle Williams (Destiny's Child) at Super Bowl XLVII

Queen Bey brought the house down at New Orleans' Mercedes-Benz Superdome in 2013. While her performance felt like something we'd see during one of her tours, Super Bowl XLVII delivered something else we weren't expecting: a Destiny's Child reunion! The moment Kelly Rowland and Michelle Williams appeared on the stage, the energy exploded throughout the Superdome. Even if we never see Destiny's Child release another record, at least we got the chance to see them perform "Bootylicious" together for one night.

10

Janet Jackson, Justin Timberlake, Diddy, Nelly, Kid Rock and Jessica Simpson at Super Bowl XXXVIII

When MTV was tasked to produce the Halftime Show in 2004, they drew inspiration from their "Choose or Lose" campaign and brought together a massive lineup of acts including Diddy, Nelly, Jessica Simpson and Kid Rock. However, it was Justin Timberlake and Janet Jackson's team-up that not only remains the most memorable Super Bowl Halftime Show moment ever, but also the most controversial. Following this particular performance, the Super Bowl featured classic rock acts for the next few years until it returned to pop music in 2011.