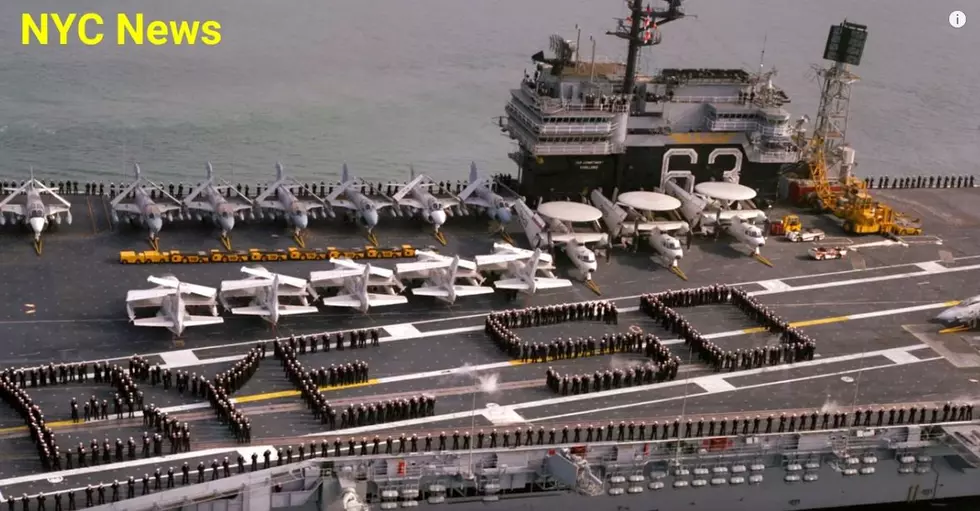 Historic USS Kitty Hawk Heading to Final Resting Place in Texas
YouTube
The former historic USS Kitty Hawk naval aircraft carrier is headed to its final resting place the Port of Brownsville in Texas, the day after Memorial Day.
The 1,069-foot-long USS Kitty Hawk (CV-63) was built in a shipping yard in Camden, New Jersey in 1956, launched out to sea in 1960, and was commissioned by the Navy in 1961. The aircraft carrier was decommissioned in 2009 and was stationed at Naval Base Kitsap  as part of a ghost fleet up until its departure under tow to Brownsville in mid-January.
According to the United States Navy Region Northwest the ship was the Navy's last commissioned conventional-powered aircraft carrier. The USS Kitty Hawk also served in disaster relief and humanitarian efforts in its 48 years of operation.
The ship is expected to arrive around dawn and will enter the jetties of South Padre Island mid-morning. Thousands of veterans who served on the ship will gather for a ceremony to honor the USS Kitty Hawk at the Isla Blanca Park Amphitheater.
A large crowd is expected for the arrival of the USS Kitty Hawk and hotels in the area are already booked up for the Memorial holiday weekend. Five other carriers have been dismantled at the port over the last several years. You may want to take a road trip this Memorial weekend to get one last glimpse before the USS Kitty Hawk becomes scrap-metal.
With the upcoming release of Top Gun: Maverick headed to theaters this weekend it couldn't have been better timing to bring this aircraft carrier to the forefront of Americans.
LOOK: What 25 Historic Battlefields Look Like Today
The following is an examination of what became of the sites where America waged its most important and often most brutal campaigns of war. Using a variety of sources,
Stacker
selected 25 historically significant battlefields in American history. For each one, Stacker investigated what happened there when the battles raged as well as what became of those hallowed grounds when the fighting stopped.
These are the battlefields that defined the United States military's journey from upstart Colonial rebels to an invincible global war machine.