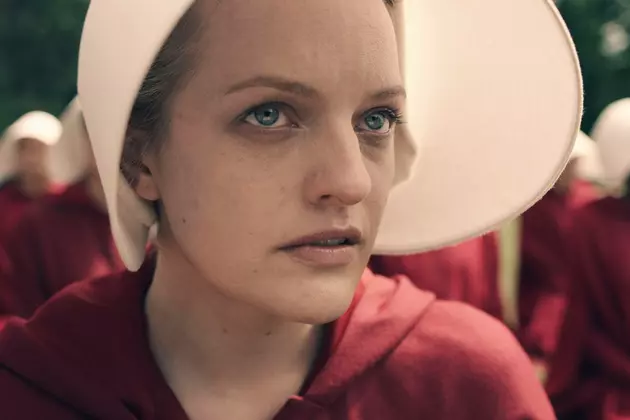 Review: Hulu's 'The Handmaid's Tale' Is the Most Terrifying TV of 2017
Hulu
Hulu's The Handmaid's Tale is one of the most terrifying (fictional) TV you will ever see. There's an apt voiceover in the second episode, as Offred (Elisabeth Moss) likens a meeting with her "Commander" to that of a horror movie vixen walking helplessly into her own demise, as if it were just a "sexy prank" from her boyfriend. We've all felt that kind of foreboding in the last few months; The Handmaid's Tale concentrates that fear with terrifying clarity, almost like we sat on the remote, and mistook cable news for one of the series' flashbacks.
It's impossible to ignore the timeliness of Margaret Atwood's 1985 novel in a political climate that already feels like a detour into the fictional. Hulu's Handmaid's Tale only shows us brief glimpses of the world before blood-robed women in bonnets roamed the streets with armed soldiers on every corner, but the manner in which zealotry bleeds into real life feels all-too-familiar. A barista unapologetically shames two women for moderate running attire, and a nurse replies "praise be" just casually enough to seem like standard greeting. By the time women are violently dragged into re-education centers, one of the matrons leading the charge assures "this will all become ordinary."
"Ordinary" in this case sees Elisabeth Moss' "Offred" (literally renamed property of her captor) as a "Handmaid" to the powerful "Commander" (Joseph Fiennes) and his wife Serena Joy (Yvonne Strahovski). A Handmaid's only role beyond a "two-legged womb" is to visit the market with other Handmaids, and provide support for the rare births following a "plague of infertility" that fueled a violent religious overthrow of Congress. Like The Leftovers or Children of Men, this is a world desperately trying to make order of an existential crisis, something The Handmaid's Tale accentuates with haunting flashback imagery of June (Offred's real name) overlooking a maternity ward devoid of children.
Moss is nothing less than astonishing in the role, as the demure world of Handmaids dictates that so much be said in micro-expressions and tiny gestures. Handmaids are trained to distrust one another – another terrible reflection of our own world* – and only converse in banal platitudes. Nevertheless, there's an ocean of subliminal dialogue to be read on Offred's face during shopping trips with companion Ofglen (Alexis Bledel), or tension-filled asides with the Commander, and his driver Nick (Max Minghella). Offred is constantly terrified but simultaneously curious, guilt-ridden, and almost desperate for some semblance of the "ordinary" human contact this world has lost.
*You might have read bizarre recent reports of the cast downplaying The Handmaid's Tale as a feminist story, which Atwood described as both feminist *and* a human tale. I'd guess Hulu had some (ironic) concern that a "feminist" label would impact viewership.
The story is largely presented from Offred's perspective, but there's still room for Yvonne Strahovski's equally strong work as an authoritative wife shut out from men's affairs, and redirecting that anger toward Offred; a living, breathing barrier laid out between her and her husband. Alexis Bledel's Ofglen also gets a more beefed-up role from the book; the additional focus leads, in later episodes, to the most harrowing dialogue-free sequence I've ever seen in a film or television show.
Nothing is ordinary in The Handmaid's Tale world. Nothing is ordinary about hearing Romans 1:26 cited in a courtroom, or the word "partici-cution." Nothing is ordinary until it is, and The Handmaid's Tale shows us both sides of that coin with a rich oil-painted aesthetic and pop-art soundtrack that gives birth to the most horrifyingly beautiful drama of our time.
Somehow, Ann Dowd seems to have found an incredible niche as the voice of fictional cults, while Madeline Brewer is once again in a role that requires lactation.
Water seems to be a recurring motif, as memories and thoughts of freedom are juxtaposed with beaches, aquariums, baths, and rivers.
There's such perfect irony in moments like Serena Joy extending Offred a cookie, and in the very next breath bemoaning Offred herself as a handout from the state.
Between American Gods' fateful checkers, and a Handmaid's game of Scrabble, we're in a renaissance of ominous board games.
Some soundtrack highlights: Lesley Gore's "You Don't Own Me" (yes, a bit ubiquitous), Simple Minds' "Don't You (Forget About Me)," and an orchestral blend of Blondie's "Heart of Glass."
Adventures in Temp VFX: early screeners of the third episode had exterior locations blanketed in fresh snow, which had to be digitally removed for continuity.
Make a mental note for one incredible two-shot that sees Yvonne Strahovski made to look about ten feet taller than Elisabeth Moss.
The Handmaid's Tale will premiere its first three episodes on Hulu Wednesday, April 26.