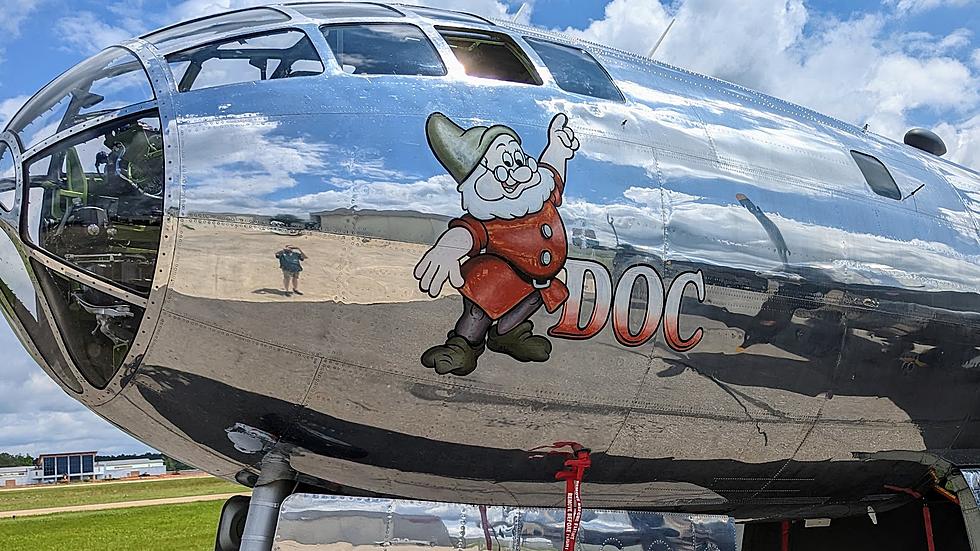 B-29 Doc Is Here For A Few Days And Looking Good
B-29 Doc - Fuselage Selfie - JimWeaver
We got off to a late start due to low cloud cover in Fayetteville Tuesday afternoon and Wednesday morning but it all worked out alright as B-29 Doc touched down at Texarkana Regional Airport Wednesday a little after 2 PM.
After a bit of cleanup and a crew meeting, they allowed the press to come up and have a look, and that is exactly what I did.
Don't worry, they wouldn't dare let me fly it... dangit.
Here is our interview with Josh Wells Thursday morning...
But check out these pics:
B-29 Doc Texarkana Visit 2023
What You Need To Know:
You can still hitch a ride out of this, for all the details about B-29 Doc Flight Experience Rides, visit the website, these opportunities don't come around very often.
Ground and cockpit tour admission is $10 per person or $20 per family. You can purchase your tickets at the gate.
The public entrance for this event is at the Signature Terminal located at 501 Airport Drive, Texarkana, AR 71854.
Find out more about Doc through their website, B29Doc.com.
I have been lucky enough in my radio career to fly in a B-17 twice, both times on the recently lost Texas Raiders, a B-24, a Stearman biplane, and an AT-6 Texan 3 times. This was my first chance at an experience up close with B-29 Doc and I loved it. I bet you will too. Don't forget, I'm "Just Plane Nuts," thanks for reading!
Mid America Flight Museum - Mt Pleasant, Texas
Open: Saturday from 8 AM until noon.
Admission: FREE
CAF Houston Wing Gallery
Located in Houston, Texas at the West Houston Airport (IWS) just north of I-10 off Barker Cypress Rd. Check out the schedule on their
website
for Hanger Hangout Days, available ride planes, and more.
Cavanaugh Flight Museum - Addison, Texas