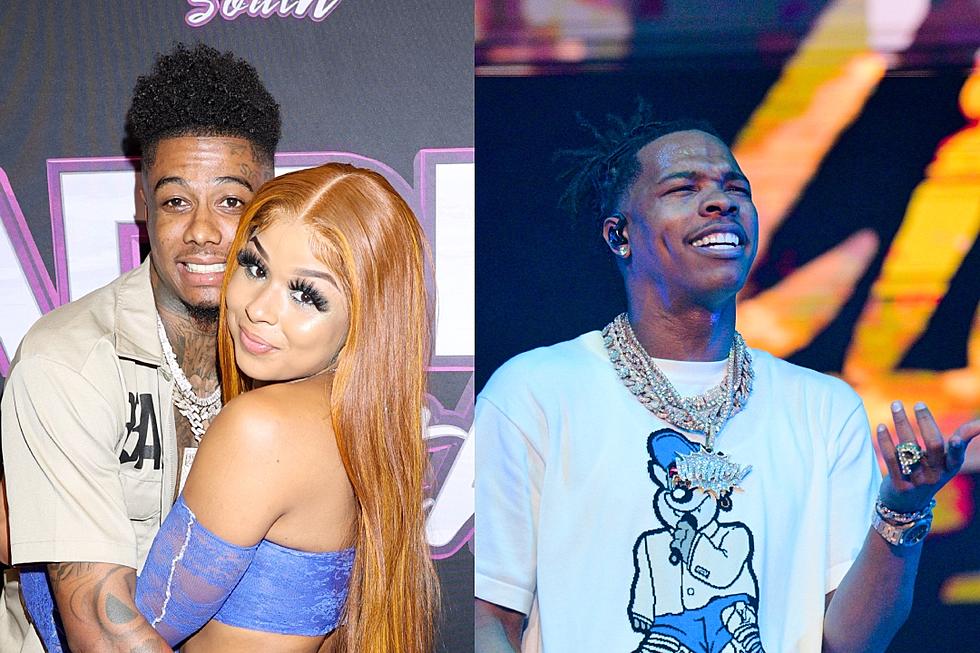 Blueface Disses Lil Baby on New Song Following Chrisean Rock Drama
Arnold Turner/Prince Williams/Getty Images (2)
Blueface is dissing Lil Baby on a new track after claiming the Atlanta rapper was trying to get with Blue's newborn child's mother Chrisean Rock earlier this year.
Blueface Shades Lil Baby on New Song
On Monday (Sept. 18), Blueface released the video for the new track "Baby Momma Drama." On the new song, Blue has some pointed words for Lil Baby.
"Lil Baby thought he knew me [laughs]/How you let another grown man feel up on your booty?" Blueface raps on the Scum Beatz and Flashy Assuno-produced track, which can be heard below. "Couldn't be me, boy, I am not a hoochie/You n***as really industry, I am really in the streets/Squabble up, line it up/Still beefing with enemies."
The line seems to reference a viral photo of Lil Baby being hugged at billionaire Michael Rubin's white-party in July.
Is Blueface Responding to a Lil Baby Shot?
Blueface's diss comes on the heels of Lil Baby releasing a song snippet over the weekend where he appears to name-drop Blue.
"They say what's in the suitcase? Put a hunnid up a million times, f**k is a blue face?" the Quality Control rapper spits.
Blueface and Lil Baby's Beef
Tension between Blueface and Lil Baby appeared to begin back in February when Blueface took exception to Chrisean Rock revealing Lil Baby complimented her when they met. Blueface later exposed alleged texts from Lil Baby to Chrisean Rock and claimed Baby called Chrisean sexy.
Peep Blueface dissing Lil Baby on his new track "Baby Momma Drama" below.
Watch Blueface's "Baby Momma Drama" Video
See 10 of the Shortest Beefs in Hip-Hop
Beefs within rap that ended quickly.