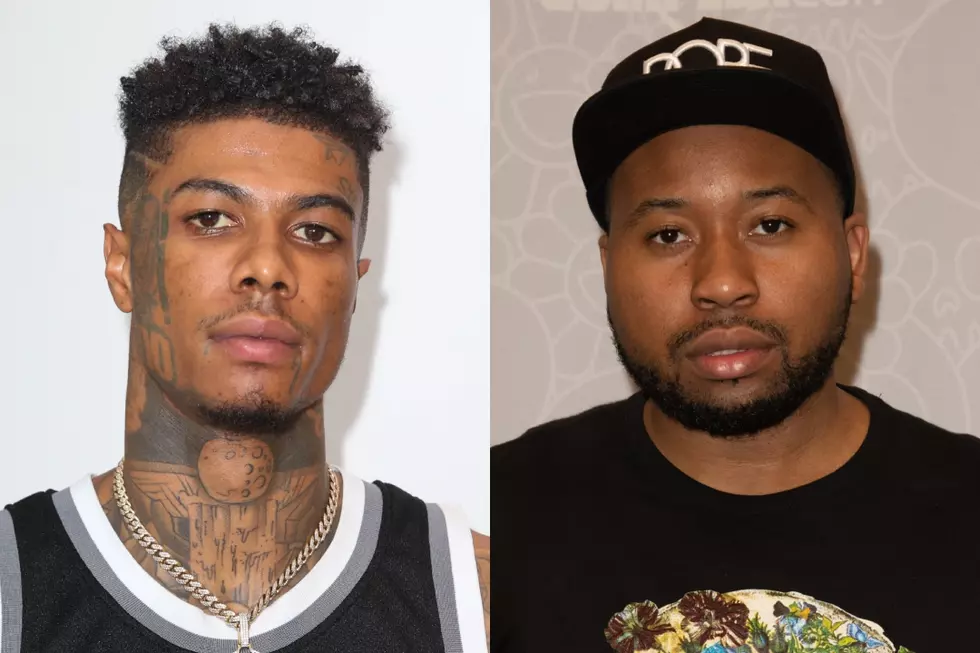 Blueface and DJ Akademiks Trade Shots After Ak Claims Blue's House Is in Pre-Foreclosure
Maury Phillips/Earl Gibson III/Getty Images (2)
Blueface and DJ Akademiks are trading shots on social media after Ak reported one of Blue's homes is in pre-foreclosure.
The situation popped off on Jan. 20, when DJ Akademiks made a fiery report on his Twitch stream that alleged one of the "Thotiana" rapper's homes was in jeopardy of being repossessed by the bank. Ak's claims began to circulate the internet, causing Blueface to respond on Sunday (Jan. 22).
"They tryna take my 2nd house because the police has labeled it as a 'nuisance' to the area due to…to many 911 calls for Robbery shootings fights ETC," Blueface explained. "I know ak thought he ate an had a way to say he had more doe then me but money can't fix everything ak has 1 house he's renting."
In follow-up posts he added, "Key word is they 'trying' garantee they don't an I will still have more houses then @Akademiks at his old age...Akademiks makes money off donations get a real job bro."
A couple hours later, Ak continued to taunt Blueface. This time over Blue's recent claims that Drake follows Chrisean Rock on Instagram because Drizzy is infatuated with Blue.
"Blueface on drugs guys," DJ Akademiks posted on Twitter. "It was confirmed to me by a few ppl and definitely once he said Drake followed his girl cuz he was infatuated with him… Cmon dog. Get some help."
From there, Blueface let off a barrage of posts dissing Ak due to his age and occupation, and asked the hip-hop talking head for a fair one.
"Ak is my lil bro fr I'm helping him learn an get his research up I always have time to teach my lil bro new things no funny shit," Blueface tweeted. "Barely leasing your first house at 31 talking high powered is crazy work...Bro had a 5 year head start an still L...Cuh graduated in 05..Ak became the prize at 31 bingo prize ass nigga I'm on yo head foresure...A 31 year old man Ina room on twitch thanking people for donations playing with him self could never be me at 31."
He added, "I could tweet about @Akademiks all day lol ima sore winner...Bet not turn the fade down after you said all that for lil baby your next response better be yo best caught you Ina mouse trap now..I'll take da fade ak ?...Crickets."
Blue then shared a video of DJ Akademiks talking about boxing Lil Baby.
"Had all the energy for lil baby tho cuz said actually I'm not boxing you," Blue captioned the clip.
This morning (Jan. 24), Ak fired back, bringing up Blueface's recent claims that he doesn't think Chrisean Rock's newly announced baby is his because she's slept with several men.
"Fight the 10 Niggas who piped ya girl out," Ak replied. "The the girl who keep beating ur ass and IM100% down Nigga. MMA shit. Imma buy ur foreclosure house and kick u and ur child and the mother of ur child out and the 10 niggas she done f*cked!!!!!"
He added, "Blueface said 10 Niggas F*CKED his girl in the last year and she still dropped a video of him eating that nasty SNATCH. own up to ur responsibility. U FINNA BE ON CHILD SUPPORT @bluefacebleedem. GET UR MANHOOD back from ya girl...10 Niggas piped out Blueface girl and he still taking Henny bottles to the head. CLOWN. get ur MANHOOD back before u talk to me."
Akademiks then offered money to anyone who has had a sexual encounter with Chrisean Rock to come on his Twitch show.
"I got $5 K per Nigga who F*cked BLUEFACE girl who down to get on my twitch stream breaking it down how it happened," he added. "DNA test included. F*ck maury. BIG AK finna do a paternity test for that broke Ass Nigga BLUEFACE . Im pledging $50k for this effort. WHO GOT BLUEFACE girl pregnant."
This afternoon, Blueface kept things going, adding another response to Ak's low blow.
"Ak want me to fight a female instead of him at 31 years old give it up bro squabble up or shut up," Blueface posted. "We all know when a Nigga turning a fade down an @Akademiks is clearly turning it down the best way he know how to."
"Niggas always use a bitch as a cop out sound like a bitch ass Nigga to me," he added. "Nigga said MMA he must wanna wrestle or some lol cuz ak fasho can't throw no kicks with his fat ass...Ak was Ina committed relationship with celina Powell come on cuz you really wan talk about a bitch bro...Ak is offering 5k to 10 niggas to take the fade for him I must be the big bad wolf or some cuz he was so gangsta for lil baby."
Blueface and Ak's Twitter beef comes after Blueface recently fought with Chrisean Rock on Twitter. Just days prior to them announcing their split and Chrisean Rock's pregnancy.
See 10 of the Shortest Beefs in Hip-Hop
Beefs within rap that ended quickly.