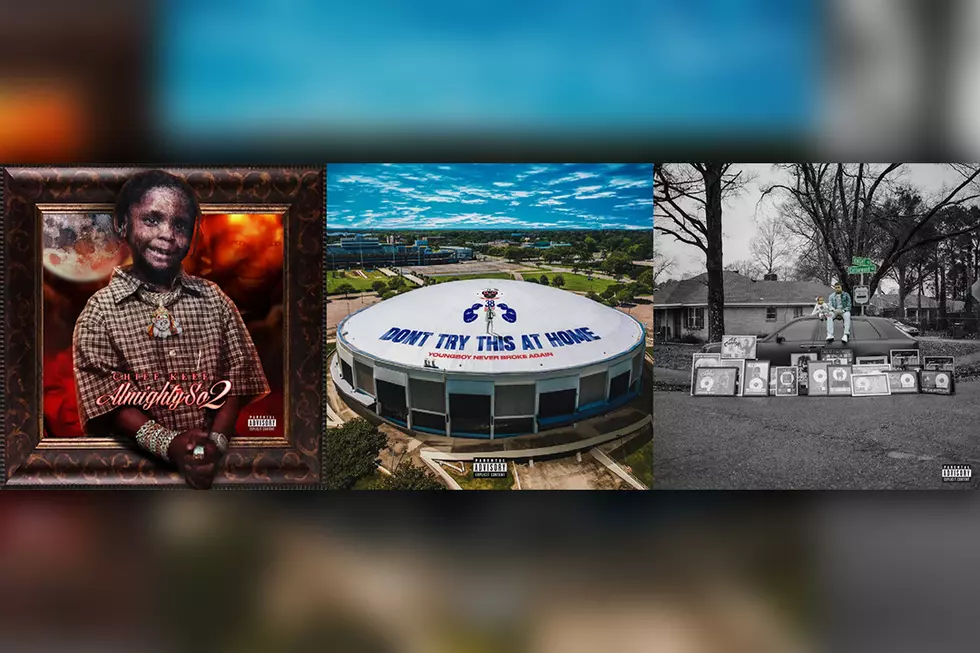 New Hip-Hop Music Releases April 2023
UMG Recordings/Interscope/Never Broke Again LLC/Motown Records/NLE Choppa Entertainment/Warner Records
With the first quarter of 2023 already in the books, things are heating up all across the rap game when it comes to new music releases. The celebration of hip-hop's 50th year carries on in April with drops from all facets of the industry.
In a practice that he refers to as a "disease," YoungBoy Never Broke Again looks to continue along his impressive path of consistently hitting fans with release after release this April in the form of his upcoming album, Don't Try This At Home. On March 21, the Louisiana-bred spitter hit up his discreet personal Twitter page to unveil the release date and cover art for his next LP.
"Album: Don't Try This At Home," tweeted NBA YoungBoy. "Tracks: 33. Release Date: April 21, 2023."
Don't Try This At Home's April 21 release follows YoungBoy Never Broke Again's most recent full-length album, I Rest My Case, which dropped in January right at the onset of 2023. In speaking on the forthcoming 33-track album back in February, YB explained what his rabid fan base can expect with the new sounds.
"I'ma talk crazy on there [Don't Try This At Home]," NBA YoungBoy told the Rap Radar podcast on Feb. 16. "I'ma show you Murda Man. I'ma talk crazy on there, but I'm letting you know though, don't try this at home. It's all entertainment, bruh. I'ma talk my s**t and everything I'm talking, letting you know, don't try this at home."
After delaying the release of his next studio LP twice since it was first announced last fall, Chief Keef is finally slated to come through on April 14 with Almighty So 2. The Chicago drill icon's fifth full-length album will serve as the sequel to his classic 2013 album, Almighty So, which DJ Scream hosted.
Almighty So 2 has been previewed by two singles that are expected to be included on the album, "Racks Stuffed Inna Couch" and "Tony Montana Flow." While Chief Keef hasn't dropped a new album since, 4NEM, which dropped back in December of 2021, the upcoming 17-track LP follows the complete edition of 2012's Finally Rich from December of last year. To celebrate the 10-year anniversary of his highly regarded debut project, Chief Keef added seven new joints to round out Finally Rich (Complete Edition) including "Kush With Them Beans," "OB4L" and "Rider" featuring Wiz Khalifa.
NLE Choppa returns with the release of his second album, Cottonwood 2, which is the sequel to his original project of the same name, which dropped in 2019. Leading up to the release, the Memphis rapper delivered a bevy of singles. Songs like "Slut Me Out," "Champions," and his viral hit "Do It Again," featuring 2 Rare, all appear on the LP. Choppa's latest single, "Mo Up Front," features the 20-year-old rapper boasting effortlessly about getting money.
Another track, the Lil Wayne-assisted "Ain't Gonna Answer" flips Weezy's 2006 song "Stuntin' Like My Daddy" (with Baby) and Juvenile's classic 1998 booty anthem "Back That Azz Up." Wayne also appears in the accompanying music video, which pays homage to the Cash Money era and his Tha Carter II album.
While shooting the video, NLE Choppa gave Lil Wayne his flowers at the set. See below.
Check out all the April 2023 new hip-hop album releases including drops from Rae Sremmurd, Jermaine Dupri and Curren$y, Yung Bleu, Black Thought and more below.
See April 2023 New Music Releases