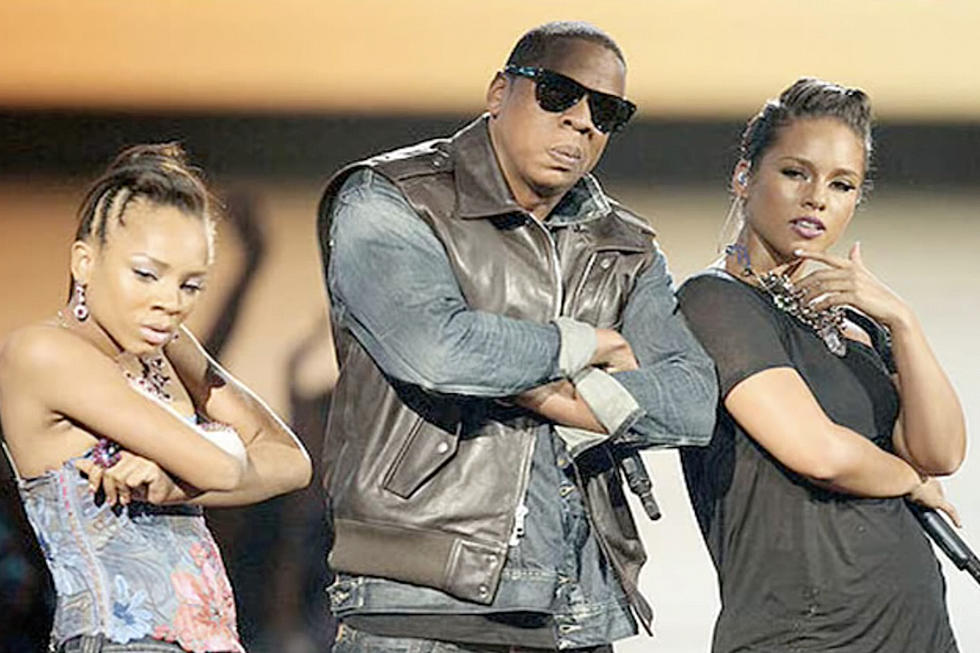 Rewind: Lil Mama Crashed JAY-Z and Alicia Keys' 2009 VMAs Performance [VIDEO]
YouTube
For 34 years, the MTV Video Music Awards featured some great performances onstage as well as some outrageous moments. The 2009 MTV VMAs had several WTF moments, including Kanye West ruining Taylor Swift's acceptance speech for Best Female Video (beating out highly favorite Beyoncé for the coveted moonman trophy). But another weird moment at the awards ceremony would change the trajectory of a young female rapper.
The 2009 VMAs took place on Sept. 13 at New York's famed Radio City Music Hall. The show featured performances from Wale, Janet Jackson, Beyoncé and among others. But the highlight of the night was JAY-Z and Alicia Keys' show-closing performance of their Big Apple anthem "Empire State of Mind."
Hov is looking rugged in his baggy denim jeans and shirt with a brown leather vest jacket and black Timberland boots. Keys donned a shimmering all-black leggings, matching off-the-shoulder blouse and blue-colored high-heeled stilettos.
Meanwhile, in the audience was Natia "Lil Mama" Kirkland. The rapper-turned-actress, whose claim to fame is her 2007 single "Lip Gloss," was invited to the VMAs to help promote MTV's dance competition series America's Best Dance Crew, where she is a judge. Kirkland was sitting two rows away from the stage and was so inspired by Hov and Keys' performance that she wanted to join in.
As song came to a close, Kirkland climbed up onstage and then stood there awkwardly beside JAY and Keys in a B-girl stance when the song ended.
Watch Lil Mama Crashed Jay-Z's and Alicia Keys' 2009 VMAs Performance
The awkward moment promptly became a trending topic on Twitter. Rapper Fabolous launched the hashtag #lilmamais where people began posting memes of Kirkland in her B-Girl pose. The next day, Kirkland issued a statement explaining why she appeared onstage with JAY and Keys.
"I did not mean any disrespect towards JAY-Z or Alicia Keys," read the statement. "I admire them and look up to them as role models. 'Empire State of Mind' had my emotions running high. In that moment I came up on stage to celebrate my two icons singing about NY [New York]."
For JAY-Z, he was not happy with Kirkland including herself in their performance. He told then-Hot 97 radio personality Angie Martinez that Kirkland almost ruined an otherwise great performance. "Me, personally, I would [have never done] that," he said. "We went to rehearsals, we did run-throughs and we worked really hard to put on a show for the people."
"To interrupt that moment for us, I don't think that was the right thing to do," he continued. "I actually thought it was the equivalent to what Kanye did to Taylor Swift."
When Martinez asked JAY if he was angry about it, he replied, "Yeah, I was a little angry to be honest with you. But what I'm going to do, fight Lil Mama?"
The entire incident left a profound impact on Lil Mama. According to the Harlem native, she lost a lot of work behind it and was constantly ridiculed by fans on social media.
"It hurt," she told Complex in 2015. "It took a lot of mental strength, spiritual strength, and physical strength, not to want to hurt others, not to want to hurt myself. A person could be damn near suicidal."
"A lot of people felt like they didn't want to take a chance on me with certain things because it might have made Jay Z or Alicia Keys not want to work with them," she continued.
Nine years after the incident, the 28-year-old Kirkland is a working actress in Hollywood. Her most famous role is her portrayal of the late Lisa "Left Eye" Lopes in the TLC biopic CrazySexyCool: The TLC Story for VH1. Her performance garnered her rave reviews from critics and fans alike.
"I'm born again. It's a new me. Everything that I've been through has taught me something," she told EBONY.com in 2013. "I've grown to understand that this is a business. I understand that everyone is not going to embrace you and think it's OK for you to be in their personal space, or whatever zone they created. You can't just go into someone else's section. In growing and learning all of that, I'm in a new place. But more importantly, it's not about them...it's about me. It's about what I'm doing."
Watch Lil Mama Explain Why She Jumped Onstage During JAY-Z's and Alicia Keys' VMAs Performance