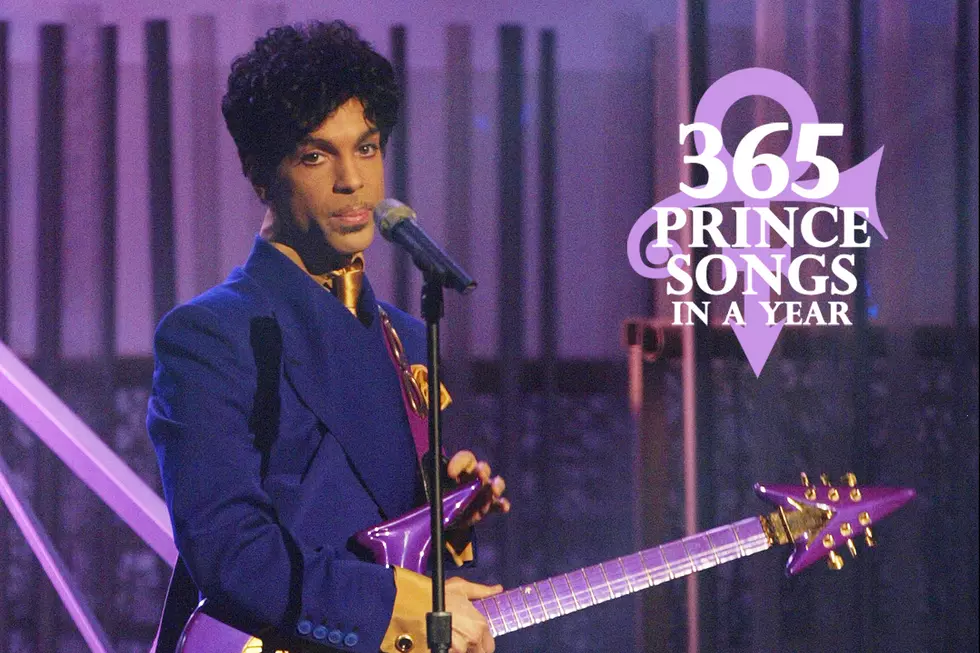 Prince Takes Stock of His Life With 'Reflection': 365 Prince Songs in a Year
Frank MIcelotta, Getty Images
To celebrate the incredibly prolific, influential and diverse body of work left behind by Prince, we will be exploring a different song of his each day for an entire year with the series 365 Prince Songs in a Year.
The gentle, wistful "Reflection" is the appropriately ruminative closing track on Prince's 2004 comeback album Musicology. It found one of the most forward-thinking artists of his generation taking a rare moment to stop and look back on his life.
The song finds Prince reminiscing to a love about days gone by and remembering when he could do simple things like "sit on the stoop and play my guitar."  It was originally recorded in 2003 and the song made its public debut that summer, becoming available as an mp3 download as part of the NPG Music Club. Founded in 2001, the Music Club was one of the first artist-owned music subscription services and was a testament to Prince's ahead-of-the-curve usage of the internet to provide a platform for his recordings. The NPG Music Club offered subscribers access to new Prince recordings, rarities and also allowed fans premium seating at shows as well as VIP after-show access.
Musicology marked Prince's triumphant return to the pop music spotlight after a few years of lower-key jazzier and instrumental projects which were released independently. With support from Columbia Records as well as the good timing of Prince's induction into the Rock & Roll Hall of Fame, the album wound up going multi-platinum and winning two Grammy Awards despite Prince's refusal to acquiesce to then-popular musical trends.
Much of Musicology had a "back in the day" feel to it. Prince stuck to using mostly analog instruments, and the overall sound was more "organic" than a lot of contemporary music. Prince certainly touted this in songs like the title track, asking "don't you miss the feeling music gave you back in the day?" "Reflection" is a perfect (and deeply personal) encapsulation of that ethos.
Rolling Stone's four-star review of Musicology noticed the wistful vibe of "Reflection", calling the song "one of several ballads that float(s) by on a sweet musical breeze reminiscent of Stevie Wonder, memory sweeps Prince away: 'Remember all the way back in the day / When we would compare whose Afro was the roundest?'" The song is given an extra layer of poignancy when Prince mutters "I don't know...I was just thinking about my mother." It's very likely an allusion to Prince's own mom Mattie, who passed away the year before "Reflection" was released.
Prince fans were given a jolt when he reached back to the past once more while appearing on The Tavis Smiley Show. For this performance, which was recorded just prior to Musicology's release, Prince was supported by Wendy Melvoin, former guitarist for the Revolution. Wendy, along with partner Lisa Coleman, enjoyed an extremely close working relationship with Prince during his most commercially viable period in the '80s. Prince's first public performance with Wendy since 1986 got tongues wagging about a Revolution reunion, and those flames were further stoked when Wendy and Lisa worked with Prince on several songs from 2007's Planet Earth. Alas, even though the Revolution left a spot open for Prince at a 2012 benefit for drummer Bobby "Bobby Z" Rivkin, a full reunion of the Revolution never  materialized.