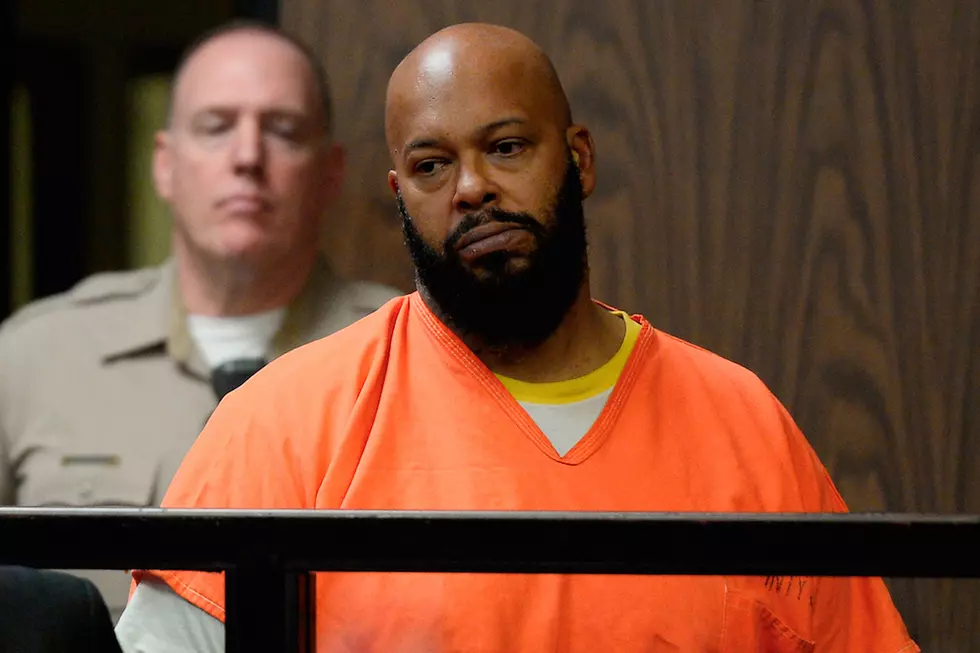 Suge Knight's Girlfriend Indicted on Charges of Selling Hit-and-Run Video
Pool, Getty Images
Marion "Suge" Knight's fiancée and former business partner was indicted on charges of allegedly selling sealed evidence related to the former rap mogul's murder trial. The evidence in question is the grainy surveillance footage that shows Knight mowing down two men in January 2016.
According to the unsealed indictment (via Los Angeles Times), a grand jury in July indicted Toi-Lin Kelly and Mark Blankenship on one felony count each of conspiracy to violate a court order, conspiracy to obstruct justice and conspiracy to commit grand theft.
Both are accused of selling the video to TMZ for $55,000, said prosecutors on Wednesday (Sept. 13). Kelly, who has pleaded not guilty in the case, was arrested Monday (Sept. 11) and is being held on $2 million bail. Attorneys representing her said the charges stem from conduct that occurred 2.5 years ago and at the direction of lawyers involved in Knight's case.
"At this point we believe the evidence will show that she's going to be exonerated by a jury," said Dmitry Gorin, one of her attorneys.
Meanwhile, Blankenship hasn't been arraigned as of yet. His attorneys had no comment on the matter.
In that case, Knight replaced his original attorney, Matthew Fletcher, and hired his new lawyer, Dominique E. Baños. It safeguards against a potential conflict of interest; Fletcher also briefly represented Knight in his ongoing murder case.
Knight's next hearing is scheduled for Oct. 3 in the criminal threats case.
50 Greatest West Coast Hip-Hop Artists of All Time