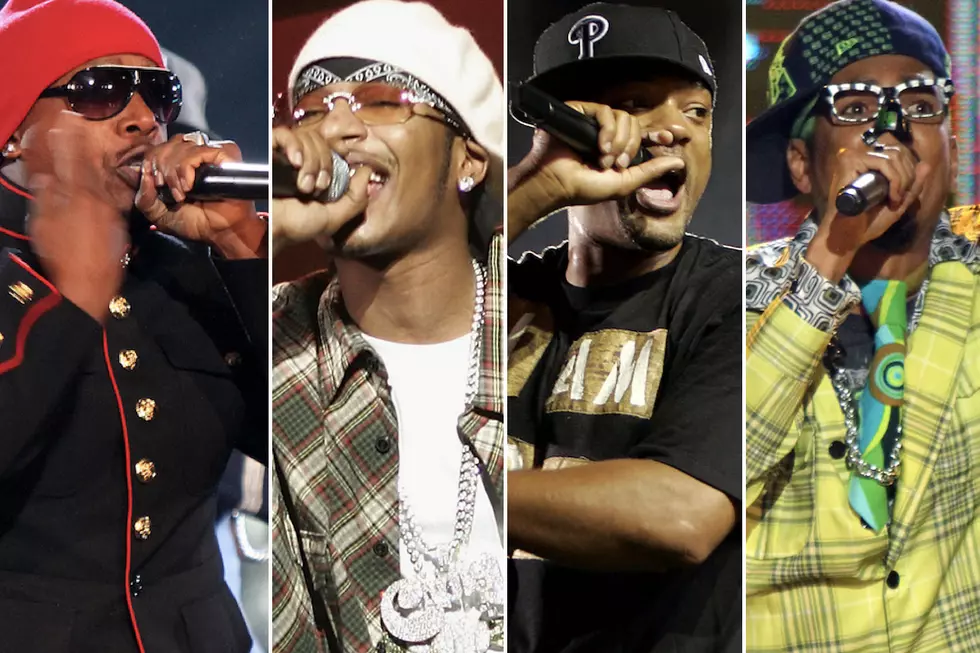 15 Classic Rap Videos That Sparked Dance Crazes
Taylor Hill / Evan Agostini / Kevin Winter / Taylor Hill, Getty Images
Dancing has become a lost art form in today's rap videos. Granted, you have Childish Gambino performing Gwara Gwara, and Neza African dance steps in his polarizing, yet brilliant "This Is America" visual, but there aren't too many rappers dancing in their rap videos like in hip-hop's earlier years.
Back in the '80s, '90s, and '00s, dancing was part of a rapper's repertoire, and occasionally they would spark a nationwide dance craze.
MC Hammer is probably more known for his incredible dancing skills than his rapping. But he's a prime example of an artist whose dancing transcended from the TV screen to households nationwide. The veteran rapper's classic "U Can't Touch This" video made harem pants famous, and fans all over the world mimicked his intricate footwork.
New York rappers Kid 'N Play created their famous kick step in their fun-filled "Gettin' Funky" video and Washington D.C.'s legendary go-go band E.U. had college kids "Doin da Butt" all night long.
On the West Coast, Digital Underground sparked a nationwide dance craze with their "Humpty Dance" video and Will Smith had everyone "Getting Jiggy With It." During the early '00s, Chingy introduced rap fans to the Midwest dance step called the chickenhead and fellow rapper Huey had everyone "Pop, Lock and Drop It."
We can even go as far back as the '80s with rapper Joeski Love encouraging everyone to do the "Pee Wee Dance" and Newcleus' introduced pop locking and breakdancing in their old school video for "Jam On It."
The Boombox will take you down memory lane with 15 classic rap videos that inspired dance crazes list. If the feeling moves you, get up and do the Humpty dance or the chickenhead.
MC Hammer

"U Can't Touch This"

Kicking off the list with MC Hammer, a rapper that set the bar high when it came to dancing and putting on phenomenal stage performances. The Oakland, Calif. native may not be remembered for his lyrical prowess, but his dancing skills are and still unf---witable. In his classic video for "U Can't Touch This," his intricate footwork took the nation by storm as fans mimicked his moves. In the video, Hammer performs a bevy of dance moves including the running man, the kick step, and his now famous Hammer shuffle. MC Hammer was an innovator for dancing in rap videos.

Kid 'N Play

"Gittin' Funky"

Before Kid 'N Play's star-making turn in the '90s teen flick House Party (their dance-off in the crib is still epic), they were dancing up a storm in their classic "Gettin' Funky" video. The dynamic duo's signature dance move is the kick step, which is a slight variation of the popular 19th-century dance the Charleston. Kid 'N Play's fancy footwork has been idolized by both rap fans and famous athletes alike.

E.U. (Experience Unlimited)

"Da Butt"

First introduced in Spike Lee's 1988 flick School Daze, Washington, D.C. go-go band E.U. (Experienced Unlimited) had college kids nationwide doing "Da Butt." A cross between the wop and twerking, the dance focuses on your butt making all the motion with a little hip action. Lee also directed the fun-filled video, which gave viewers a tutorial on how to shake their butts all night long.

Digital Underground

"Humpty Dance"

Arguably, one of the most famous dance moves in hip-hop, the Humpty hump sparked the most prominent dance craze in the summer of 1990. Created by Digital Underground member Humpty (aka Shock G), the dance was accompanied by the classic song "Humpty Dance," which is still a dancefloor mainstay. "People say you look like MC Hammer on crack Humpty," the big-nose rhymer rapped about his gyrating dance move. No big deal, he's still getting paid.

It may not be the most original dance move in rap, but in 1992, Kris Kross (Chris "Mac Daddy" Kelly and Chris "Daddy Mac" Smith) had America jumping with their infectious hit "Jump." Not only did these two Atlanta kids make everyone jump up and down on the dancefloor they also had teens wearing their jeans backwards and rocking mini braids.
Bonus: House of Pain's "Jump Around" also inspired people to, um, jump around, but the song wasn't intended to be a dance hit.

Will Smith

"Gettin' Jiggy Wit It"

Not as memorable as Alfonso Ribeiro's classic Carlton dance but Big Willie's popular dance is just as fun, Will Smith came through and gave us the "Jiggy" in 1998. His "Gettin' Jiggy Wit It" video featured the charismatic rapper-actor twisting and sliding in various backdrops with his backup dancers. The dance is a cross between the funky chicken and the jig. While the song was not beloved by rap purists — it came out during the height of the "jiggy" era, hence the title — it garnered Smith his first No. 1 hit on the Billboard Hot 100 chart.

G.Dep Featuring Puffy and Black Rob

"Let's Get It"

Former Bad Boy Records rapper G.Dep introduced rap fans to the Harlem shake in his 2001 video for "Special Delivery" and in the Little X-directed visual for "Special Delivery (Remix)." The dance was formally called the Albee, which was named after its creator, the late Harlem dancer/entertainer Al B (real name Albert Leopold Boyce) in 1981. The Harlem shake also spawned the "Chicken Noodle Soup" dance, which was popularized by DJ Webstar and Young B in their 2006 video of the same name.

The Midwest sparked a lot of dance crazes in the '00s, and in 2003, Chingy's introduced "da chickenhead" dance in his popular "Right Thurrr," and "Right Thurrr" remix video. You can argue that it's a slight variation of the chicken noodle soup dance, but it's actually a souped-up version (puns attended) of the Monastery.

Huey

"Pop, Lock & Drop It"

Along with Chingy, fellow St. Louis rapper Huey sparked a nationwide dance craze with "Pop, Lock & Drop It" in 2006. It's a physically-demanding dance step that requires some flexibility. Arguably, the dance style is a precursor to the twerking movement.

Honorable Mention: Atlanta's own DJ Unk had the south turning up in 2006 with "Walk It Out," which became a nationwide dance craze and his first top 10 rap hit.

Legendary rappers Salt-N-Pepa brought fun, fashion and sex appeal to hip-hop. All of that was on display in their classic 1986 video for "Push It." Not only did the iconic trio sparked a dance craze with their suggestive dance moves, but they also inspired a classic fashion trend with their skin-tight bodysuits, 8-ball jackets, gold doorknocker earrings, and boots. "We kept pushing it until they had to start respecting us. We opened the door for women rappers," Sandra "Pepa" Denton told The Guardian in 2017.

In 1984, Newcleus, the first live hip-hop band, mixed hip-hop, and electro together to create the classic electro-rap song "Jam on It." In their accompanying video, the group to introduce pop locking and breakdancing when it was just in its infancy. Even more fun is the young B-girls who showed they could also pop lock just a good as the B-boys.

Much like MC Hammer, New York rapper Stezo was also a dancing machine. Rap fans were first introduced to the inspiring MC as a background dancer in EPMD's 1988 "You Gots to Chill" video. A year later he branched off on his own and delivered the funky single, "It's My Turn." In the video, Stezo flexes some impressive footwork — from the running man to the Brooklyn to a little bit of breakdancing — all while wearing harem pants and some truck jewelry. Stezo also inspired a trend of graffiti-designed denim jackets that are still a staple in today's fashion industry.

Cali Swag District

"Teach Me How To Dougie"

In 2010, Cali Swag District dropped "Teach Me How to Dougie" and started a nationwide dance craze with the "Dougie." The dance is a slight variation of the "Stanky Legg," that involves the movement of the legs, arms, and hips almost like "the Snake." The dance actually originated in Dallas, TX,  and was inspired by legendary rapper Doug E. Fresh's dance routine called "the Dougie."

Joeski Love

"Pee Wee Dance"

Joeski Love's 1986 song "Pee Wee Dance" is one of the most sampled songs in rap music, but it also sparked a nationwide dance craze. The song, of course, is inspired by the fantasy movie <i>Pee-wee's Big Adventure</i> mimics the scene where Pee Wee's dances on top of a bar hop. According to Love, he wrote the song in five minutes and rapped it over a beat that was discovered on Audio Two's demo tape that was submitted to his label. The rest is rap history.

Fat Joe Featuring Remy Ma

"Lean Back"

Thugs may not dance in the club, but in 2004, Fat Joe had the roughnecks and the ladies leaning with his dance anthem "Lean Back" featuring Remy Ma. The dance itself was inspired by the dancehall move the Rockaway but much smoother.

Soulja Boy Tell 'Em is, arguably, the internet's first viral rap star. In 2007, he dropped his chart-topping single "Crank That" and sparked a nationwide dance craze with the "Soulja Boy." A combination of various popularized dance moves in Atlanta (including Yung Joc's motorcycle dance in the "Goin' Down" video), the dance consists of bouncing on one foot from side to side, cranking of the wrists like a motorcyclist and then finally lunging into a Superman pose. Ten years after its release, people are still doing the Soulja Boy dance, including ghetto superheroes.