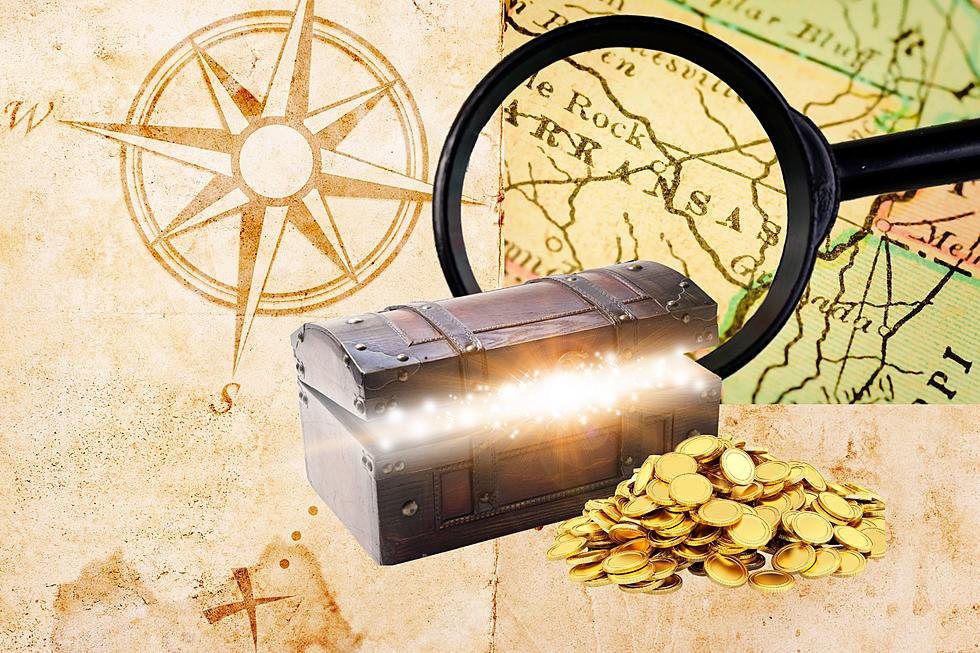 Are There Really Hidden Treasures Buried in Arkansas?
Canva
I think most of us since we were kids, dream of finding a lost treasure that someone buried and forgot whether it be in our own backyard, some field in the middle of nowhere, or even underwater.
It could have been buried by some notorious outlaw or criminal that stole a bunch of money with hopes of coming back to retrieve it one day but they either got killed, wound up in jail, or just died of old age never laying claim to their hidden fortune.
Legendary Lost Loot
As a matter of fact, legend has it that a man by the name of John Crittenhouse once found gold coins worth $150,000 from a sunken Union gunboat during the Civil War era. Supposedly, he buried his treasure in a cave near Clarendon, Arkansas where it's alleged to still be there waiting for someone to find it. Also, in the early 1800s, it's believed that the Ouachita Mountains was a hot spot for finding gold as mining and panning for gold took place during that time period. Maybe, there's really something to that old saying, "There's gold up in them hills."
Other legends include the notorious James gang who got away with $32,000 in loot and jewelry after robbing a stagecoach in 1874 just south of Hot Springs, Arkansas.
The outlaws Frank and Jesse James were being pursued so they buried their treasure near a road that is now known as Malvern Road and Gulpha Gorge Road only to never return. See popular outlaw hideouts.
Can you use a metal detector in Arkansas?
Arkansas does not have strict metal-detecting laws but it's best you check with local authorities before you start digging around because it could be someone's private property or government owned and the last thing you need is being shot for trespassing. You have to see these 12 lost treasures in Arkansas.
In case you didn't know the Lost Louisiana Mine is about buried Spanish treasure that folks have been looking for since the Victorian era mainly in the Ouachita and Ozark regions of Arkansas.
The Latest
Recently, a Northwest Arkansas man discovered some unusual treasure on Beaver Lake. See what he found.
You may be wondering what about Texas?
It's believed that Texas has over 200 hidden treasures buried by famous outlaws and robbers all over the state.
Can you keep buried treasure if you find it?
If the property is considered lost, abandoned, or a treasure trove, the person finding it gets to keep it unless the owner claims it
So, unearth your inner Indiana Jones and hopefully you'll find a hidden treasure in Arkansas to treasure for the rest of your life. Happy Hunting!
Offbeat adventures: Travel to the coolest hidden wonders in every U.S. state
Fuel your offbeat travel dreams.
Stacker
found the coolest hidden wonders in all 50 U.S. states (plus D.C.) using data from
Atlas Obscura
.
[WARNING: Under no circumstances should you enter private or abandoned property. By doing so you risk bodily harm and/or prosecution for trespassing.]