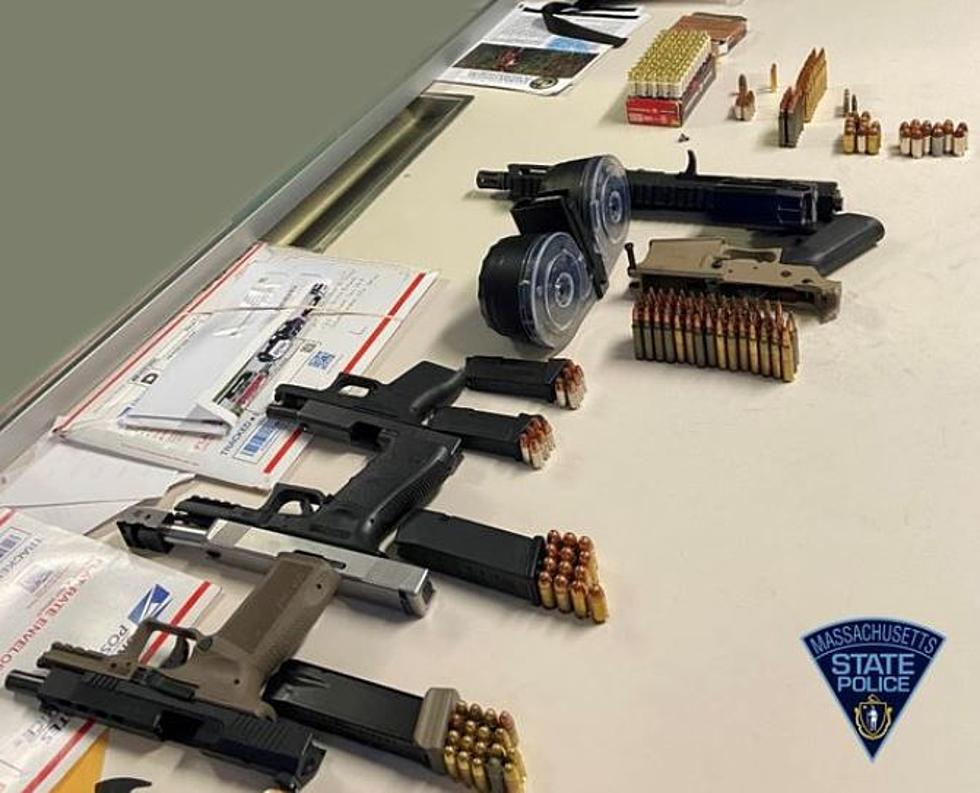 Arkansas Man Arrested in Massachusetts with Several Guns and Ammo
Massachusetts State Police, Facebook
A 20-year-old Arkansas man was arrested by Massachusetts State Police on Sunday morning in South Boston for having several guns in his possession that he apparently purchased legally in Arkansas.
According to the report from News5, Tayvian Chamberlain from Bentonville, Arkansas told police he has the guns for protection. Chamberlain was in Massachusetts delivering puppies to a buyer when he was pulled over by police because of expired tags.  After a quick search, officers found four guns and three large-capacity magazines, and several rounds of ammo. Chamberlain was questioned about the guns to which he replied he allegedly bought them at a gun show in Arkansas. The guns were not registered to him because you can carry a gun in Arkansas without a license to carry.
According to the Massachusetts State Police Facebook page, troopers located a Canix pistol with a magazine holding 18 9mm rounds under the driver's side front seat They also located a Glock 43 pistol with a magazine containing six 9mm rounds between the driver's seat and the center console; a Glock 41 pistol with a magazine holding 13 .45 caliber rounds underneath the Glock 43; and in the same area; an AR pistol with the drum magazine, which held 70 rounds of .223 ammunition, on the floor in front of the front passenger seat. They also located an additional magazine holding six 9mm rounds in the center console, and additional loose rounds of various calibers throughout the vehicle, inside a bag near the spare tire in the trunk, and in the rear driver's side door compartment.
Chamberlain was charged with improperly storing the weapons, and several counts of gun and ammunition possession and was booked after he couldn't post bail and transported to the South Boston District Court for arraignment at a later date.
Boston Animal Control was contacted by police and they picked up the three puppies and were able to find the buyers and made arrangements for them to be picked up.
LOOK: The biggest scams today and how you can protect yourself from them