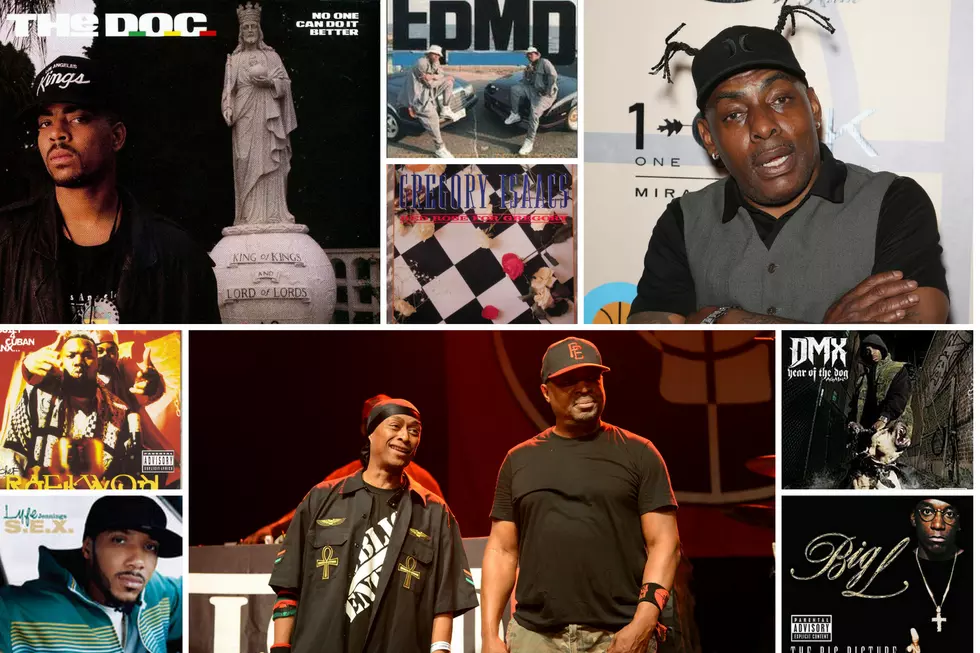 DMX's 'Year of the Dog… Again' Ends His Billboard Streak: August 1 Hip-Hop History
Scott Dudelson, Gabe Ginsberg/Getty Images. iTunes.
On this day in hip-hop history: We celebrate the birthdays of the two members of Public Enemy, an EPMD classic and classics from Raekwon and the D.O.C.
On this day in 1960, Chuck D was born Carlton Douglas Ridenhour in Queens, NY. The political rapper is known for his controversial lyrics and creating one of hip-hop's most influential rap groups of all time, Public Enemy. In 2013, Public Enemy was inducted into the Rock'n'Roll Hall of Fame. "It's not ever really been about us, it's about how we can actually forward the genre, so we take this very seriously," Chuck D told theGrio. "I don't think we've ever been popular. We've been kind of begrudgingly accepted. I tell people all the time, if we didn't get a chance to get our passport in 1987 and leave this country, Public Enemy wouldn't have lasted 26 years as a cultural group that set the stage. We come from Roosevelt, Long Island, that's a lot of what this whole thing is about."
Chuck D has been a hip-hop pioneer for over 30 years and continues to stay active as a producer, author and activist. Just last week the P.E. frontman announced that his next solo album, Celebration of Ignorance would be out this September.
1960 - Professor Griff is Born
Born Richard Griffin, Professor Griff shares the same birthday as his groupmate Chuck D. Griff was primarily known as the group's Minister of Information. In 1989, Griff gave a controversial interview with the Washington Times, which he blamed Jews "for the majority of wickedness that goes on across the globe." After the comments in the interview gained national attention, he was dismissed from the group. He later admitted his faults in his 2009 book, Analytixz. After his departure from Public Enemy, he formed his own group, the Last Asiatic Disciples, and just last August, Griff married rapper Solé.
Born Artis Leon Ivey Jr., the Compton rapper Coolio is known for his 1995 Grammy Award-winning hit "Gangsta's Paradise" and other singles like  "Fantastic Voyage." You may also remember him rapping the theme song to Nickelodeon's Kenan & Kel. Coolio has made several appearances in television and movies, mostly cameos or small roles.
1988 - Gregory Issacs Released Red Rose for Gregory
Reggae artist Gregory Issacs released 11-track album, produced by Gussie Clarke, featuring studio band the Mighty Diamonds. One of the albums best hits was "Rumors," "Rough Neck" and "Mind Yu Dis."
1989 - EPMD Drop Unfinished Business
The hip-hop duo EPMD, released their second studio album, Unfinished Business. The album did better than 1988's Strictly Business, peaking at No. 53 on the Billboard 200, however, only one single, "So Wat Cha Sayin," made a splash on the Hot 100 charts.
In a interview with Billboard, member Parrish Smith reminisced on the two back to back classics, and how the titles came about. "On all our business titles, our first album was basically titled Strictly Business because we put everything on the line. We gave up a lot just to be a part of the hip-hop culture so [the name of the album] had to be Strictly Business. You couldn't lose. Once you get into the game, people kind of put the pressure on you, like the sophomore jinx or [saying] you can't do it. So Erick and I came back around with Unfinished Business [which hosted] 'So Wat Cha Sayin'' and 'The Big Payback.' So we always answered into response to way the fans and the way the game responded to us. It's always been about business to us no matter how much fun we were having in the music."
1989 - The D.O.C. Drops No One Can Do It Better
Tracy Lynn Curry aka The D.O.C. drops his debut album, "No One Can Do It Better," produced by Dr. Dre and released under Ruthless Records. The album reached No. 1 on the Top R&B/Hip-Hop Albums chart for two weeks and went platinum five years after its release.
After getting into a car accident and crushing his larynx, The D.O.C. wouldn't release another album again until 1996's Helter Skelter, but his impact was heard throughout the West Coast sound of the '90s as he went on to write for Dr. Dre, Snoop Dogg and several others. After years of surgery, D.O.C. got his voice back in 2015. "The doctors told me that those vocal cords would never work. So the fact that they're working means that there's something bigger at play," he told Noisey.
"And so I'm going to look at it from a spiritual perspective and know that I could be in the middle of a moment that's not really of my doing or my planning, but it's very positive, and it's very powerful, so I'm going to just continue walking."
1995 - Raekwon Releases Only Built 4 Cuban Linx
Wu-Tang Clan member Raekwon drops his solo debut album, Only Built 4 Cuban Linx on this day in 1995. The album debuted at No.4 on the Billboard 200 and No. 2 on the Top R&B/Hip-Hop Albums chart, while selling 130,000 copies its opening week. Two months later, the album was certified gold.
For the 20th Anniversary, Raekwon told Billboard, "Yeah, it's a special moment. It's a special time where we made a classic album 20-years ago and it got respected throughout the whole game. It don't even feel like it's 20 years. We just want to go out there, do something for the people and celebrate, pop bottles and just pay homage to our album and sing it to people again. They love when we perform that album. We got a whole couple of weeks now of representing and having fun for that time."
2000 - The Big Picture by Big L is Released 
In 1999, the late Lamont Coleman aka Big L was shot and killed in a drive-by shooting in his hometown of Harlem. Three posthumous albums were released, consisting of unreleased songs, the first titled The Big Picture. The album was slated for a 1999 release, but due to his untimely death, it was incomplete and pushed back and completed by his manager and partner in Flamboyant Entertainment, Rich King. The Big Picture featured appearances by Fat Joe, Guru, Kool G Rap, Big Daddy Kane and 2Pac. The album was certified Gold in October and sold 72,549 copies in the first week.
2006 - DMX Drops Year of the Dog... Again
Six years after Big L's release, DMX dropped his sixth studio album, Year of the Dog... Again. The album was supported by singles "We in Here" and "Lord Give Me a Sign," it also debuted at No. 2  on the Billboard 200 and No. 1 on the Rap charts with 125, 000 copies sold, marking it as DMX's first album not to debut at No. 1 on the Billboard 200. It was his last album until 2012's Undisputed, which came out after DMX put out The Weigh-In EP.
In an interview with Rolling Stone, DMX said, "I put The Weigh-In out just because the album [got] pushed back three different times and I got tired, 'cause I'm the only one saying what the date is, so it looked like I'm a fucking liar,"  DMX said in an interview with Rolling Stone.  "So I said, 'Fuck it, I'm just going to give them a free joint to hold on to until the album comes out.'"
2006 - Lyfe Jennings drops "S.E.X."
"S.E.X." is the first single on Lyfe Jennings second album The Phoenix. The song is about the pressure teenagers face to have sex before they're ready. Although the song made No. 37 on the Hot 100 charts and No. 21 on the Adult R&B Songs chart, it received a lot of good feedback.
"The feedback for that song has been one of the greatest experiences [of my career] because it's not like people are coming up to me like, 'I love the song because of the melody.'" Jennings told MTV News. They come up to me and say, 'That song made me want to keep my virginity.' Or if they aren't a virgin, they say it makes them want to save what they have for somebody who honestly wants what they have. And I think that's the greatest thing, to have a person who can love the melody but also love the message."