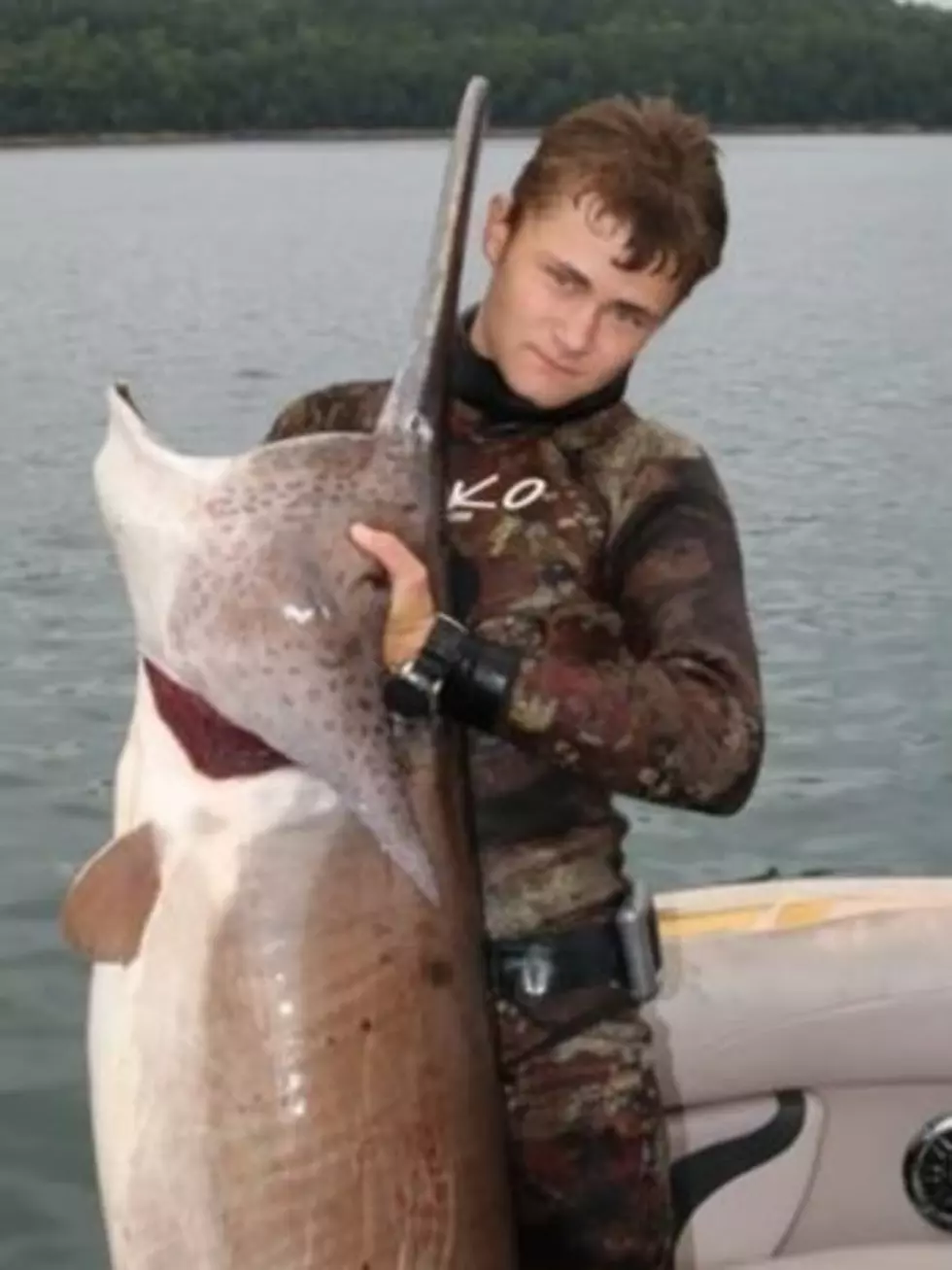 Did an Arkansas Man Just Break a World Record Spearfishing?
Arkansas Game and Fish Commission, Facebook
Did an Arkansas man just land a world-breaking record for catching a huge paddlefish on an Arkansas lake?
Chris Cantrell of Berryville, Arkansas was doing what he loves to do on Saturday, floating on Beavers Lake when he noticed a huge-like shadowy figure nearby.  He grabbed his spearfishing tackle and fired off a shot that landed him a 90-pound, 12-ounce paddlefish and wrestled him to the surface, according to the Arkansas Game and Fish Commission Facebook page. Authorities are saying this just may qualify as a spearfishing world record for a paddlefish.
The current speargun record for a paddlefish stands at 71.8 pounds, back in 2019. Cantrell said he and a buddy actually set out to look for striped bass, according to a report from the Kansas City Star. Beaver Lake is located in Northwest Arkansas near the Missouri state line.

Cantrell indicated that after the fish was speared it dove strongly back under the water, his float line was the only thing that kept the fish contained. Now it's up to Cantrell to apply for record status, while this could set a speargun record, there have been other paddlefish caught the traditional way where a 118.9 pounder was caught on the same lake. A regional state fisheries supervisor believes these fish could be holdovers from when they stocked the lake in 1996-2000.
Nevertheless, whether he applies for world record status he's got one cool story to tell or should I say, an old fisherman's tale.
LOOK: Must-do activities at every national park
Stacker
lists the must-do activities at every national park ranked by the annual number of visitors.