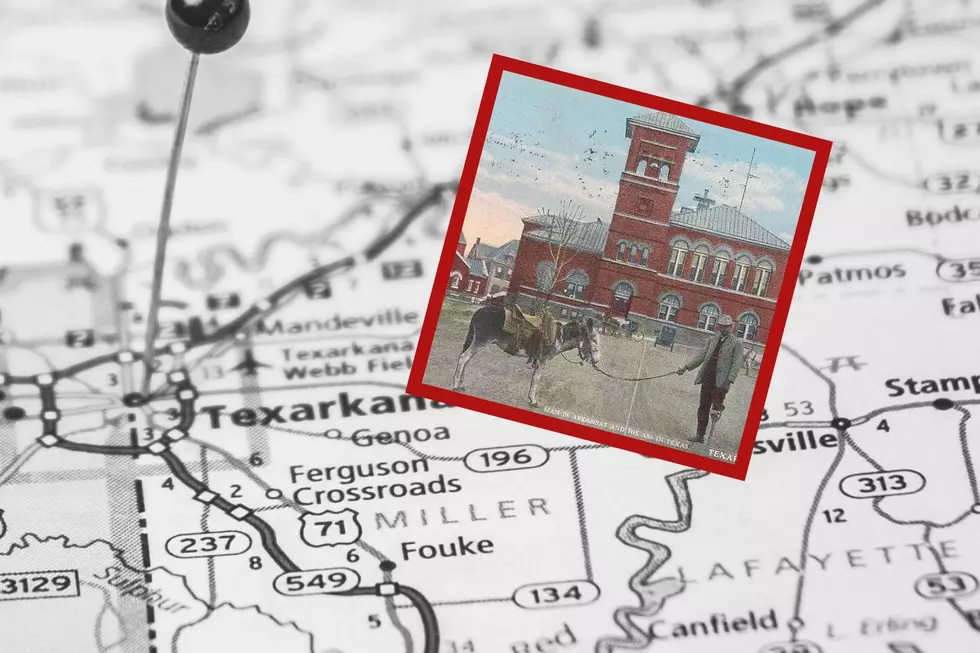 Don't Miss a Look Back in History & Texarkana's Famous Postcard
ebay arbrel, Canva
Texarkana's Sesquicentennial continues all year as we have the chance to learn about the history of our great town. TXK150 along with the Texarkana Museum Systems will present a special program that will look back in time and the history of one of Texarkana's famous postcards.
It's a long tradition to go downtown and have your photo taken at the photographer's stand in front of the post office. Some of us have bent ourselves over the state line so our bum is on one side and our body is on the other, with the famous saying 'I'm in Arkansas but my ass is in Texas'. or visa versa. That saying has been around for a very very very long time. In fact, it's portrayed on one of Texarkana's most famous postcards.
The man on the postcard has a pegged leg and his mule standing in Texas and he is standing on the Arkansas side of the state line. Who was that man?
Well, for starters his name was George Strong. You can learn more about Mr. Strong and his connection and life in the early days of Texarkana in a special living history presentation by Derrick Montgomery.
The special presentation is free and open to the public. It will take place on Saturday, February, 18 from 2 PM to 4 PM and will start at the Ace of Clubs House located at 420 Pine Street in Texarkana Texas then it will continue with the living history portion where Montgomery will portray George Strong in front of the post office starting at 3:15 PM.
Space is limited so reserve your spot for this free presentation at (903) 793-4831.
LOOK: The oldest cities in America
Though the United States doesn't have as long of a history as some Old World countries, it still has plenty of historical charm.
Stacker
brings you a list of the 50 oldest cities in America.
LOOK: What 25 Historic Battlefields Look Like Today
The following is an examination of what became of the sites where America waged its most important and often most brutal campaigns of war. Using a variety of sources,
Stacker
selected 25 historically significant battlefields in American history. For each one, Stacker investigated what happened there when the battles raged as well as what became of those hallowed grounds when the fighting stopped.
These are the battlefields that defined the United States military's journey from upstart Colonial rebels to an invincible global war machine.