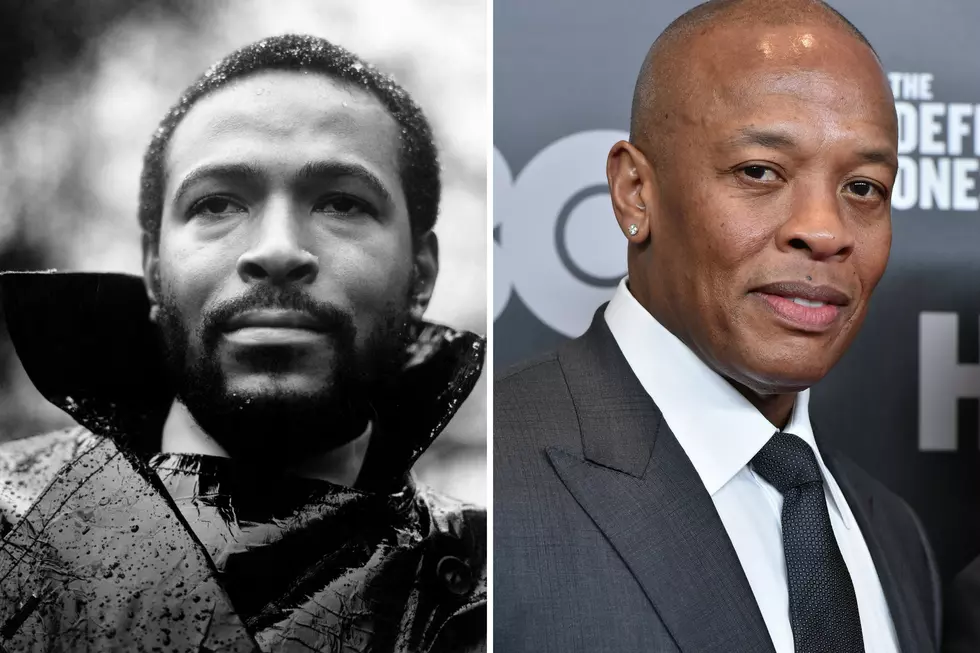 Dr. Dre is Working on a Marvin Gaye Biopic
Michael Ochs Archives/ Michael Loccisano, Getty Images
The "Ain't Nuthin' But A G Thang" producer and rapper co-produced 2015's Straight Outta Compton, a film about his former group N.W.A., that went on to gross over $200 million at the box office. Now he's reportedly in the early stages of developing a Marvin Gaye biopic.
Sources told Variety that the rights to use Gaye's music in the proposed film have already been secured.
Gaye's hit songs, such as "What's Going On," "Got to Give It Up," "I Heard It Through the Grapevine," and "Ain't No Mountain High Enough" with Tammi Terrell propelled the Washington, D.C. native into superstardom before his life was tragically cut short at the age of 44. Gaye's father shot and killed him at their Los Angeles home on April 1, 1984, just one day short of the R&B singer's 45th birthday.
Before finding success as a producer of Straight Outta Compton, which scored an Oscar nomination for Best Original Screenplay, Dre appeared in 1996's Set It Off, as well as the 2001 films Training Day and The Wash.
Last year, Dre starred in HBO's acclaimed The Defiant Ones. The four-part documentary focused on the friendship and creative partnership between himself and record producer Jimmy Iovine, with whom he co-founded the immensely successful Beats Electronics.
Ironically, the legal firm that represents Dr. Dre also defended Robin Thicke and Pharrell Williams in a lawsuit against Gaye's family three years ago. A jury found Thicke and Williams guilty of ripping off Gaye's 1977 party anthem, "Got To Give It Up" to create their No. 1 smash hit, "Blurred Lines." They were ordered to shell out $7.4 million in statutory damages.
Production has yet to begin on this project, as Variety notes that Dre is still currently negotiating a deal to develop the film.
50 Greatest West Coast Hip-Hop Artists of All Time