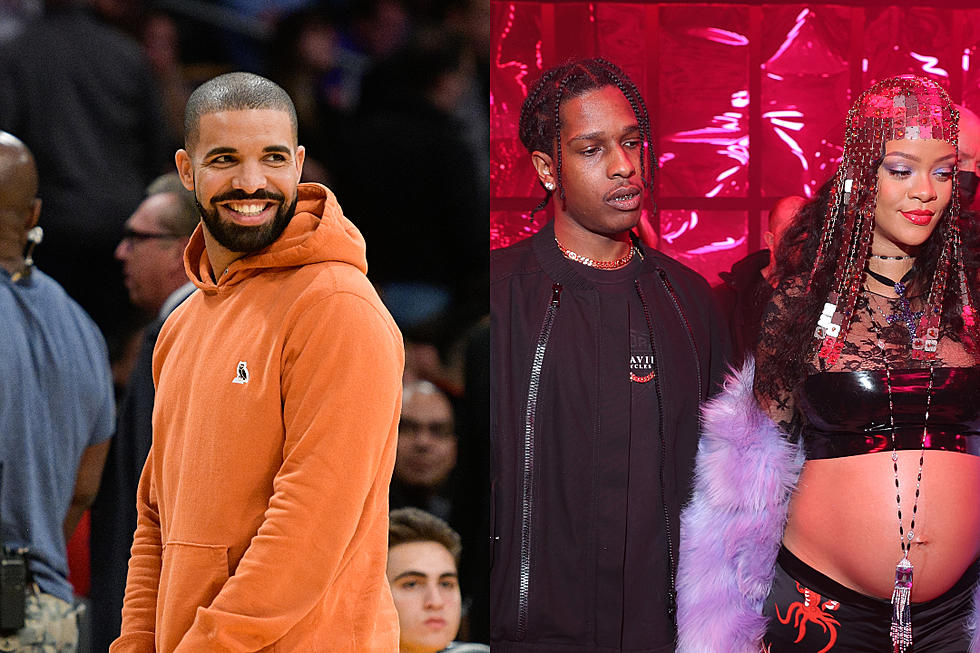 Drake Memes Go Viral After ASAP Rocky and Rihanna Breakup Rumors Spark
Noel Vasquez / Victor Boyko, Getty Images (2)
Rumors about A$AP Rocky and Rihanna unceremoniously splitting have the internet going nuts and Drake memes have also gone viral as a result.
On Thursday (April 14), social media was abuzz after rumors began to circulate that pregnant Rihanna and her unborn child's father A$AP Rocky had called it quits due to since-deleted tweets claiming so, which were posted by writer Louis Pisano on his Twitter account, @Louis_via_Roma. The stunning claims came with the reasoning that RiRi had allegedly caught Rocky cheating on her with shoe designer, who is also a Fenty footwear designer, Amina Muaddi.
"Rihanna and ASAP Rocky have split," the tweet read, which was posted from his @LOUIS_via_ROMA Twitter account. "Rihanna broke up with him after she caught him cheating with shoe designer Amina Muaddi."
Another report from Deux Moi blog claimed the couple was recently spotted at Craig's restaurant in Los Angeles. Rihanna was reportedly seen crying at the table before leaving without Rocky.
The rumors are shocking. And, naturally, the internet found a way to include Drake in the drama, like it did when Rihanna and Rocky first confirmed they were expecting a child.
One meme shows Drake typing on a computer and includes the caption, "ASAP Rocky… is cheating… on Rihanna… with… Amina Muaddi, yea, that'll get the people going."
Another meme has Drake celebrating in a sea of fans and notes, "Drake after hearing Rihanna and ASAP Rocky are no longer together."
Someone else posted a photo of Steve Carell's Michael Scott character from The Office running with a suit on. The caption reads, "Drake on his way rn to console Rihanna after ASAP Rocky cheated on her."
A$AP Rocky and Rihanna came out as a couple in late 2020. Last June, Rihanna covered up a matching tattoo she had with Drake, whom she previously dated. Rocky and RiRi announced they were expecting a child back in January and there were even rumors that Rocky and Rihanna were getting engaged.
See more viral Drake memes that have popped up as a result of A$AP Rocky and Rihanna's rumored breakup below.
See Hip-Hop Albums That People Hated When They First Came Out and Over Time Became Beloved
Which album were you not a fan of at first?