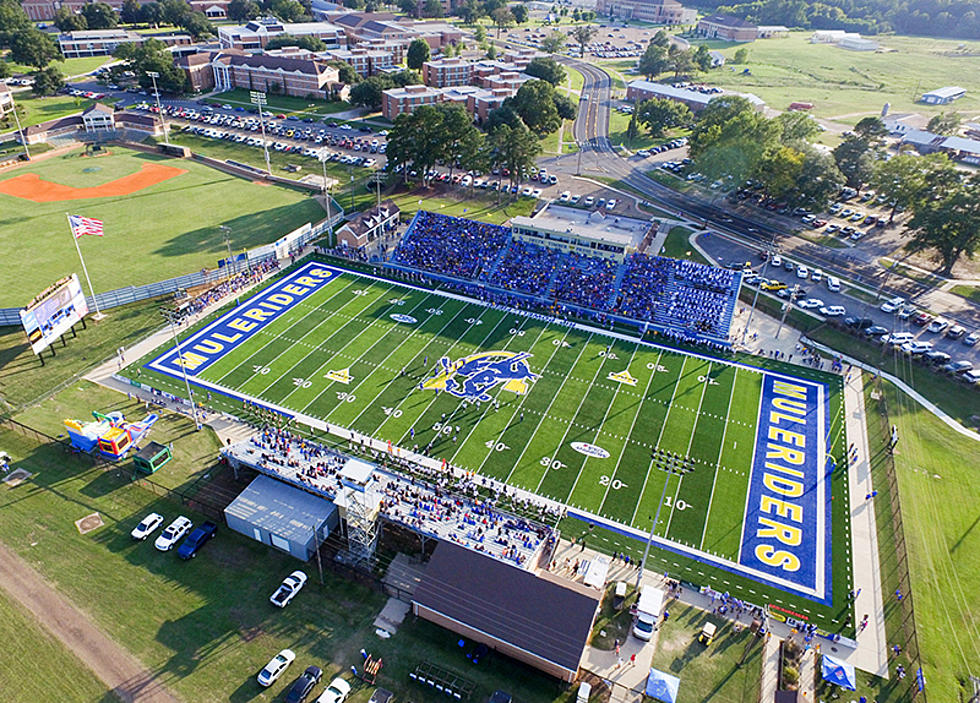 First Home Game For SAU Football Is This Thursday, August 30
Mulerider Football - Stadium Aerial- SAU
The Southern Arkansas University Muleriders will kick off the first home football game of the 2018 season at 6 p.m. Thursday, Aug. 30, at Wilkins Stadium.
The Muleriders will face the Wonder Boys of Arkansas Tech University. The SAU football team finished the 2017 season tied for fourth in the Great American Conference after a 7-4 campaign. The Muleriders are picked to finish 2018 in third according to the GAC Preseason Coaches Poll released earlier this month.
According to the Press Release, SAU fans are encouraged to pack the stadium and "Bleed Blue" by wearing SAU blue for the inaugural home game.
Mulegating, sponsored this game by Farmers Bank & Trust, begins at 3 p.m. They will be serving street tacos to Mulerider alumni, and free hamburgers will be served to the general public by the SAU Cook Team. A kiddie corral will feature bounce houses, gaga ball, and face painting. Jenga and baggo will also be available.
Mulerider alumni are encouraged to stop by the Alumni Association Tent to pick up a ticket for free popcorn at the game and register for a $100 gift basket from SAU Beyond the Campus, the new store that recently opened on the Magnolia Square.
Greek Life will offer bounce houses and games for all ages as well as an All Greek Mulegate. In addition, the SAU Bookstore will be open from 8 a.m.-4 p.m. in the Reynolds Center, and will offer Mulerider merchandise at the stadium during the game until the end of halftime. SAU Beyond the Campus will be open from 10 a.m.-5:30 p.m.