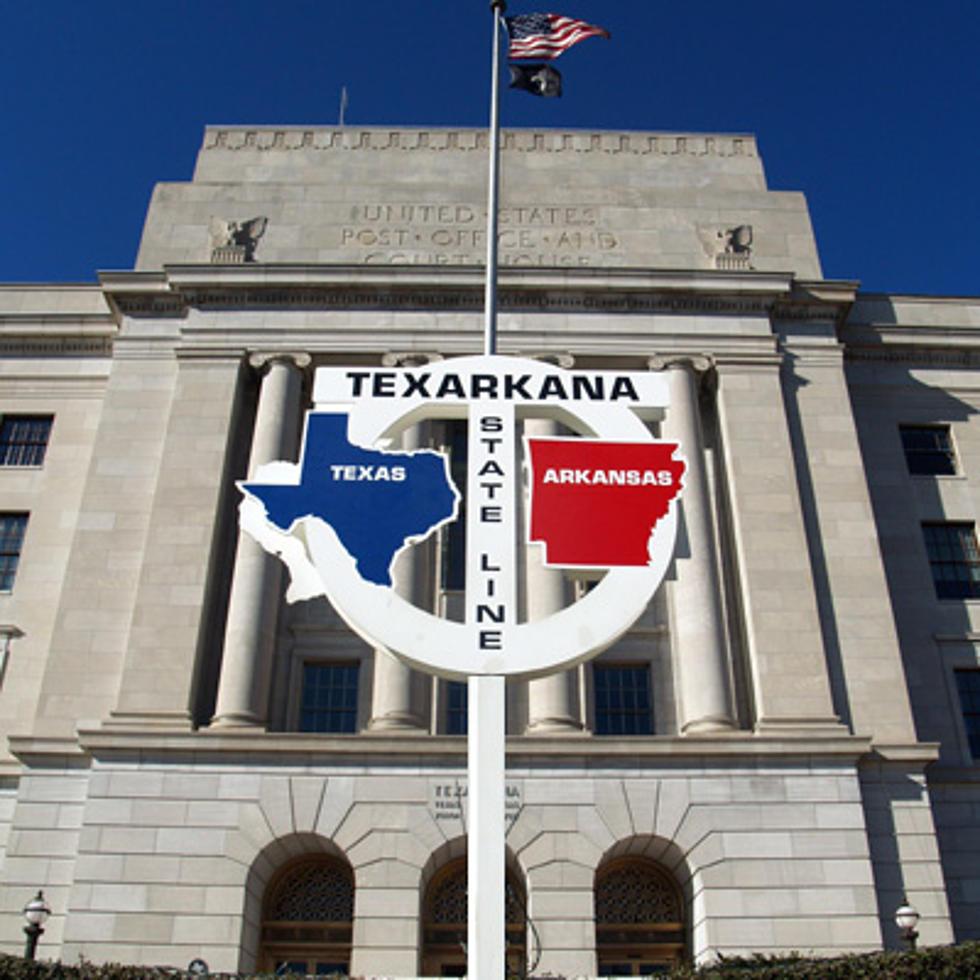 Have You Ever Wondered How Texarkana Got Its Name?
Townsquare Media
Have you ever wondered how a town or city got its name? How about Texarkana?
Let's face it, Texarkana is a very unique name and how to pronounce it, is a whole different game but will save that for another time. Most historical sources say the word Texarkana is derived from the fact that we live in two states Texas and Arkansas, I get that but what about the " "ANA" part of the word? Well, because of our close proximity to the Louisiana line, it only made sense to finish the word with "ANA," thus the word Texarkana.
As a matter of fact, there was song named "Cotton Fields" with the lyrics, Down in Louisiana just about a mile from Texarkana." Well, I don't know what kind of Kool-aid they were drinking when they recorded that song because geographically speaking, the Louisiana line is around 35 miles from Texarkana. By the way,this area has also coined the phrase the Ark-La-Tex.
Looking back over the years, there have been many songs written about Texarkana or have lyrics related to Texarkana. Movies and TV shows often use Texarkana as a reference such as the most recent episodes of popular shows "Yellowstone" and "Young Sheldon. See Jim's story.
What's in a name?
Of course, there are other theories as to how Texarkana got its name as well. This has always been a railroad town going all the way back to the mid 1800s. A railroad surveyor  is known to have traveled through here and is said to have come up with the name "Texarkana" by painting it on a plank and nailing it to a tree with the saying,
"This is the name of a town which is to be built here," according to Wikipedia.
There was also a tale of a Red River steamboat named "Texarkana." Whatever you choose to believe Texarkana is here to stay and if you grew up here like me you don't give the name a second thought. But for people who have moved here or travel through here on a weekly basis it may sound a little strange to them.
I also want to point out that we are a four state area with Oklahoma nearby, so it could have been named Texarkanahoma. Can you imagine trying to say that word or better yet trying to fit it on to a sign?

Check out this video of local musician Ramblin' Ted who offers a unique perspective on how Texarkana got its name. He travels to the three corners where Texas, Arkansas, and Louisiana meet and it's in the middle of nowhere. There are signs that indicate Texas and Louisiana but only a marker by a tree that marks the spot for Arkansas. Thanks Ted, that was a interesting story and I'm just glad your dog didn't mark the territory.
And what better way to end this story than with one of the most iconic Texarkana postcards from many years ago.
Check Out the Best-Selling Album From the Year You Graduated High School
Do you remember the top album from the year you graduated high school?
Stacker
analyzed
Billboard
data to determine just that, looking at the best-selling album from every year going all the way back to 1956. Sales data is included only from 1992 onward when Nielsen's SoundScan began gathering computerized figures.
Going in chronological order from 1956 to 2020, we present the best-selling album from the year you graduated high school.