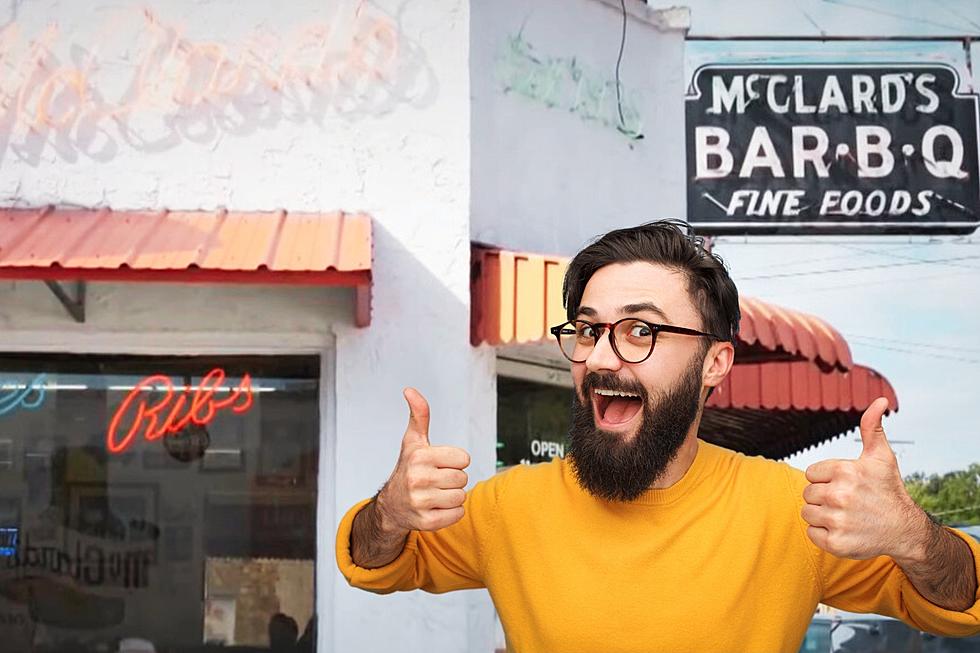 3 of Arkansas' Best Hole-in-The-Wall Restaurants Worth the Drive
THV11, YouTube, Canva
Arkansas is home to endless lakes, mountains, rivers, and some of the best places to eat in the state. But if you love where the locals go or those tucked-away hard-to-find hole-in-the-wall restaurants I'm about to tell you about 3 restaurants that are worth the drive.
The name pretty much says it all this delightful diner is located right off I-40 in the small community of Mayflower, and people from all over the state and been gathering here for more than 20 years to enjoy some of the best home-cooked food around.
If you love southern food served up with friendly service then you will love Stroud's! You have to go all in on the biscuits and gravy and fresh homemade pies.
And the huge chili dog is to die for.
Stroud's is also the place where everyone gathered during a difficult time when the Mayflower tornado and oil spill hit the area. It's worth the drive to Stroud's Diner in Mayflower. The drive from Texarkana is 159 miles. Do I hear a road trip coming? Visit their Facebook page here.
The Food Network rates Rhonda's Famous Hot Tamales in Lake Village, Arkansas as some of the best in the state. Unlike the Mississippi Delta tamales, Arkansas' version comes from soul food meets Italian a longtime family tradition. Each tamale is filled with chicken fat, beef, and spices that give it a robust flavor that will make your taste buds sing. And you can take two dozen home with you in a coffee tin for freezing and eating later.
Rhonda's also has a killer pork chop sandwich, smothered chicken, southern fried catfish, and fresh-from-scratch homemade pies.
In 2017 Rhonda's Famous Tamales was inducted into the Arkansas Food Hall of Fame. Unfortunately, Rhonda Adams recently passed away in August but her daughter Dorothy Adams Mitchell continues to run the restaurant.
If you love tasty made-from-scratch hot tamales Rhonda's Famous Hot Tamales in Lake Village is certainly worth the 179 miles from Texarkana. The website Somewhere in Arkansas did a really nice story on Rhonda's becoming a favorite Arkansas destination for great soul food and tamales.
A road trip to Hot Springs, Arkansas is worth the drive for its award-winning BBQ.  McClard's has been a family business in the resort city since 1928, In fact, many of McClard's recipes are from Scott McClard's great-grandfather who believed in serving the best quality meats, with the best ingredients.
McClard's has hosted nationally known celebrities like Dallas Cowboys owner Jerry Jones to President Bill Clinton who would make special trips to the local eatery.
McClard's has some of the best mouth-watering pull-apart ribs, BBQ sandwiches, and fresh-cut fries along with a local favorite the infamous tamale spread filled with beef and pork and steamed in paper rather than corn husks and covered with piles of shredded cheese.
Don't forget to take home a bottle of their famous BBQ sauce now available in select grocery stores. It's worth the short drive from Texarkana to dine at McClard's BBQ.
This is hands down one of my favorite places to eat when I'm in Hot Springs. Visit their Facebook page here. McClard's now has a location in Little Rock.
So there you go, 3 of Arkansas' Best Hole-in-The-Wall Restaurants that are worth the drive.
Charming River Front Cabin Not Far From Texarkana