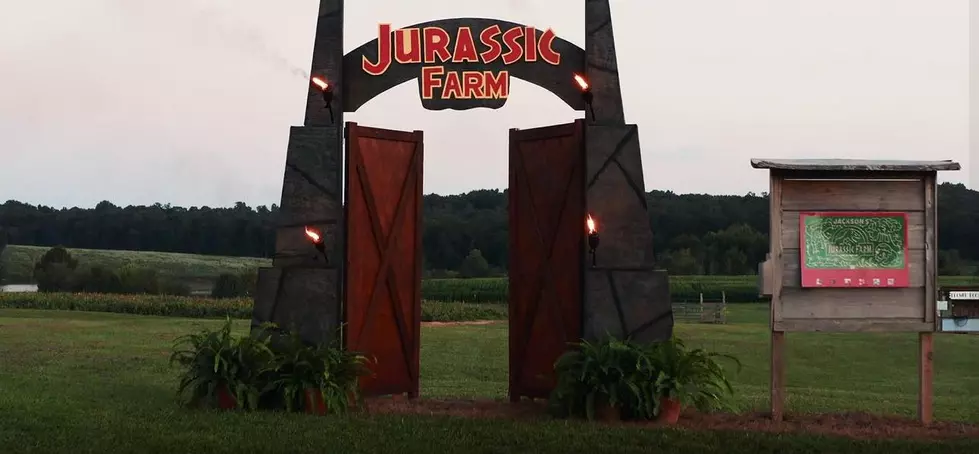 Family Fun at Jackson's Jurassic Farm + Corn Maze in Arkansas
Facebook, Jackson Farm
Are you looking for a unique corn maze to visit this fall? I think I may have found it. Jackson Farm in the tiny town of Black Rock in Northeast Arkansas.
You may be asking yourself why is this corn maze different from any others. It's because the Jacksons have turned their cornfield into a dinosaur field which they've labeled "Jurassic Farm," according to Region 8 News.
You never know what kind of dinosaur you may run into inside the Candyland corn maze.
Jackson Farm is a very family-oriented business that just wanted to do something different and fun this year that would appeal to all ages.
Owners, Bill, and Donna Jackson figured with the popularity of the Jurassic movies this would make for a great theme for their beautiful cattle ranch with a spring-fed lake.
Jackson Fall Festival
Unlike some corn mazes that feature a haunted maze, there is nothing scary at the Jackson Farm. Sure, dinosaurs can be scary looking to some people but their dinosaurs are designed to look fun and friendly. Kids will love taking pictures with the dinosaur characters roaming the field and the interactive corn maze games too.
There will be over 40 activities that kids and families will enjoy like a petting barn, giant corn pit, pumpkin cannon, zip lines, pony rides, pig races, jumping pads, big slides, barnyard football, and more. Enjoy a hayride on the nearby hills or grab some tasty foods like a hamburger, tacos, bbq, hot dogs, funnel cake, or caramel apple.
So, if you are looking for something adventurous and fun to do with the family this fall a visit to Jurassic Farm aka Jackson Farm is the perfect place. Jackson Farm is scheduled to open this weekend on Saturday, September, 24, and will be open on weekends (Sat-Sun) through October, 30. A huge fireworks show will wrap up the season on the last weekend of October.
From Texarkana just take I-30 East or Highway 67 North, the farm is approximately 4 hours and 31 minutes but it will certainly be worth the drive.
Please visit their Facebook page for more information or their website.
LOOK: 34 spooky dessert recipes for this Halloween