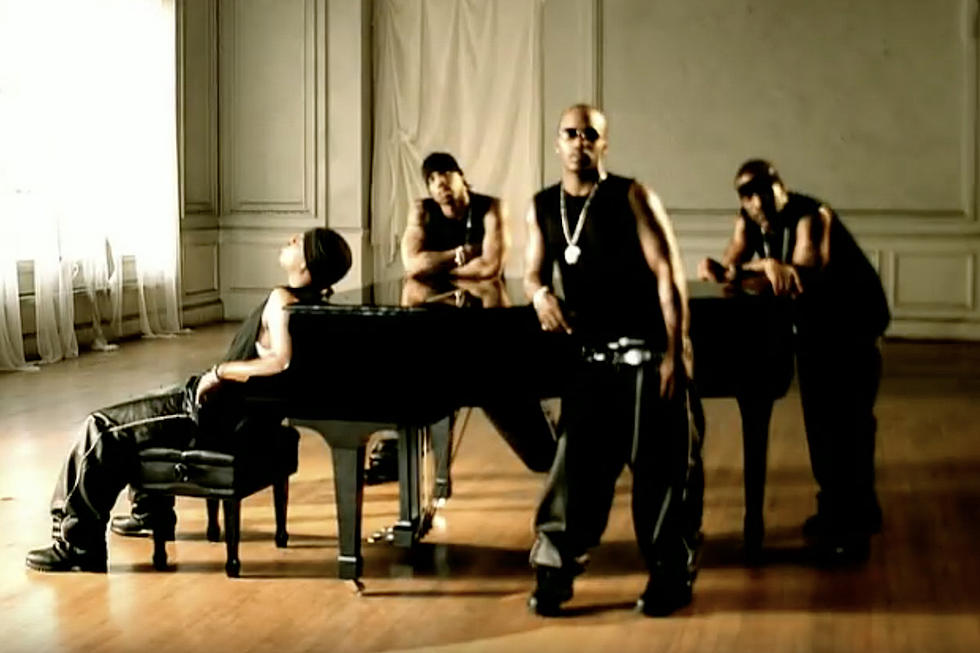 Jagged Edge – 'Let's Get Married': Throwback Video of the Day
YouTube
At the start of the millennium, Jagged Edge delivered the greatest wedding song for millennials (aka Generation Y) with their 2000 ballad, "Let's Get Married." Produced by Jermaine Dupri, the song spent three weeks at No. 1 on the Billboard Hot R&B/Hip-Hop Songs chart and peaked at No. 11 on the Billboard Hot 100 chart.
Shot by Tim Story, who eventually went on to direct movies like Barbershop, Think Like a Man and Ride Along, the visual starts with rapper-turned-actor Fredro Starr proposing to his girlfriend who is a little apprehensive at first but says "yes."
Later in the video, Starr is turning up at his bachelor party and misses his fianceé's phone call, much to her dissatisfaction. But Starr eventually calls to reassure her that he's still devoted to her. Throughout the clip, we see the Atlanta foursome - Brian Casey, Brandon Casey, Richard Wingo and Kyle Norman - dressed in all-black and singing their heartfelt lyrics by the piano.
"Meet me at the altar in your white dress / We ain't get no younger, we might as well do it / Been feeling you all the while, girl, I must confess / Girl let's just get married I just want to get married," the group sings.
At the end of the visual, we see Starr and his beautiful bride walked out of the church as husband and wife while JE and guests look on and salute the happy couple.
Watch Jagged Edge's "Let's Get Married" Video
Although the song became a No. 1 hit for Jagged Edge, Jermaine Dupri was eager to remix it for the clubs. So JD tapped Reverend Run of the iconic rap group Run-DMC and sampled their 1984 debut single, "It's Like That." The remix gives the original song a much-needed groove and it's perfect for DJs to spin at a wedding reception.
"The challenging part was that I had just done the 'In My Bed (Remix)' for Dru Hill, and that wasn't a So So Def group," JD told Complex in 2013. "It felt kind of crazy that, here I am, I create a remix for a group that's not So So Def, and it's a male group. They're in direct competition to Jagged Edge, and they get a number one record. So now it's like, here's your group, what are you going to do with them?"
"So I had to go into the studio and really come up with something. We got to come up with something that is amazing," he continued. "Being a DJ allowed me to understand that if I put a faster beat on a slower record, it'll work. Only a DJ would know that. It just automatically went with the words."
The official video for the remix was directed by Bryan Barber and features fellow R&B crooner Carl Thomas playing the happy groom who just tied the knot with his beautiful bride.
18 years after its release, Jagged Edge are honored that "Let's Get Married" still gets played at weddings all around the world.
"If you have any heart and soul you want to get married one day," said Kyle Norman about the song's indelible legacy. "And I heard it's like one of the number-one wedding songs of all time, behind [Stevie Wonder's] 'Ribbon in the Sky.' So for us to have a song like that being mentioned among the other great wedding songs, that means a lot. We were 19, 20 [years old] making that [song]."
Watch Jagged Edge's "Let's Get Married" (Remix) Video Feat. Rev. Run
15 'I'm All Grown Up' Albums