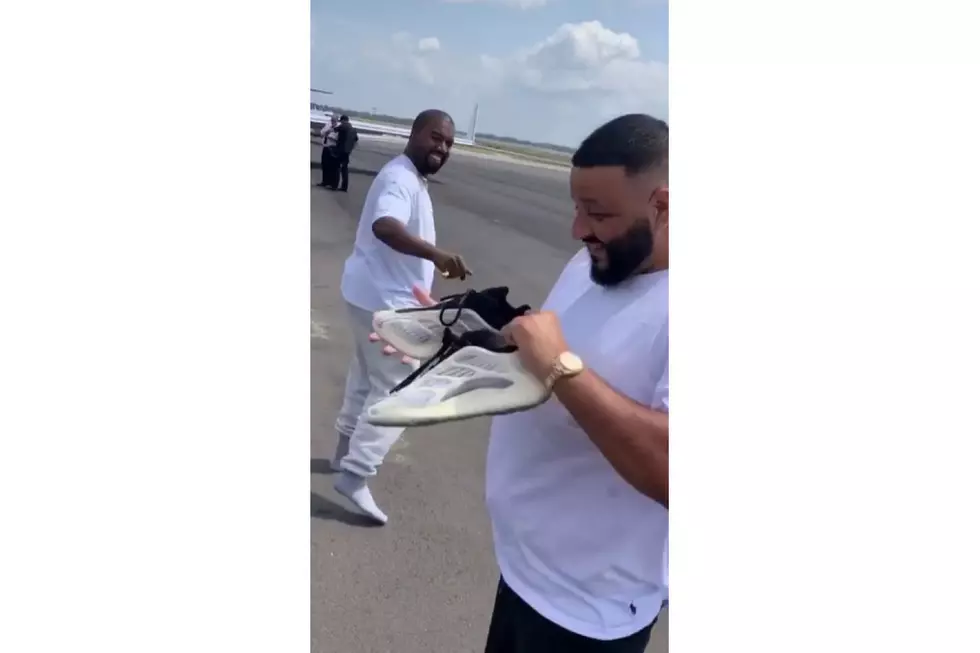 Kanye West Gives DJ Khaled Pair of Yeezys Off His Feet: Watch
IvanBerrios via Instagram
Kanye West is a giving guy. The type of guy that would give you the shoes right off of his feet, apparently.
'Ye was in Atlanta on Sunday (Sept. 15), bringing his Sunday Service to New Birth Missionary Baptist Church. A number of rappers were present at the event including T.I., 2 Chainz and Lil Yachty. A number of rappers are also in town for the 2019 Revolt Conference. Before leaving the city, Kanye linked up with DJ Khaled and gave him a pair of gently-used Yeezys right off his feet.
In video of the encounter, both men share an embrace while surrounded by planes and private jets. After conversing for a brief moment, Kanye takes his Yeezy 700 V3's off and gifts them to the We The Best boss. Khaled stares at the shoes with the excitement of a kid who just got a pair of game-worn sneakers from an professional athlete, while West walks off in his socks.
As Kanye preps his new album, he has been taking his show on the road with Sunday Service performances in Dayton, Ohio, Chicago and now Atlanta.
The rapper's wife Kim Kardashian recently revealed the origin of the gospel sessions telling The View, "It started off healing for him and it's become something that he really wants to share for everybody else."
In other Kanye-related news, is looks like the born again rapper may have been recently trolled by Drake who wore a hoodie referencing Yeezus' newfound faith.
Read 10 Wild Stories That Took Place During Hip-Hop Tours