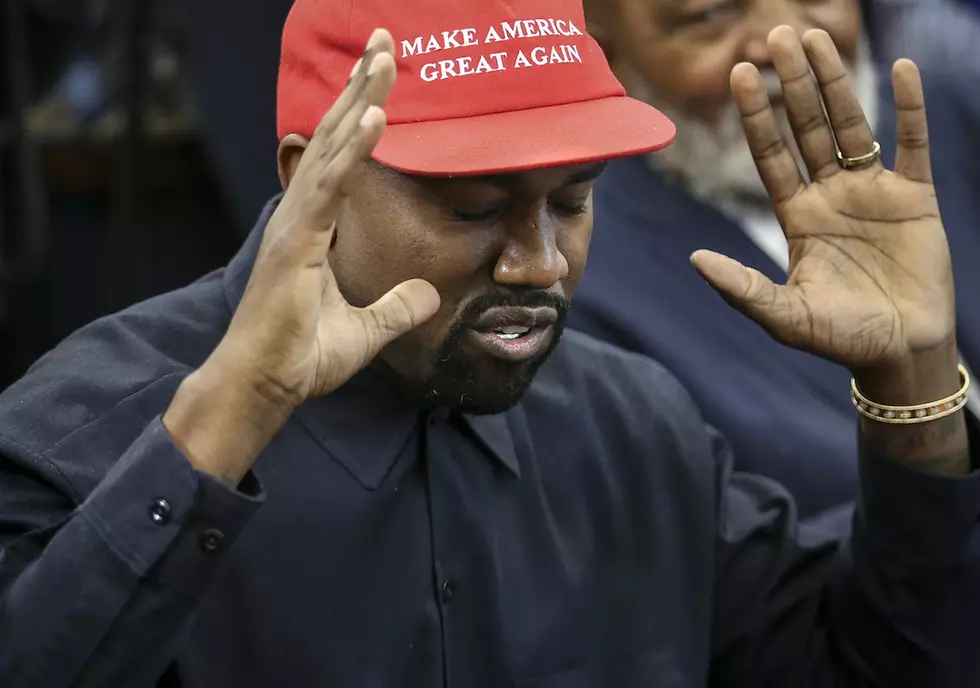 Kanye West's Airplane Karaoke Session With James Corden + More
Oliver Contreras, Getty Images
Welcome to PopCrush's Daily Break! Here's a breakdown of today's hottest pop culture and lifestyle stories as heard on PopCrush Nights, airing across the country. Check out some Halloween safety tips, free Miller Lite beer, and more!
Kanye West and James Corden Take Carpool Karaoke to New Heights
Promoting his new album Jesus Is King, Kanye stopped by The Late Late Show with James Corden where the pair took Corden's Carpool Karaoke segment to another level by hijacking an airplane and singing songs backed by the Sunday Choir. Watch, below!
Miley Cyrus and Liam Hemsworth: New Neighbors?
Liam Hemsworth is looking to renovate his home with Miley Cyrus that was destroyed in the Malibu fires last year. But there's a catch: Cyrus and newly moved-in boyfriend Cody Simpson are living right next door in a house she bought back in 2016. We're guessing there aren't going to be any house warming parties in the neighborhood... (via PopCrush)
Miller Lite Wants You to Get Off Your Phone!

The beer company is running a campaign that will gift you a free beer if you unfollow them from Facebook and Instagram. Their goal is to get people to get off their phones and spend time with friends. To get the free beer, you have to send Miller Lite a screenshot of the unfollowed pages, then follow a few links that will result in a payment sent to your Paypal account. See all the details via Thrillist.
Halloween Just Got a Little More Scary
On Halloween, 43 percent more people get hit by cars than on any given night. Some of the festivities that make it such a great holiday also make it more dangerous: There is limited visibility since it's dark; masks block peripheral vision; many people drink and party; and street safety is often neglected. Research from the University of British Columbia suggest that the streets need to be made safer for people not in cars. (via The Verge)
Everyone wants to have a good night of tricks and treats on Halloween, but there are some things to keep in mind when you go out. For pedestrians: only cross the street on corners and walk on designated paths; add reflectors to kids' costumes and bags; and opt for face paint instead of a mask for better visibility. When driving around, reduce distractions and keep your eyes on the road—and always keep a slow pace in local neighborhoods. (via Safe Kids)
Netflix Vetos Playback Speed Feature
While fast-forward and rewind features have been available for some time, Netflix had an idea to give viewers the option to speed up or slow down the show or movie they're watching. Netflix also wanted to make it easier to change brightness and language settings from the lock screen, but Hollywood planned to boycott the streaming service if they rolled out the proposed changes. Directors really don't want their timing messed with. (via People)
How John Cena Is Helping Put Out Fires in California
John Cena, who stars as a fireman in a new comedy film Playing with Fire, donated $500,000 to the firefighters battling the statewide wildfires in California. (via TMZ)
G-Easy Gave 100 Fans a Feast
Rapper G-Easy sent out an Instagram post asking his 8.3 million fans if anyone wanted to grab dinner with him. The first 100 people to RSVP were sent directions to a Nando's in Chicago where they could get a free meal. Fans got to mingle with the artist and left with custom G-Easy sauce bottles. The bill was more than $1,000 dollars, but everyone left satisfied. (via TMZ)
Miley Cyrus and Cody Simpson Are Having a Great Time
Miley Cyrus seems to be having a lot more fun with her new beau, Cody Simpson, than she did with ex-husband Liam Hemsworth. We can tell from all the Instagram pictures and cute videos they have been posting! Case in point? See below... (via Daily Mail)
Games of Thrones Prequel Cancelled
A Game of Thrones prequel starring Naomi Watts was supposed to take place thousands of years before the story we know and love, but unfortunately HBO passed up the opportunity. The proposed series already had a cast, directors and pilot all ready to go, but it will never see the light of day. (via PopCrush)
For these stories and more, tune in to PopCrush Nights every evening at 7 PM local time.
Celebrities Who Practice Witchcraft or the Occult Gallery