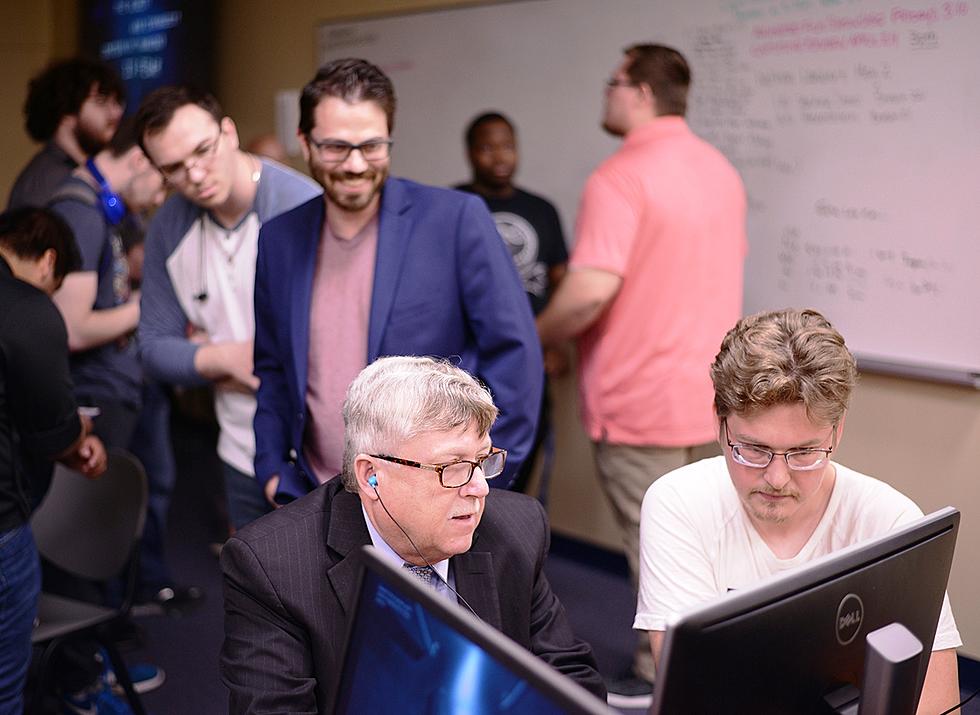 SAU Game Design Students Produce Game That Goes Global
An SAU Game and Animation Design student, right, gives a demonstration of the "Depths of Madness" video game that's to be distributed to a worldwide audience on Steam to SAU Provost and Vice President for Academic Affairs Dr. David Lanoue. - Steven Ochs
Students in Southern Arkansas University's Game and Animation Design programs have produced a game that is being published on Steam, a digital distribution platform for games with a worldwide user base. 
"Depths of Madness" is being released on May 15, 2019, via the Steam Store. It is an atmospheric horror game that takes place underwater and will have you sitting on the edge of your seat while you explore the sea base and face the unknown.
"The Game Lab at Southern Arkansas University has been working overtime on several projects this year," said Kurt Coppersmith, assistant professor of art. "One of which, 'Depths of Madness,' created by senior game development students, is certainly no different."
A team of 16 students under the direction of faculty produced "Depths of Madness" in a joint endeavor between SAU's two Game and Animation Design programs from the Art and Design and the Computer Science departments. It was done as a Senior Game Development Project as a culmination of their game and simulation studies at SAU.
The Game and Animation Design programs at SAU offer prospective students a competitive and affordable avenue to a lucrative future developing mobile apps, 3-D designs and lifelike animations. For more information, visit www.SAUmag.edu/Gaming.