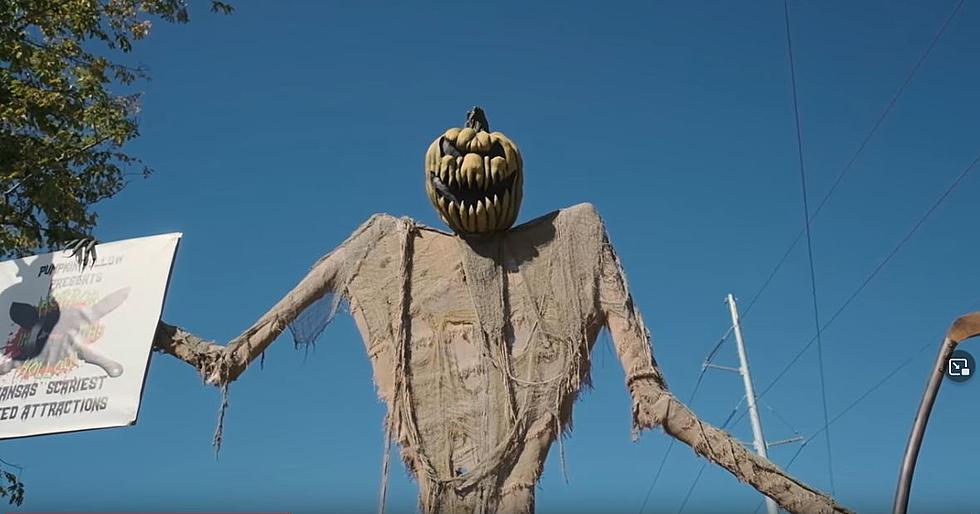 Spooky Corn Mazes, Pumpkin Patches in and Near Texarkana
YouTube
The first day of the fall season is almost here! Wednesday, September 22, marks the first day of autumn with much cooler weather on the way this week. My favorite time of the year is to venture outdoors with family and look for corn mazes, pumpkin patches, fall festivals, in and near our area.
 Noble Oaks Farm
Noble Oaks Farm is a family-owned business that kicks off its fall fun this Saturday, September 25, and runs until October 31. Families will enjoy a corn maze, hayrides, tractor pull, pumpkin bowling, cow train, hay jump, duck races, cube cannon, and much more. Kids will get an educational experience during their visit seeing registered Texas Longhorns, learn how fruits and vegetables are produced, and see how honey is made with their beekeeping at the farm. This year Noble Oaks Farm will be serving up some great food like burgers, hot dogs, nachos, kettle corn, cotton candy, and other tasty snacks. Please visit their Facebook page.
To get to Noble Oaks Farm take Interstate 30 to exit 220B toward Richmond Road/Pavilion Parkway/Farm to Market 559. Proceed to the light. Take right on Richmond Rd./FM 559. Continue approximately 3.1 miles. The destination is on the right. Turn onto asphalt drive and proceed to park.
Dancing Ranch Farms
Dancing Ranch Farms located on Miller County Road 218 at 490 in Fouke, Arkansas is now open with their Fall Festival. Walk through the pumpkin patch, corn maze, or haunted maze, if you dare. This family-owned ranch will also feature hayrides, live music on their outdoor stage, and plenty of delightful snacks and food. Beware of the Boyz in the Woods!
The ranch plans to be open from 7 PM until midnight on Friday, and Saturday from 11 AM until midnight, and Sunday from 2 PM until 8 PM. Halloween Fest coming in October!
For more information be sure and check out their Facebook page.
Dixie Maze Farms
This family-owned farm near Shreveport has everything you need for a day of fun and adventure. Every year, their corn maze features an all-new design that will challenge you with two different phases. And, if you want to be frightened, then check out their creepy haunted maze too. Other family fun activities include the corn cannons, pumpkin chunkin,' duck races, pony rides, obstacle course, and outdoor movies on the side of a barn. Opens this weekend Sept. 25, and runs until November 6.
DixieMaze Farms is a few short miles south of Texarkana off Hwy 71. Turn left off of Highway 71 onto Hwy 169 (Sentell Road) and go about 2.2 miles and look for DixieMaze Farms.
Pumpkin Hollow
First off, you just have to love the name, Pumpkin Hollow. Located at 671 County Road 336 in Piggott, Arkansas. This family-owned farm is highly rated every year with their 6-acre corn maze you can walk through day or night. Kids will love their friendly forest playground, pony rides, hayrides, and zip line. And for those wanting a little scare "Horror in the Hollow" will leave your heart pounding. Pumpkin Hollow is also the southern leading producer of hard-shelled gourds where you can visit the huge gourd trellis. Now open until October 31.
Please visit their website.
Yesterland Farms
This family-owned farm is located near Canton, Texas and this farm is unreal with so many things to do and see from the amazement park with carnival-type rides, to the incredible pumpkin patch, wagon train rides, lots of farm animals, and a giant tipi in the western-themed Westerland Village and Fort Yesterland. For the older kid's there is Spooktacular Nights featuring zombie paintball, a creepy corn maze, goblin glow, chuckle's funhouse, and a horrific hayride. and vertigo vortex.  With plenty of great fair-type food and snacks and live music by the pond, this trip is certainly worth the drive from Texarkana. Opens this weekend and runs through November 7.
From Dallas: Drive 1 mile east of Canton on I-20 at FM 17. Exit 528, left on FM 17, right on north side I-20 service road, the farm is on the left approx. ¼ mile on the Northside of I-20 between FM 17 and FM 1255.
How Many in America: From Guns to Ghost Towns
Can you take a guess as to how many public schools are in the U.S.? Do you have any clue as to how many billionaires might be residing there? Read on to find out—and learn a thing or two about each of these selection's cultural significance and legacy along the way.