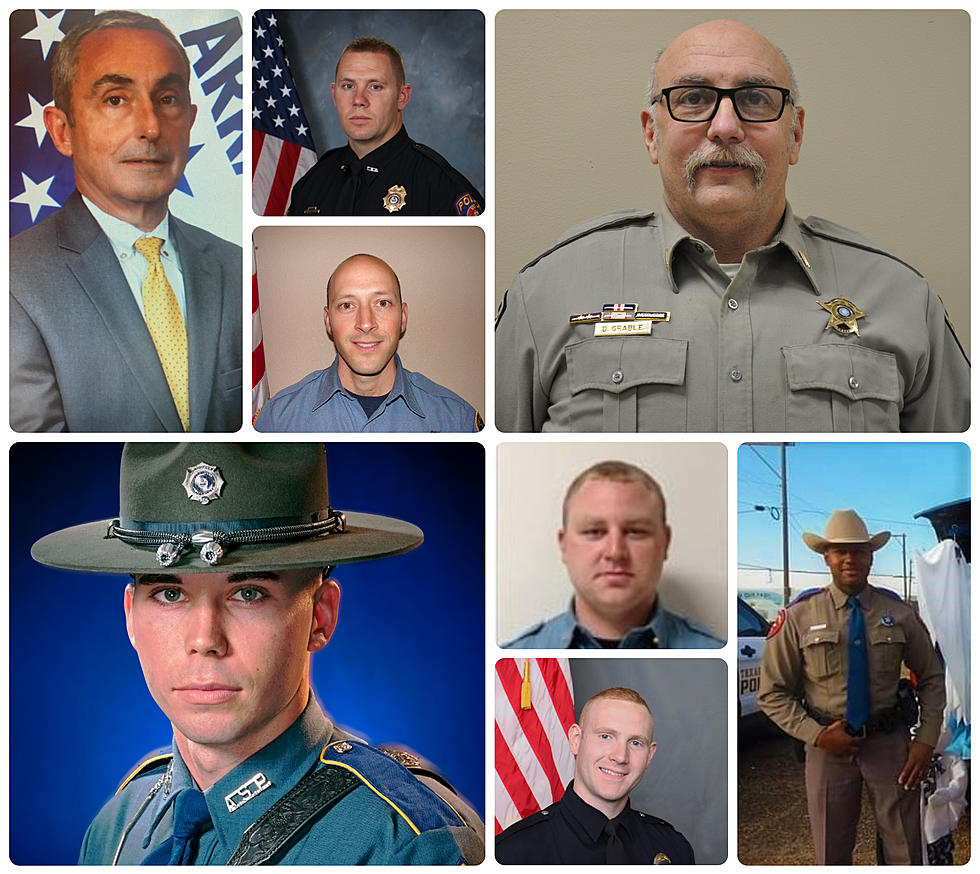 Texarkana Rotary Clubs Honor the 45th Annual Public Safety 'Officers of the Year'
Rotary Officers 2021
Townsquare Media Texarkana including Kicker 102-5, Eagle 106-3, Power 95-9, Magic 93-3, and KOSY 790 AM wish to congratulate all of the fine Officers listed below for receiving the 45th Annual Public Safety Officers of the Year awards from Texarkana Rotary Clubs.
The 2021 Public Safety Officers Banquet honorees are:
Bowie County Sheriff Captain David Grable
The Bowie County Sheriff's Office has named Captain David Grable as this year's recipient of Officer of the Year. Captain Grable has been with the Bowie County Sheriff's Office for 16 years and has always represented this Office with integrity and dedication. Captain Grable is the Commander of the Patrol Division, a division that has been decimated by Covid 19 and nationwide shortages in qualified law enforcement personnel. Captain Grable has continually adjusted the patrol schedules to allow for COVID-l9 quarantined personnel, sometimes with only a few hours of notice.
The job of maintaining staff minimums is not glamorous or often recognized. Whenever
needed, Captain Grable has inserted himself into Patrol shift vacancies, often resulting in 24-hour workdays or weeks without a day off. His dedication and willingness to work has prevented deputies from working without backup support and provided the citizens of Bowie County with daily law enforcement coverage. Captain Grable leads by example and has always been willing to take on any task that is asked of him.
It is with great honor that we have chosen Captain David Grable as Officer of the year.
Miller County Sheriff Chief Deputy Mark Lewis
For 35 years Chief Deputy Mark Lewis has lived in Miller County with his wife and two chil-dren and served the citizens of Miller County and Texarkana. His career included serving as a Detective Sergeant (Narcotics/ Gang Unit), Detective Lieutenant (Narcotics/CID), Commander (Criminal Investigations), Commander (SWAT), Commander (Uniform Patrol Division), and Commander (Overall Field Operations) within the Texarkana Police Department. He has since then served citizens of Miller County specifically as the Chief Deputy for the Sheriff's Office. He originally came on board to simply be a training liaison but accepted the position of Chief Deputy when the department was without one. Since then, he has not only remained in the position for 4 years but has excelled in it, thus creating a successful and safer environment for not only the residents of Miller County but the members of the Sheriff's Office as well. During the past year while many administrators were challenged by trying to run agencies during a pandemic, Chief Lewis continued the growth and betterment of the agency without sacrificing the safety of the citizens or staff.
The Meritorious Board and other staff believe Chief Deputy Mark Lewis deserves the nomination for many reasons. He has helped develop and implement procedures that have aided in creating a more proficient operational environment in the patrol division. Chief Lewis has not only helped increase the success of the agency in terms of operations which led to a safer county, but he has been instrumental in building a better agency environment for the staff which translates to a better workforce for the county. These improvements range from increases in pay to better and up-to-date equipment. He has been a part of budgeting, planning, developing, and ensuring implementation of critical aspects for all sections of the Sheriff's Office, which include not only the Patrol Division but the Criminal Investigations Division, the Administrative Division, the Detention Center, and the 911 Dispatch section. He has devoted his personal time to ensure consistent representation for the department at quorum court meetings and meetings with state and local level entities that may be making decisions that affect the operations of the Sheriff's Office. Sheriff Jackie Runion has himself stated "Chief Lewis has been instrumental in the success we have had as an agency during my administration" There is no doubt that since his time as the Chief Deputy, the Miller County Sheriff's Office has improved in all aspects of the agency; and Chief Lewis' commitment to his duty and the citizens can be summed up in his own words.
"I don't believe in basing decisions on political considerations. I believe that Law Enforcement Officers should be held to a "higher standard" than those that they serve. I believe that the leader of any organization, particularly in Law Enforcement, should provide their personnel with the leadership, training, and logistical equipment necessary to complete their assigned duties safely and effectively. I believe in accountability, and I believe that decisions have consequences. I believe that leaders should "Praise Performance When Possible, and Discipline When Necessary". I believe that there is a "fundamental difference" between a LEADER and an ADMINISTRATOR.
I believe in the CONSTITUTION OF THE UNITED STATES."
The Meritorious Board of the Miller County Sheriff's Office thanks you for the consideration and opportunity to nominate Chief Deputy Mark Lewis for the Officer of the Year.
Texas DPS Trooper Lee Shavers
Trooper Lee Shavers has been selected for Officer of the Year from the Texas Department of Public Safety – Highway Patrol Division. Trooper Shavers began his career with the Department in 2014. During that time, he has exemplified the core values we hold most dear: Integrity, Excellence, Accountability, and Teamwork.
Trooper Shavers has never been more in display of these core values than during the latter part of 2020. In October 2020, Trooper Shavers was working traffic enforcement in rural Bowie County when he observed a black passenger car driving erratically. He went on to initiate a traffic stop on the car and came in to contact with a female driver who appeared to be in the midst of a medical emergency and was on the way to a hospital in Oklahoma. There were several inconsistencies with the situation, but Trooper Shavers gathered as much information as he could while also providing the medical attention necessary. A short time after this traffic stop, Trooper Shavers was notified of an ongoing homicide investigation occurring not far from his location and the driver from his stop matched the description of the suspect. Thanks to Trooper Shavers' skilled investigation as well as his attention to detail, he proved to be a valuable asset to the investigation.
Less than a month later, Trooper Shavers was dispatched to a single-vehicle crash. The white passenger car was reported as being upside down and submerged in Hooks Bayou. Once Trooper Shavers arrived, he identified three female teenagers as the occupants of the vehicle. All three girls had tragically perished in the crash. Again, Trooper Shavers exemplified professionalism and skilled investigation in his delicate handling of the scene and later investigation of the crash.
Throughout the COVID-19 pandemic, the civil unrest in 2020 and the 2021 Legislative Session; all DPS Troopers were called upon to serve not only their local communities but also in cities like Dallas and Austin. They've even been called upon to protect our Nation's Southern border. Trooper Shavers has been deployed countless times this past year yet remains steadfast and committed to his community here in Bowie County.
For these reasons, it is my honor to nominate Trooper Lee Shavers for the 2021 Officer of the Year. His skilled professionalism, attention to detail and ability to remain calm and focused during high-stress situations will prove to be an asset to the community he serves for years to come.
Arkansas State Police Trooper Jacob Price
Trooper Jake Price is currently assigned to Troop G and stationed in Nevada County. Trooper Price goes above and beyond in assisting the other agencies that are in his assigned county and the surrounding counties. He routinely checks in with them to see where areas are that he could assist either in patrol or assist with answering calls.
Trooper Price has been assigned to Nevada County for one year. During that time, Trooper Price has made 87 felonious arrests, 175 misdemeanor arrests, served 110 warrants, arrested 19 impaired drivers, issued 810 citations, given 988 warnings, and assisted 96 motorists that were needing assistance. While Trooper Price was producing this proactive activity, he also investigated 50 motor vehicle collisions, seized 460 pounds of marijuana, 1.3 pounds of methamphetamine, and 2 ounces of cocaine. Trooper Price is dedicated to serving the citizens of Arkansas and making his community a safer place
Texarkana Arkansas Police Sergeant Kyle Caudle
I want to start off by speaking about the character and work ethic of Sergeant Kyle Caudle. Sergeant Caudle has been assigned to the narcotics unit, as well as other units within the agency and without hesitation, he has done his job. He leads by example and wins over the confidence of his officers. Sergeant Caudle does not mind working side by side with his officers. The officers know he is not asking anything of them that he is not willing to do himself. He is fair with his officers but also has high expectations for their performance. He receives instruction well and gives instruction to his officers in a very constructive manner. Sergeant Caudle was asked to take over operations in the narcotics unit while the unit had gone thru massive turnover and had all new detectives. He took all these changes head-on with a good attitude. He taught his new detectives and guided them in a way I believe set the tone for the success of the unit. The work this unit is now producing is a direct result of his leadership and direction. Several examples of this are as follows:
At the beginning of 2021, our city began to experience an uptick in drug overdoses. These overdoses were related to fentanyl laced pills that were disguised as Oxycodone 30 milligram blue tablets. The narcotics unit started to work all the overdoses in a way that split the work between our criminal investigation division and the narcotics unit. The narcotics unit was primarily responsible for going after the source of the fentanyl laced pills that were responsible for the victim's overdose. As this investigation started and continued at the direction of Sergeant Caudle, our unit was able to seize thousands of fentanyl laced pills, guns, other dangerous drugs and assets. Our unit was also able to assist in Texarkana, Texas Police Department making numerous cases on drug dealers selling these pills within their jurisdiction as well. This investigation continues and much of the details cannot be discussed at this time.
In September of 2021 Sergeant Caudle's continued hard work resulted in the arrest of a large-scale methamphetamine supplier in our jurisdiction. Sergeant Caudle began this case in April by managing a confidential informant. By successfully managing this informant, he was able to obtain seven delivery warrants for the offender's arrest. During this time, he conducted background investigations on the offender's movements and his relationships. Sergeant Caudle determined it would be beneficial to his case to conduct a search warrant of the offender's residence on Jackson Street. Sergeant Caudle set a plan in motion and communicated the plan to the rest of the team who assisted. As a result of this well thought out plan, the narcotics unit was able to seize approximately one kilo of suspected methamphetamine, three and a half pounds of marijuana, seven guns, including one stolen assault rifle and $24,000.00 dollars US currency.
The defendant was subsequently charged with fourteen felony charges and will hopefully be taken off the streets for a long period of time, giving the citizens in and around this neighborhood much-needed relief from the offender's influence in their area. Sergeant Caudle's hard work was textbook in working a long-term investigation on a high-end supplier of narcotics. This case was an example to the men in the narcotics unit and reflects on the high level of work he does for our agency.
Due to Sgt. Caudle's continued leadership and work ethic he has been chosen by the meritorious awards committee as the 2021 Texarkana Arkansas Officer of the Year.
Texarkana Arkansas Fire Firefighter Nathan Reeves
Firefighter Nathan Reeves is the Firefighter of the Year for the Texarkana, Arkansas Fire Department.
Firefighter Nathan Reeves has served the city of Texarkana, Arkansas as a certified Firefighter and licensed Emergency Medical Technician for 17 years. Nathan is married to Abigail Reeves and they have three children; Coby, Annie, and Josie.
On 1/4/2021, B-Crew was dispatched to a residential structure fire. Upon arrival, the structure was heavily involved with fire. Neighbors advised that a resident was possibly still inside. The Truck 1 crew made entry to perform a primary search and fire attack. Conditions deteriorated quickly leading to the crew being called out of the structure. While exiting, the porch suffered a total collapse trapping Firefighter Reeves. Nathan suffered multiple injuries including an extensive injury to his leg. This injury required a lengthy rehab to return to duty but, as is his nature, Nathan put forth 100% effort and returned to full duty earlier than expected. On 9/11/2021, Nathan represented our department by climbing 110 stories in the 9/11 Memorial Stair Climb. This event honors the firefighters killed at the World Trade Center on 9/11/2001.
For his bravery shown during his entrapment and his determination to return to full duty, the Texarkana, Arkansas Fire Department has selected Firefighter Nathan Reeves as our Firefighter of the Year.
Texarkana Texas Police Officer Dustin Johnson
Officer Dustin Johnson has served with the department for 3 years. He currently serves as a patrol officer in the Operations Division. In that time, to say he has become a top performer does not begin to describe his efforts as a patrol officer. Officer Johnson takes his role of protector seriously as exemplified by the following:
In May of 2021, Officer Johnson recognized that his beat area was being plagued by vehicle burglars, specifically in one of the local apartment complexes. Officer Johnson investigated and discovered what he believed to be a trail used by thieves to travel without notice in and out of the complex. He then got with his partners on the shift and developed a preventive patrol plan. On May 23rd Officer Johnson was on foot patrol in the apartments when he located vehicle burglary suspects. Officers converged and they were able to arrest the thieves by intercepting them on the very trail discovered by Officer Johnson.
On May 26th, three days later, Officer Johnson was working interdiction on Highway 59 when he located, stopped and arrested suspects transporting 26 pounds of cocaine.
On June 20th, Officer Johnson was actively patrolling the area off of Robin Lane when he discovered five subjects breaking into cars. His investigation also led to the recovery of several stolen items out of a neighboring jurisdiction.
Officer Johnson is a complete team player whose work ethic is second to none. He is often the first to arrive and the last to leave. Officer Johnson is described by his supervisors as the "best of the best" and so it is with great pride today that we recognize this crime fighter as our Officer of the Year.
Texarkana Texas Fire Firefighter Cody Shields
The Public Safety Officer of the Year for the Texarkana, Texas Fire Department is Firefighter Cody Shields. Cody was selected for this honor by his peers for his outstanding service on a recent medical call.
On August 5th of this year, Cody and his crew were dispatched to a call where a young lady was in active labor. When the crew arrived on the scene Cody quickly began assessing the young woman and it was determined that delivery was imminent. Cody and the ambulance crew departed for the hospital, and while enroute, Cody delivered the baby while the Paramedic attended to the mother.
Cody has been with the Texarkana, Texas Fire Department for 4 years and has a proven record of hard work and a desire to help everyone he comes in contact with. Cody holds certifications as a structural firefighter and wildland firefighter with the Texas Commission on Fire Protection and is a certified Emergency Medical Technician with the Texas Department of State Health Services.
Cody lives in the Bloomburg community with his longtime girlfriend Shade who happens to be a labor and delivery nurse at a local hospital.
We are proud to have Firefighter Cody Shields on our team and are honored to nominate him for this award.
LOOK: What major laws were passed the year you were born?
Data for this list was acquired from trusted online sources and news outlets. Read on to discover what major law was passed the year you were born and learn its name, the vote count (where relevant), and its impact and significance.
10 Things You Didn't Know Come From Texas