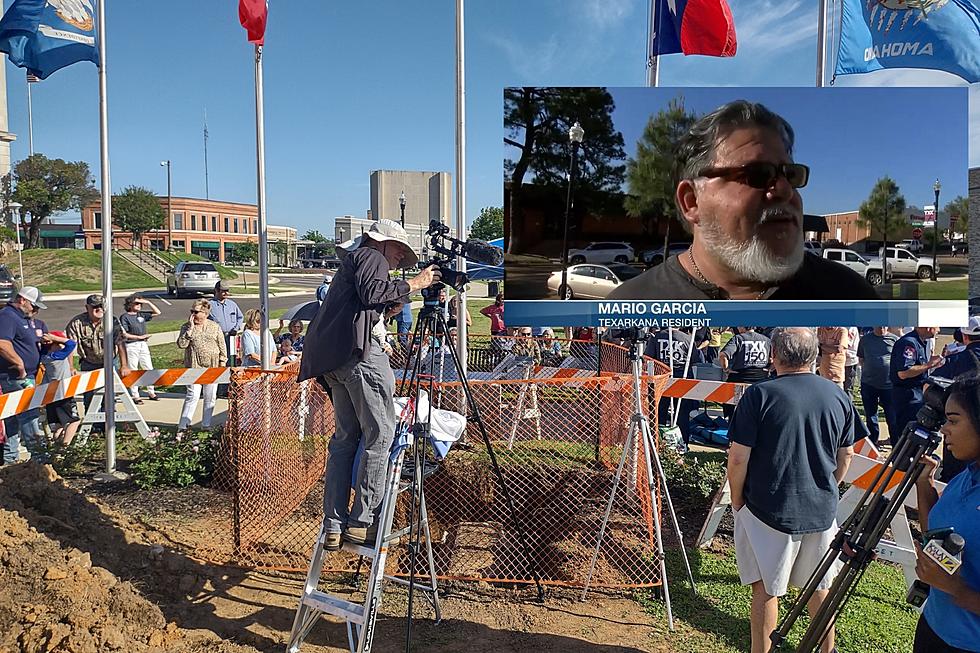 Texarkana Time Capsule Opened After 50 Years See What Was Inside
Canva, YouTube, KSLA 12
A large number of Texarkana residents showed up on Friday, April 14, 2023, at Sheppard Park, adjacent to the U.S. Post Office to witness the opening of a time capsule that was buried there 50 years ago.
The festivities were part of the 150th Anniversary celebration of the Texarkana Sesquicentennial that continues the rest of the year.
Many citizens were around 50 years ago when residents of the community were asked to bring something to put inside the capsule for loved ones, family members, or friends in hopes that when it is opened some folks will have something to remember their loved ones by. I was 14 years old when my father and mother along with my brother attended the special ceremony. My parents God rest their souls had hand-written a special message to me and my brother on a front page clipping of the Texarkana Gazette with the current date on the newspaper that went inside the time capsule in hopes that in the future we would be there when it was reopened.
So. for me it was a surreal moment to be standing on the same grounds I stood some 50 years ago with my parents. Watching them open up that huge box ( casket) that was buried there by East Funeral Home was a sight to see. Of the folks that were there on Friday, many had their own stories and thoughts to tell as the excitement began to build in anticipation to see what was inside.
Members of the Texarkana, Texas Fire Department were on hand as they were the ones who pried open the time capsule which took around 5-8 minutes to open.
TXK150 hosted the event and spoke to the crowd about its history before the ceremony proceeded. The first thing I saw was an old derby hat with lots of letters, a box, buttons, books, and lots of newspaper clippings.
With fingers crossed I was hoping one of those was from my parents. However, there was also quite a bit of water inside that could have ruined many of the items. The Texarkana Museum gathered all the items and was to sort through them to be displayed at the museum on Saturday for the public to see.
I went there on Saturday but so far I was unable to find anything that belonged to me. Museum officials made it clear that it would take several more days for the wet items to dry out as many were stuck together. They assured me that if it didn't get destroyed in the water damage they would reach out to me and other individuals in the coming days if they spotted anything.  They also said that they would be posting pictures on the Texarkana Museum Facebook page and also on the TXK150 website for updates.
Later this year, another time capsule will be buried and maybe it's time I leave something for my kids and grandchildren because I'm pretty sure I'll be around by then.
While I might be disappointed if my items turn up deteriorated, I'm not sad that I had the time to share a special moment in Texarkana's history with a loving mother and father who meant the world to me.
Channel 12 KSLA was there filming and heard me talking about it and asked me a few questions about my experience that actually made it onto the local newscast at 10.
KEEP READING: Scroll to see what the big headlines were the year you were born
Here's a
look at the headlines
that captured the moment, spread the word, and helped shape public opinion over the last 100 years.