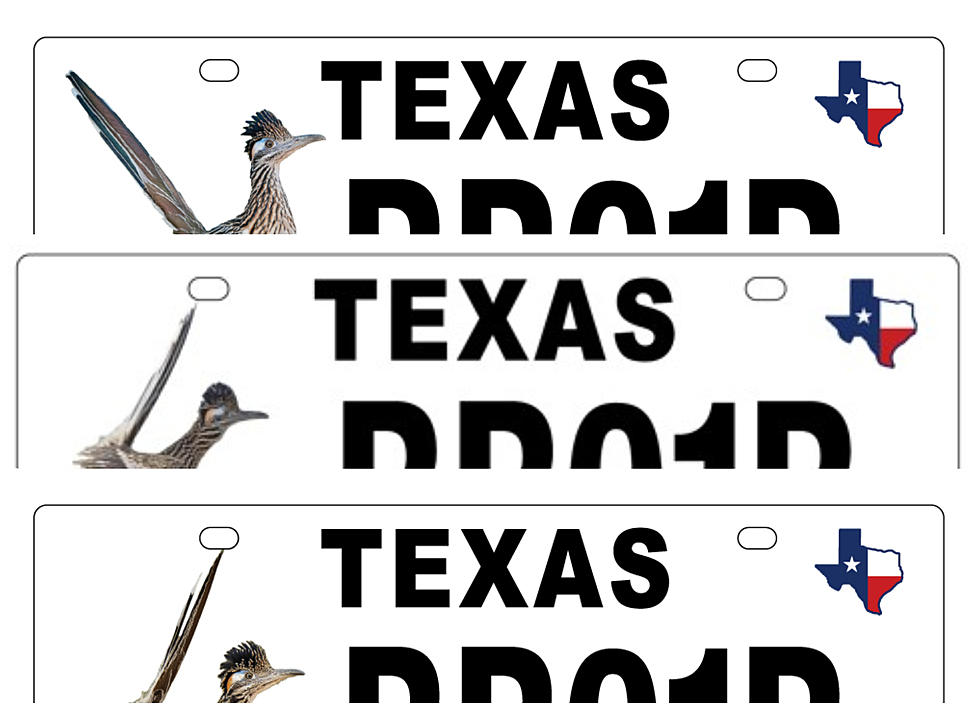 Texas Parks and Wildlife Seeks Your Vote on New Road Runner License Plates
New Roadrunner designs - TPWD
First off, no, I didn't know you could order license plates from the Texas Parks and Wildlife Department. No, I didn't know that there are quite a few to choose from, and no, I didn't know we Texans got to vote on new designs. Well, now that we know, let's do it.
The Texas Parks and Wildlife Department (TPWD) is asking Texans to weigh in on their favorite designs for a new conservation license plate that supports wildlife viewing and nature tourism programs in Texas. Your voting is requested between now and April 21 in an online survey. The 3 images below are your choices proposed for the "Greater Roadrunner" license plate. Your votes will help them decide which of three designs should be featured on the new specialty plate.
"The Greater Roadrunner is a striking, charismatic bird that can be found everywhere in Texas," said Shelly Plante, Nature Tourism Manager for TPWD. "People in Texas love roadrunners and tend to remember when they are lucky enough to see them in person, making these birds the perfect subject for our new conservation license plate."
Click here to go vote for your favorite design.
Since people like me didn't even know this program existed, here's some interesting information about how well it has done in the past. This license plate program has raised around $10 million in the last 21 years, providing funding directly to benefit Texas rivers, state parks, big game research and species management. Right now there are 10 conservation plate designs including a horned lizard (horny toad), a largemouth bass, Texas rivers, a hummingbird, a rattlesnake, a white-tailed deer, a bluebonnet, a desert bighorn sheep and a monarch butterfly. The TPWD specialty plates cost $30 per year, with $22 of that cost going directly to TPWD. Plates can be purchased for vehicles, RVs/travel trailers, trailers and motorcycles.
Visit the TPWD Conservation License Plate website to learn more about how to get a conservation plate and how funds benefit Texas wildlife.
By the way, DID YOU KNOW...
There are tons of specialty plates available for the Great State of Texas, I knew they existed, just never knew where to look. Well, now we do...
All kinds of designs to choose from, some more expensive than others, some raise money for charities, some don't. Everything from pro sports team logos to college teams, charity organizations, you name it, it's probably there.
You're welcome.
Don't Miss The Four States Fair 2022!
15 Ways You Can Help People in Ukraine Right Now
As Americans watch events unfold in Ukraine, many wonder how they can help. Below is a list of organizations responding to the crisis in Ukraine along with information on how you can support their various missions.
LOOK: What 25 Historic Battlefields Look Like Today
The following is an examination of what became of the sites where America waged its most important and often most brutal campaigns of war. Using a variety of sources,
Stacker
selected 25 historically significant battlefields in American history. For each one, Stacker investigated what happened there when the battles raged as well as what became of those hallowed grounds when the fighting stopped.
These are the battlefields that defined the United States military's journey from upstart Colonial rebels to an invincible global war machine.