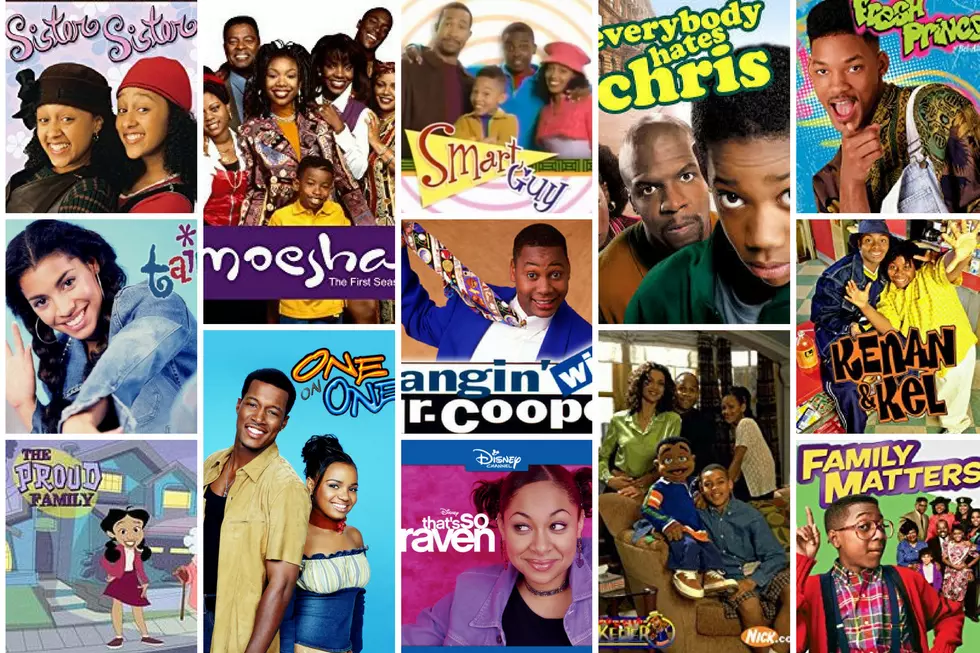 The Best Throwback TV Theme Songs That Older Millennials Can Appreciate, Ranked
IMDb, iTunes
The '90s were a simpler time: Beanie Babies, girl power, the Macarena dance craze, fanny packs and dial-up internet. The year 2000 ushered in a new millennium, which caused panic to erupt over a Y2K disaster that never actually happened. Ah, those were the days, right?
Because a little nostalgia never hurt anybody, we've revisited—and ranked—some of the most beloved theme songs from our favorite television shows. If you were born anywhere between the mid-'80s and late '90s, this list is for you.
Disclosure: We focused on TV shows with a target audience of children and preteens, so amazing shows such as In Living Color, Martin, Girlfriends, Living Single and A Different World were purposely left off this list.
Honorable mentions include Waynehead, The Boondocks and The Famous Jett Jackson.
14

Everybody Hates Chris

2005-2009

Despite not containing any real lyrics besides "Awwww, make it funky now," this underrated theme transports the viewer all the way back to the '80s.

13

"As Days Go By," is as family friendly as they come with squeaky-clean lyrics, e.g., "It's a rare condition, this day and age/ To read any good news on the newspaper page/ Love and tradition of the grand design/ Some people say it's even harder to find." Not to mention, the raspiness of Jesse Frederick's voice feels like a warm blanket at times.

12

Starring Flex Alexander and Kyla Pratt, One on One chronicles the ups and downs of a single dad and his teenage daughter living under one roof. For the show's theme, Flex—who also created and produced the sitcom—enlisted his wife Shanice ("I Love Your Smile") and gospel singer Tonéx. Together, their vocals are unparalleled and Shanice's high note (skip to 18 seconds) will take you to church. A remixed version kicked off season 5's opening credits, but it doesn't compare to the original.

11

Hangin' with Mr. Cooper

1992-1997

Terry, Dawn, Cindy and Maxine's flawless harmonies on "Hangin' with My Man" make you wish you could've been En Vogue's fifth member, but we all can't be funky divas (pun intended), right? Co-stars Dawnn Lewis and Holly Robinson Pete, however, were lucky enough to take turns singing lead on Hangin' with Mr. Cooper's theme, with the R&B quartet holding it down in the background. Good times.

10

Don't sleep on Smart Guy. T.J. Henderson (played by Tahj Mowry) is a 10-year-old black boy genius, making the sitcom's premise unique and refreshing at the time. The first theme song was catchy AF, but season 3's reworked version is infinitely better and guaranteed to make you cry nostalgic tears.

9

702's 1996 hit "Steelo" served as major inspiration for Cousin Skeeter's theme song, featuring slightly modified lyrics, e.g., "You know how he does, and you know how Skeeter flows/ All I wanna do is hug ya 'cause I like your steelo." But hey, we're not complaining because "Steelo" is a bop fo'eva.

8

This one instantly gets stuck in your head after hearing it a couple of times. The original Sister, Sister theme focused on twin sisters Tia and Tamera Mowry—who played fictionalized versions of themselves—reuniting after they were separated at birth. But season five's fresh, new lyrics showcased their individual personalities as they transitioned into womanhood, e.g., "I got my own mind/ I do my own style in my own time/ And now everybody sees/ How different we have come to be." Noted ladies.

7

Taina Morales is a New York-bred teenage girl, whose dream is to become a famous singer and actress. Nickelodeon's Taina was short-lived, but this track is memorable still to this day. Taina (played by Christina Vidal) singing about one day seeing her "name in lights" over a Latin-infused beat will inspire you to dream big.

6

By the time Brandy aka "The Vocal Bible" was 17 years old, she was already a bonafide superstar. Her debut, eponymous album was certified four-times platinum, which led to a starring role in Moesha. The theme evolved over the years, but the original version stands out because it sounds like it could've been a bonus track off Brandy. Oh, and that "Mo-to-the-E-to-the" refrain is everything.

5

The Proud Family

2001-2005

Solange Knowles teaming up with Destiny's Child to perform the opening theme for Disney's The Proud Family will go down as an iconic moment in pop culture, which automatically places it in the top five. "You and me will always be tight/ Family every single day and night/ Even when you start acting like a fool/ You know I'm loving every single thing you do," Solange sings in the first verse, proving that blood is thicker than water.

4

Who loves orange soda? Kel loves orange soda. Listen, we love orange soda as much as the next person, but we love this theme even more. Riding high off the success of "Gangsta's Paradise," Coolio struck gold yet again when he performed (and penned the lyrics to) "Aw Here It Goes" for Kenan & Kel's opening sequence. One word: iconic.

3

Before the term was ever coined, Raven-Symoné exuded #BlackGirlMagic back in the day on the Disney Channel. The premise of That's So Raven revolves around a psychic teen named Raven Baxter, whose visions almost always get her into trouble, but her shenanigans are hella entertaining to watch. The theme song was top notch, and the lyrics were on point: "If you could gaze into the future/ You might think life would be a breeze/ Seeing trouble from a distance, yeah/ But it's not that easy." Nuff said.

2

"Now this is just an introduction/ Before I blow your mind/ The show is All of That, and yes we do it all the time"—Lisa "Left Eye" Lopes slayed her verse on All That's theme song back in 1994. Sung by TLC, this gem brilliantly captured the essence of the '90s, but it continues to get better with age. The faces always changed with the seasons, but the theme itself remained untouched during the show's entirety because the golden rule is, "If it ain't broke, don't fix it."

1

The Fresh Prince of Bel-Air

1990-1996

Will Smith aka "The Fresh Prince" flexes his storytelling skills on this one, which is why it tops our list. Everybody and their mama can recite the lyrics to "Yo Home to Bel-Air," making it one of the most legendary introductions of all time. DJ Jazzy Jeff & The Fresh Prince already had a Grammy under their belt for "Parents Just Don't Understand" when The Fresh Prince of Bel-Air premiered in 1990, but the sitcom's success propelled the hip-hop duo into superstardom. When it comes to TV theme songs, no one does it better. Period.