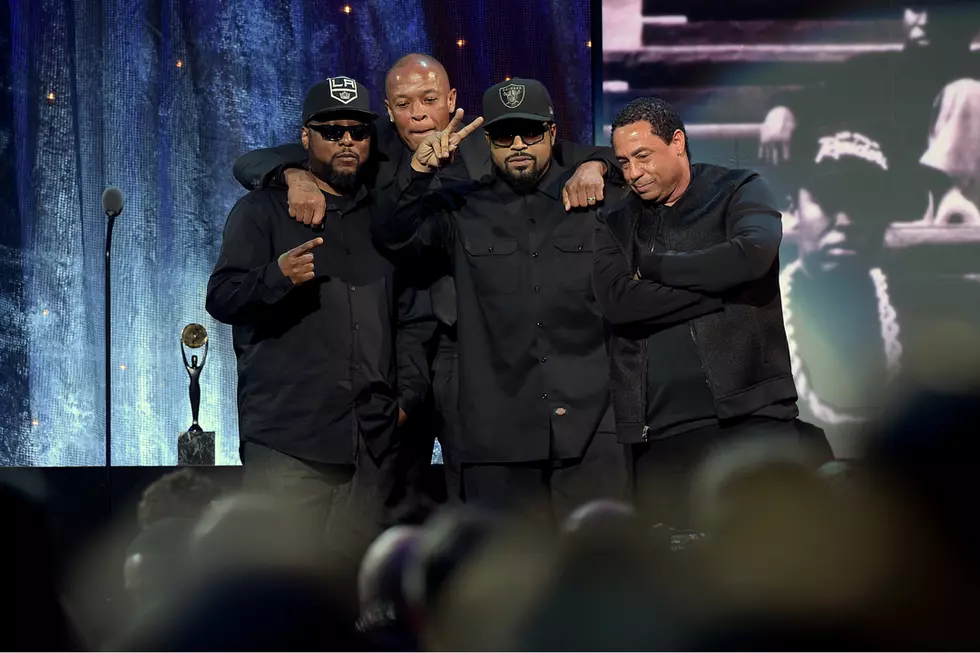 N.W.A Inducted Into Rock & Roll Hall of Fame – Today in Hip-Hop
Theo Wargo, Getty Images
On this day, April 8, in hip-hop history...
2016: West Coast gangsta rap pioneers N.W.A are inducted into the Rock & Roll Hall of Fame on April 8. Dr. Dre, Ice Cube, DJ Yella,the late Eazy E and MC Ren were chosen in December of the previous year. They were joined by Chicago, Deep Purple, Steve Miller and Cheap Trick in this class.
Straight outta Compton, Calif., N.W.A barged through the front door of rap, delivering their visions of life in the inner cities of LA, and fighting back against the injustices that came with that reality. Eazy-E and Dr. Dre were the original two members of the group, and through connections and friendships, added Ice Cube, MC Ren and DJ Yella and Arabian Prince.
N.W.A was officially together in 1986, and they dropped their debut album Straight Outta Compton in 1988, with Arabian Prince leaving the group right after. The album's title track and the seminal "Fuck The Police" immediately showed that this crew was nothing like hip-hop has seen before. Due to Straight Outta Compton's anti-law enforcement content, N.W.A began to garner attention from the FBI, and were one of the earlier albums to have a Parental Advisory sticker. the group was in a war of sorts with the government and the media, but the album went triple platinum.
Their follow-up album Niggaz4Life came in 1991, without Ice Cube, who left over a royalty issue. This project debuted at No. 2 on the Billboard 200 chart before climbing to the top spot. Shockingly, this was their final album, as various members then went their separate ways. Dr. Dre left to join the notorious Death Row Records, and the group as a whole took issue with Eazy-E's handling of their contracts.
On N.W.A's special night, they were inducted by Dr. Dre protege Kendrick Lamar. While they decided to not perform, this was a huge moment for hip-hop, and a sort of coming of full circle for a group that was so polarizing.
These Rappers Have the Most Grammy Nominations But Never Won