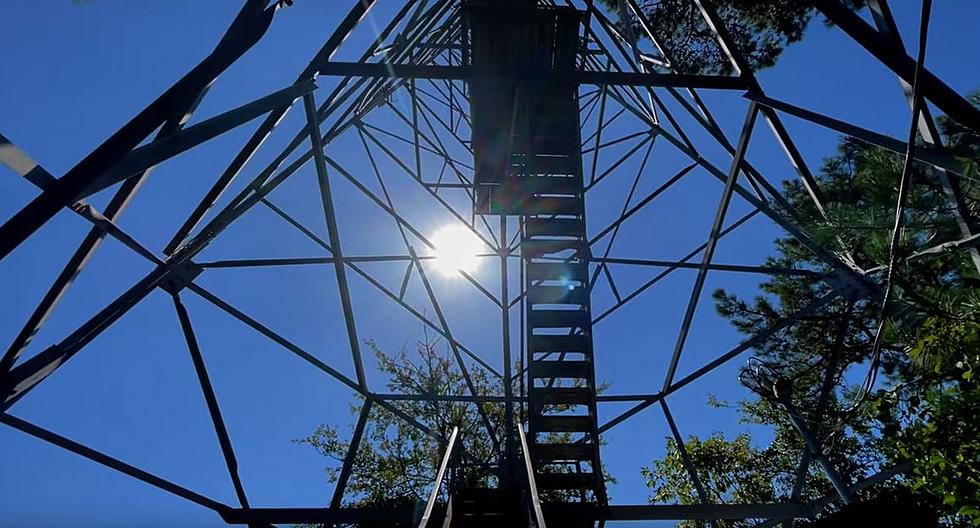 Amazing Birdseye View of Abandoned Fire Lookout Tower in Arkansas
YouTube
Fire towers or lookout towers have been around since the early 1900s they were built for for detecting smoke that could indicate a forest fire in the wilderness. They were also used to look and locate lightning strikes and pinpoint the location that could start a fire.
A fire lookout tower usually sits atop a mountain or high point in the forests and is made of steel or wood with one large room called a cab with large windows that look out over the surrounding area. Fire watchers or Forest Service employees were hired to man the tiny box in the sky such as the abandoned Alpine Fire Tower.
Fire management officials use the tower to provide reduced time in detecting a fire, assessing it, and managing the fire.
Over the years fire towers have been on the decline because of budget cuts, more advanced technology, and personnel issues, some have even been abandoned completely such as the one in Alpine, Arkansas.
However, some older towers have been preserved or turned into a cabin for public use. Approximately 196 towers remain today in the United States with 60 of them staffed with personnel.
National Register of Historic Places
Arkansas also has three towers listed on the National Register of Historic Places: Crossroads Fire Tower ( 2006), Sugarloaf Fire Tower Historic District (1995), and Tall Peak Fire Tower (1993).
The Crossroad Fire Tower located north of Crossett and west of Hamburg, Arkansas is considered the tallest fire tower on Arkansas Highway 133. Only around 48 towers remain standing in the state today.
To see a list of fire towers in Arkansas go here. With the recent popularity of the new CBS hit television show Fire Country awareness of forest fires has been brought to the forefront.
So, when traveling around the state of Arkansas this summer be on the lookout, no pun intended, for a bit of history overlooking the Natural State.
WARNING:  Under no circumstances should you enter this property. By doing so you risk bodily harm and/or prosecution for trespassing on private property.
Enjoy this video drone footage of the abandoned Alpine Fire Tower.
Stunning Views at This Arkansas Treehouse Getaway
This Arkansas treehouse is the perfect romantic getaway located in Bee Branch, Arkansas.