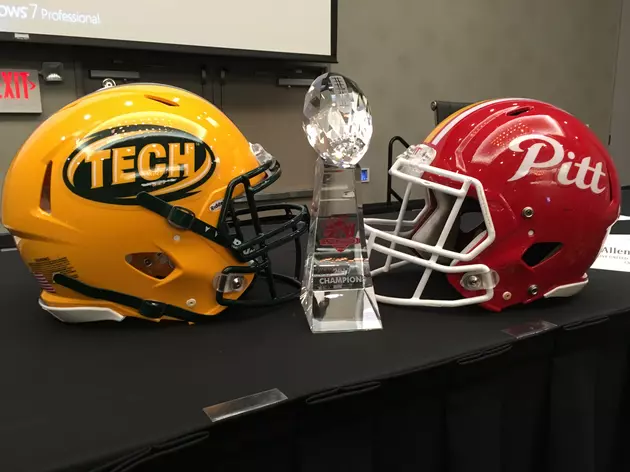 Live United Bowl-Banquet & Pep Rally Tonight, Game Tomorrow
John Williams
It's finally here, The 5th Annual Agent Barry Live United Division II College Bowl game will be Saturday at noon at newly renovated Razorback Stadium in Texarkana.
Lots going on today (Friday). The two teams will have community events and visiting some of the agencies and local people helped by the game's benefactor, the United Way of Greater Texarkana.
Tonight (Friday) it's the Jeans, Boots, and BBQ Banquet inside the Texarkana Texas Convention Center. That starts at 6PM, immediately following the banquet there will be a free Collegiate Community Pep Rally outside the convention center starting at around 8PM. That will be followed by a concert by the Robert St. John Band. Tickets to the banquet and the concert are available at the bowl website.
Game day begins on Saturday with a 5K Run. The gates to the stadium open at 10AM for the noon kickoff between Arkansas Tech and Pittsburgh State.
Besides the game itself, the bands, cheerleaders and dance teams will be performing pre-game, during the game and at halftime. The Robert St. John band will also perform at halftime too.
There will be a flyover by a C-130 Hercules by the Arkansas Air National Guard at the end of the National Anthem.
Also, drawings will be held for a total of $5,000 dollars to lucky fans in attendance and also fire pit drawings as well. There will be a supervised children's play area.
Tickets will be on sale at the gate for just $10 for adults and $4 for students and children.
All the info you need about the game and it's activities can be found once again at the bowl website.
You know I hear often people complain that there is never anything new to do in Texarkana, other than eat out and go to the movies. Well here's your chance to see a college bowl game and help out people right here in Texarkana.
All proceeds from the bowl activities, game, concession sales, go to the United Way of Greater Texarkana, which helps out dozens of local agencies, that help out thousands of people in our town.
We urge you to support the bowl game and be at the game on Saturday.
And btw, the weather is going to be absolutely stunning, perfect, sunny and 70.