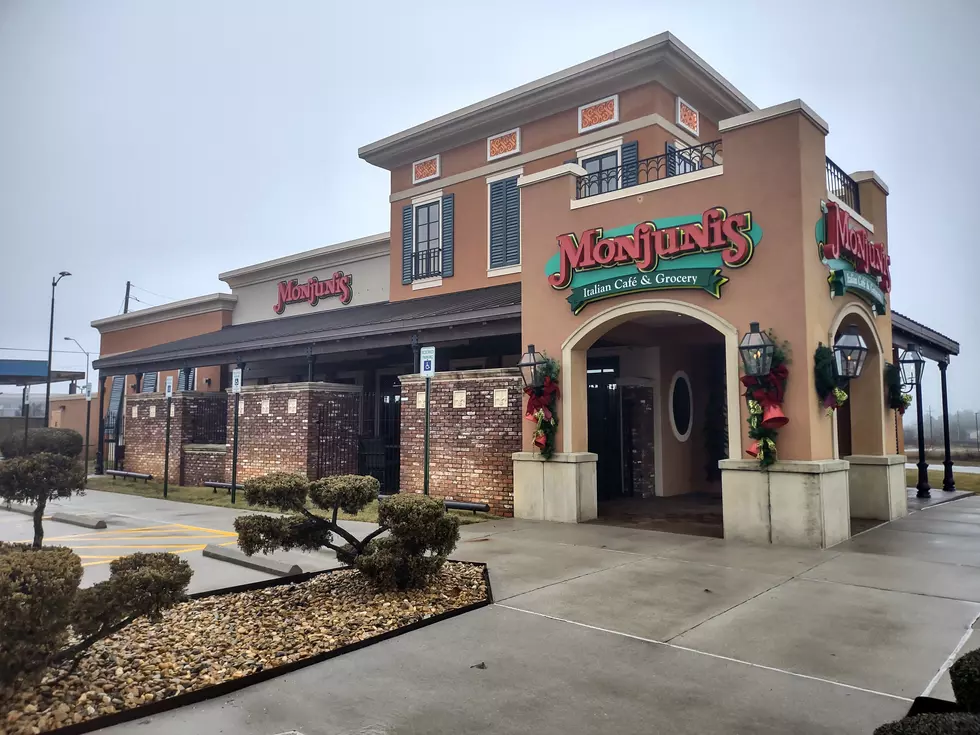 Sneak Peek of Texarkana's Newest Restaurant Before it Opens
Mario Garcia, TSM
When it comes to Texarkana, it's no secret, people who live here, love to eat! Well, it's finally official, Monjunis Italian Cafe and Grocery is slated to open on Monday, January 30, 2022.
Monjunis Italian Cafe and Grocery once a popular eatery back in the 90s in Texarkana is back and has taken up residence in the former location of Copeland's just off I-30 at 511 E. 51st Street.
Donnie Spriggs the General Manager of Monjunis was kind enough to give me a tour of the new restaurant before it opens on Jan. 30. Just in case you were wondering Monjunis originated in the state of Louisiana and has been around for years. Watch the video at the end of this story to get the whole story.
Spriggs also the GM for Sliver Star restaurant is excited about opening up this much-anticipated restaurant in the Texarkana community.
Buttercup Cupcakes a long-established Shreveport tradition will be a part of Monjunis offering a variety of cupcakes, cake pops, and specialty cakes for take-out or dine-in, said, Spriggs."

 
Drive-Thru
Monjunis will also be offering its customers a drive-thru window for their convenience.
If you like all the popular Monjunis signature sauces and Olive mix you'll find that too along with Silver Star spices and more.
So, without further ado, let me give you an exclusive sneak peek inside the new Monjunis Italian Cafe and Grocery.
Main Dining Area
New Mural
You'll love the new colorful mural of Italy on the back wall.
Newly Added Private Dining Area
Available for special occasions and meetings.
There's even a second separate dining area as well as an outdoor patio area with a waterfall and firepit for outdoor dining if you desire.
Full-Service Bar
Monjunis will be serving up some of the best cocktails, margaritas, domestic and imported beer, and wines. A great place to gather for the big game or anytime!
The Food
If you love Italian food like me, Monjunis will be serving up some of the finest food made fresh daily like their classic spaghetti and meatballs where they make over 7,000 award-winning meatballs every week from scratch, and their world-famous homemade lasagne. Are you hungry yet?
In addition, Monjunis also has a great variety of house or caesar salads and Poboys sandwiches to choose from plus Italian favorites like Fettuccine Alfredo, Shrimp Fettuccine, Baked Rigatoni, and more. Make sure you try their House Specialties like Veal Parmesan or Shrimp Aurora just to name a few. Add some Sicilian Breadsticks, Cajun Shrimp Toast, or Fried Calamari to yop off any meal. Top off your meal with a cool refreshing Margarita, and add some amaretto to really give it an Italian flair.
Monjunis will be open for lunch and dinner Mon-Thurs from 11 am to 9 pm and Friday and Saturday from 11 am to 10 pm. closed on Sunday.
Need a Job?
Looking for a new job opportunity Monjunis will be hiring for all positions on Monday, January 23, from 2 pm to 5 pm. They are looking for hostesses, servers, and cooks, Full-time and Part-time positions are available. You can also send a resume to Donnie@Silverstarinc.net
Be sure and check out their Facebook page for updates and specials. Monjunis Italian Cafe and Grocery is opening on January 30. I have a feeling this will become Texarkana's hot new spot to meet and eat. See ya there!
The Monjunis Story
What Are the Signature Drinks From Every State?