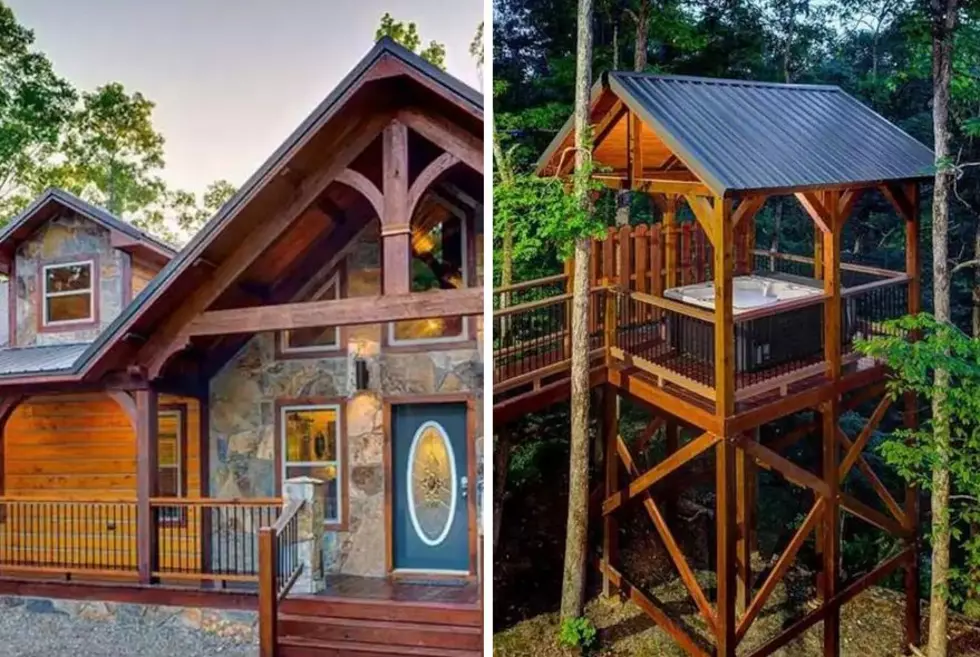 Treetop Hot Tub Highlights Amazing Cabin Getaway in Hochatown, OK
Canva, Airbnb
Are you looking for a unique place to get away for a weekend? I have found one of the coolest Airbnb cabins in nearby Hochatown, Oklahoma. Texarkana you won't have to drive far to enjoy this luxurious cabin with an amazing view.
Logan's Bluff
The first thing that caught my eye about Logan's Bluff cabin was the treetop deck with a hot tub that stands 20 feet high and 50 feet to the ground.
The hot tub is connected to the back deck with a wood fireplace overlooking Lukfata Creek.
Logan's Bluff also features one of the most unique outdoor fire pits with a gorgeous creek view too.
The Kitchen
The kitchen area is part of an open floor plan with the living room and has everything you need for cooking including stainless steel appliances and a kitchen isle.
The Living Area
The living room has a comfy leather couch and recliner with a huge HDTV, free Wifi, and a fireplace. There are lots of windows in this cabin that gives it an open airy feel.
The Bedroom
At the end of your day wind down in the huge one-bedroom with a king-size bed and sliding door for privacy.
The Bathroom
The bathroom has a huge walk-in shower and a tub for relaxing at the end of your day.
The back of the cabin has an incredible view of the wooded forests and creek that lets you connect with nature and the great outdoors.
The best part about staying at Logan's Bluff is that it's close to all attractions, shopping, and restaurants, in Hochatown and minutes to Beavers Bend State Park.
To begin your adventure please visit their website. Hochatown is less than 2 hours from Texarkana and makes for a fantastic weekend getaway or a week-long vacation any time of the year.
READ ON: See the States Where People Live the Longest
Read on to learn the average life expectancy in each state.