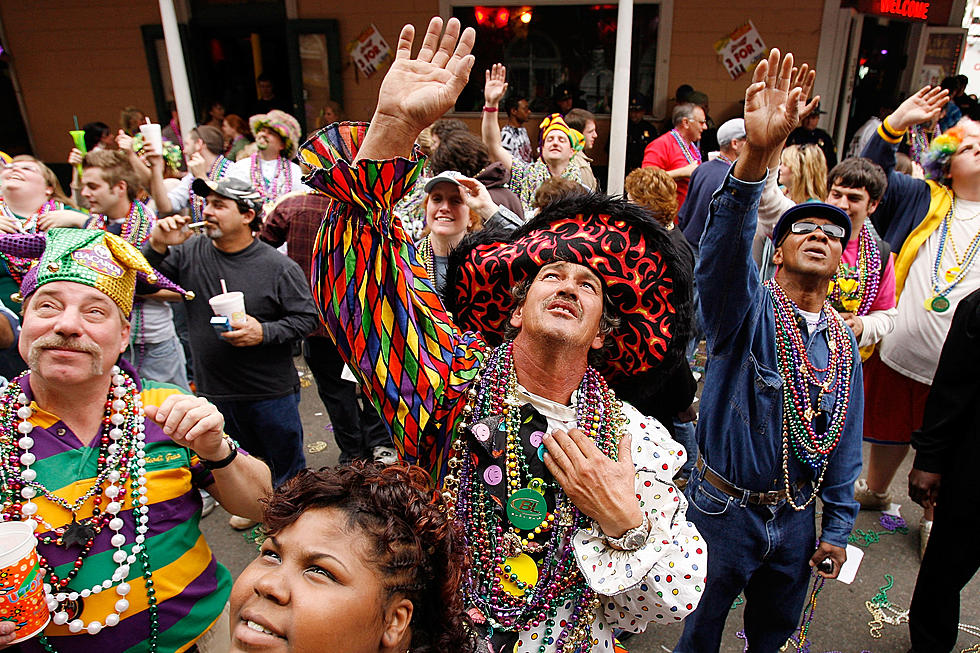 Beads Galore at the Mardi Gras Upriver Weekend in Jefferson
Getty Images
Get ready for one of the biggest events of the year in historic downtown Jefferson, Texas with the 32nd annual Mardi Gras Upriver parade and event going on this weekend Feb. 25-27.
Steampunk Upriver
Come dressed in your favorite Steampunk costume because the theme this year is "Steampunk Upriver." For those not familiar with the word "Steampunk" it's best described as "Victorian era-science fiction" based on an alternate reality.
Doo Dah Parade
A large crowd is expected to gather for the Krewe of Hebe's annual Doo Dah Parade Friday, Feb. 25, 7 PM which kicks off a full weekend of Mardi Gras events including a carnival, live music, and vendors selling everything from food to arts and crafts.
Grand Parade
Grand Parade is set for Saturday, Feb. 26, at 1:45 PM in downtown Jefferson. A ton of beads and necklaces will be thrown out to the crowd from an array of beautifully decorated Mardi Gras floats.
There will also be a children's parade on Sunday, Feb. 27, beginning at 2 PM.
Live Music
Don't miss live music from Texas artist Darrin Morris Band at 7:30 PM on Saturday.
Wrist bands will be sold for just $10 for all weekend events and $1 will go toward the Krewe of Hebe's Marion County Toys for Tots program.
Gowns, Crowns, and Art of Mardi Gras
Make sure you visit the "Gowns, Crowns and Art of Mardi Gras," exhibit located at 223 West Austin Street. The exhibit features a variety of gowns, crowns, and apparel worn from previous Mardi Gras celebrations in Jefferson.
Call the museum for admission and further information at 903-665-2775 or visit their website.
For information on the Mardi Gras Upriver events, please check out their website.
Also, while in Jefferson be sure and visit the new Busy B Ranch and Wildlife Park.
LOOK: Famous Historic Homes in Every State
LOOK: Here are the best small towns to live in across America