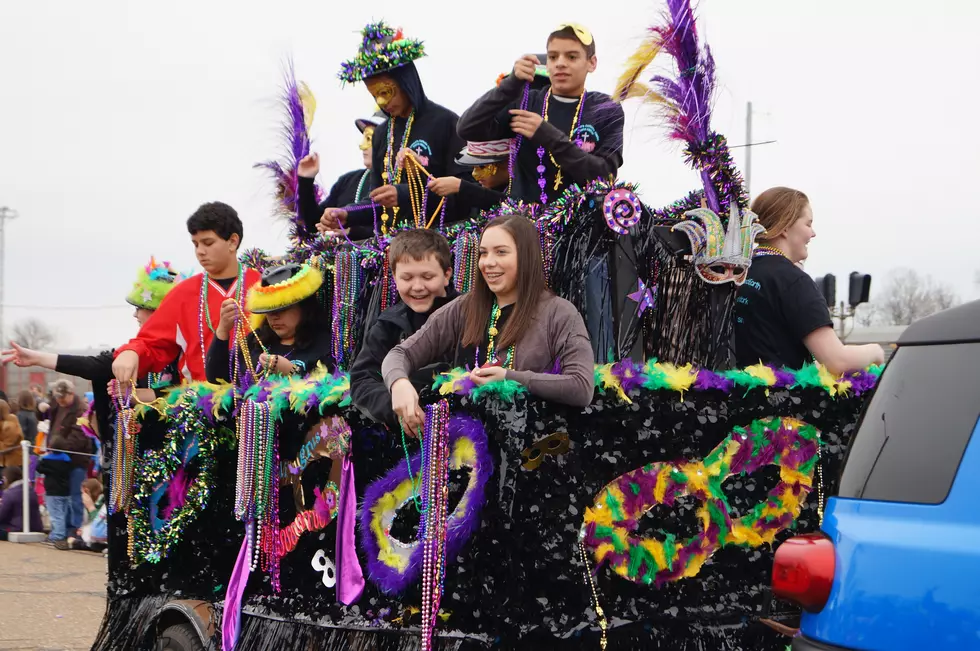 Mardi Gras Celebration in Texarkana on Saturday, Feb. 25
Mimi Campbell/Townsquare Media
Texarkana's Mardi Gras celebration is Saturday, February 25. Enjoy costume contests, parades, food, entertainment, beads and more during this fifth annual celebration in Front Street Festival Plaza in downtown Texarkana. 
The Mardi Gras celebration begins at 10AM with food, craft booths and other vendors opening in the plaza. The main parade rolls at 3PM and don't miss the children's and pet parade at 12PM and the auto parade at 2PM.
"You can enjoy the kids games and entertainment then get ready to catch some beads and candy when Texarkana's finest cars, ATV'S and jeeps will hit the parade route," said Deanna O'Malley, event coordinator.
Enjoy live entertainment on the main stage from Dixie Bent right after the Lil Rascals parade. Kids' activities begin at 10AM and include a rock climbing wall, Juassic Adventure, super slide, bounce house and much more.
2017 Texarkana Mardi Gras Kid and Pet Parade rolls at 12PM, for ages 0-12 and pets of all kinds. "Kids can dress up in their best Mardi Gras costume and create their very own mini float. Decorate a wagon, bicycle, stroller, anything you can think of and participate in this fantastic one-of kind event," said Hollie Black, event volunteer. Parental help and participation is allowed. One prize will be given for Most Creative Entry.
The kid's costume contest contest will be held immediately after the Kid and Pet parade. One lucky boy and girl will be crowned the Prince and Princess of Mardi Gras. Animals are also welcome to join the parade. Dress them up in a fun Mardi Gras themed costume and win a prize for Most Creative Pet Costume. Line up begins at 11:30AM, register on-site. No horses, full-sized vehicles or ATVs. All kid and pet entries must be accompanied by an adult. Email Hollie Black for more information or visit the event page on Facebook.
FREE parking. FREE admission.