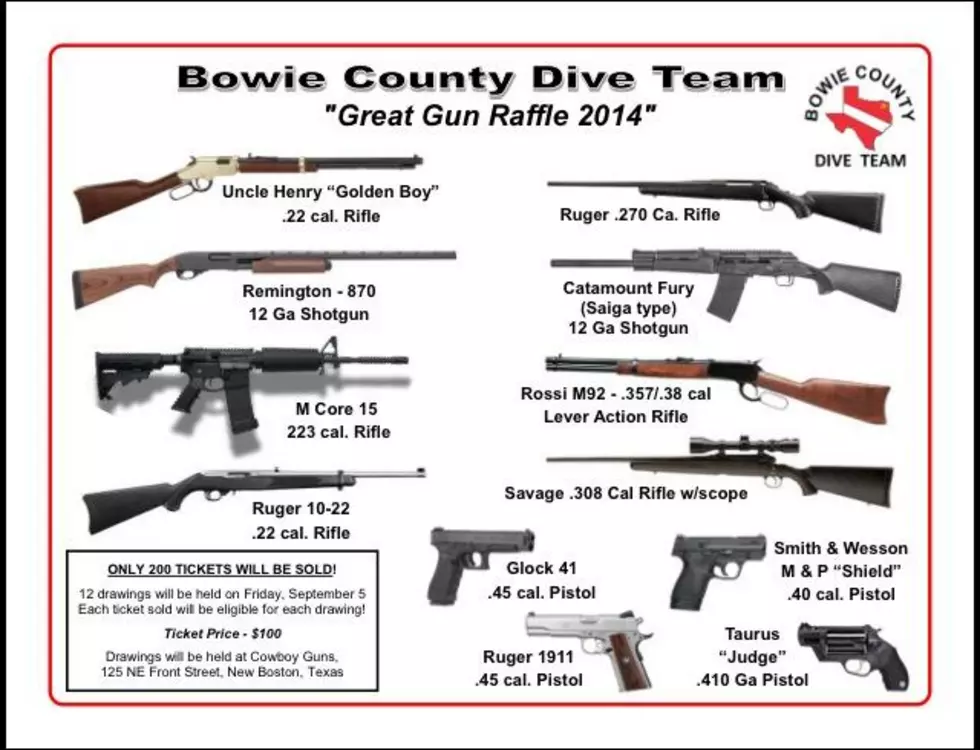 Gun Raffle to Benefit Bowie County Dive Team
Bowie County Dive Team Raffle
The Bowie County Dive Team is hosting a gun raffle to raise funds for equipment and a boat motor. They are raffling 12 guns. You can see the descriptions below.
The Bowie County Dive Team is a non-profit organization that conducts search, rescue and recovery in our area waterways as well as anywhere that needs assistance like Arkansas, Oklahoma, and Louisiana.
1. Uncle Henry "Golden Boy" .22 cal Rifle
2. Remington 870 12 Ga Shotgun
3. M Core 15 223 cal Rifle
4. Ruger .270 cal Rifle
5. Catamount Fury (Saiga Type) 12 Ga Shotgun
6. Rossi M92 .357/.38 cal Lever Action Rifle
7. Savage .308 cal Rifle w/ scope
8. Ruger 10-22 .22 cal Rifle
9. Glock 41 .45 cal Pistol
10. Smith & Wesson M & P "Shield" .40 cal Pistol
11. Ruger 1911 .45 cal Pistol
12. Taurus "Judge" .410 Ga Pistol
ONE Ticket will have a chance to win ALL 12 Guns!!
(Winning tickets will be put back in hopper for chances to win the other guns)
Only 200 Tickets will be sold  --  Tickets are $100 each.
Drawing will be held Friday, Sept 5th between noon and 3 p.m. at Cowboy Gun's in New Boston, Texas.
Contact any other Bowie County Dive Team member for more info and to buy tickets.