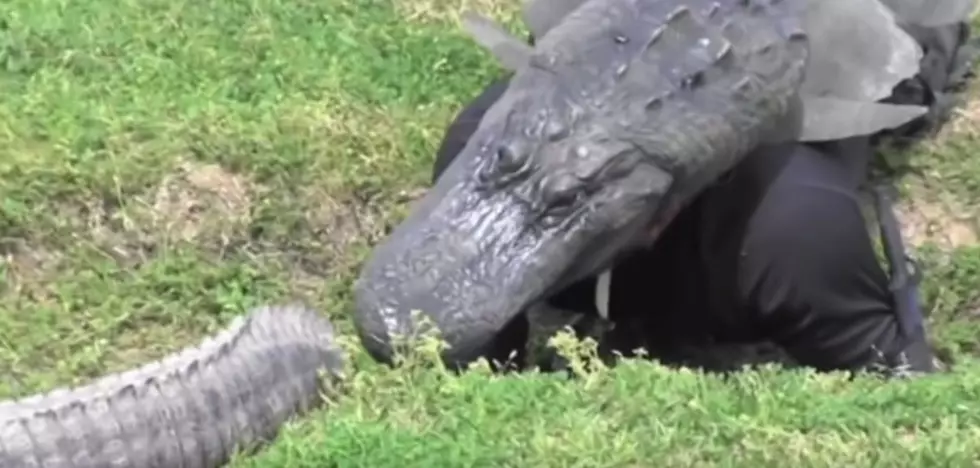 Man in Texas Tricks Alligators by Wearing Gator-Type Suit
YouTube
It's well-documented that the south is known for being alligator country! But did you know, in this neck of the woods, a man from Beaumont, Texas is known for swimming with these ferocious deadly animals?
This man whose name is Gary Saurage drives a jacked-up pickup truck with a lift kit, a proud native Texan that likes wearing cowboy boots and blue jeans when he's not wrangling a monster gator.
Gary's latest hobby is, of course, getting up close and personal with the massive beasts and looks can be deceiving not only to the observer watching but to the gator themselves when he slips into his homemade alligator-type suit and submerges himself in the water. Looks pretty real to me!
In case you were wondering, it's not a slip-on body suit it's more of a camouflaged suit that covers his body but once in the water it really looks like the real thing, he even has an alligator hat to conceal his head and wears black paint all over his face.
Gary has stories about one of the largest alligators in the state named Big Al, in fact, he's even kissed an alligator on the mouth with his jaws wide open. You're probably thinking ol' Gary must have a death wish or something but he lives for the thrill even though it's very dangerous and could be deadly.
People have joked with him that he is an alligator whisperer because these animals are territorial and if they feel threatened they will attack. according to Saurage and the website AZ Animals. I think I'll call him Gator Man.
You have to watch this incredible video to see what I mean. Keep in mind Gary is a professional, under no circumstances are you to try doing this.
No worries for me, it's more like, "See ya later alligator, or later gator!
Personally, I think Gary should just stick to catching them, a lifetime passion but even that could be dangerous.
Some Alligators In Arkansas You Can Touch - Most You Can't
If you're looking for a great day trip for the whole family may I recommend a fun outing at the Alligator Farm & Petting Zoo in Hot Springs, Arkansas? My wife has been visiting this fun attraction since she was a little girl, we manage to get around to seeing it every couple of years or so and for the most part, it stays pretty much the same, but it's always fun to pet a baby gater.