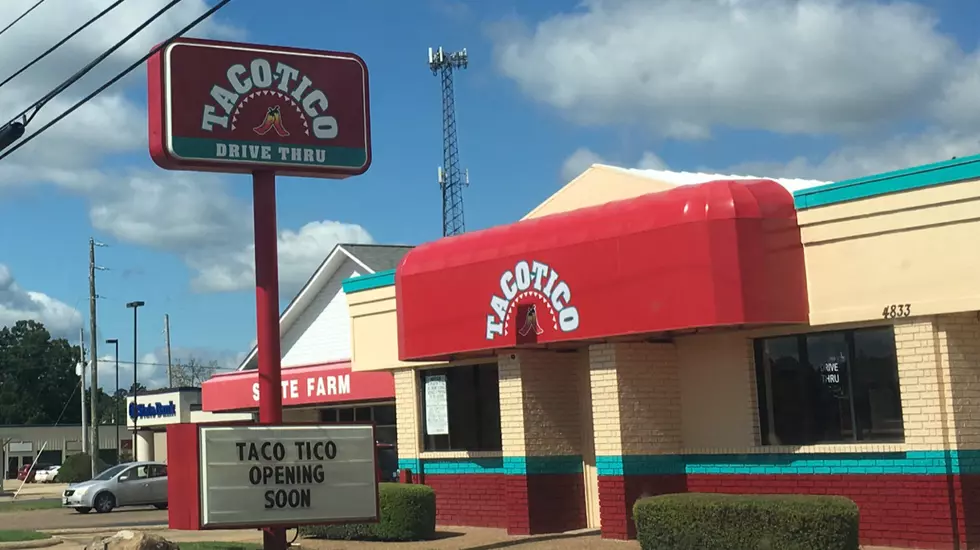 When Will Texarkana's Taco Tico Open?
Lisa Lindsey, Townsquare Media
Just about everyone is ready for the return of Taco Tico to Texarkana. We all watched the construction on Texas Boulevard over the summer and we were hoping for it to open in September. So, the big question is: When will Taco Tico actually open for business?
Of course, it can take some time to get all the "i's" dotted and the "t's" crossed because of those pesky permits and licenses but they are trying.  In fact, they recently posted on their Facebook page that they are expecting to be open October 25 but, there are a few things that need to fall in place before they can open their doors:
Our timeline for the opening date October 25th. This subject to change if certain things change and / or do not get completed in the following...
• kitchen equipment does not come in and installed by the 9th.
• temporary certificate of occupancy by the city by Wednesday the 10th. This allows us to train employees, buy food, etc..
• train employees from the 11th thru the 25th.
• Certficate of Occupancy by the city that allows us to open before the 25th. This allows us to open the doors to the public. We're at the mercy of the city's schedule to come and give certificate of occupancy.
• opening day the 25th. There will be "soft openings"in the beginning before the official Grand Opening. 
We just need to be patient. Taco Tico located at 4833 Texas Boulevard will be open before you know it. What was your favorite item on the Taco Tico menu back in the day? Mine? I loved the Taco Tico Salad and I'm sure I'll love it and everything else!